2012 TTS Elections
---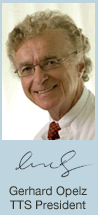 Dear Fellow Member of The Transplantation Society,
Welcome to the 2012 ELECTION BALLOT area. It is important that all members have one vote in each of the categories of President-Elect, Treasurer and Secretary. For Councilors all members, irrespective of geographic region, have two votes each for the Asia and North America Regions, and one vote each for Europe and Latin America Regions.
Please participate in the election to ensure the will of the worldwide membership on the Society's Council. Brief biographies for each candidate are also provided.
You may vote online or, alternatively, use the paper election ballot which has been mailed to Full Members with valid mailing addresses. If you vote online, please disregard the paper ballot.
All paper and online ballots must be received no later than May 21, 2012.
The future of our Society directly depends on your participation in the decision-making process.
Please be sure to vote, so that your wishes can be registered. The results of the election will be announced at the Business Meeting to be held on Tuesday, July 17 at the Berlin Congress.
I look forward to your participation at the XXIV International Congress of The Transplantation Society being held in Berlin, Germany from July 15 to 19, 2012.