The Official Journal of TTS
---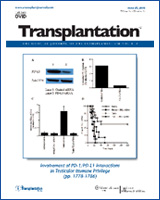 The official Journal of The Transplantation Society, Transplantation is published twice monthly and is the most cited and influential journal in the field, with more than 25,000 citations a year.
Transplantation has for over 40 years been the trusted source for extensive and timely coverage of the most important advances in transplantation. The Editors and Editorial Board of Transplantation are an international group of research and clinical leaders that includes many pioneers of the field, representing a diverse range of areas of expertise. This capable editorial team provides thoughtful and thorough peer review, and delivers rapid, careful and insightful editorial evaluation of all manuscripts submitted to the journal.
Transplantation is committed to rapid review and publication. With a time to first decision of less than 21 days, Transplantation's turnaround time is fastest among its competitors. Time to publication of accepted manuscripts continues to be shortened and the editorial team has a target of 3 months from acceptance to publication. Transplantation is also the first in the field to offer CME credit to its peer reviewers for reviews completed.
Consistently ranked among the top impact factor journals in Transplantation, Surgery and Immunology (Journal Citation Reports), the journal publishes original research Articles under the categories of 'Clinical and Translational' and 'Basic and Experimental'. Rapid Communications bring attention to research at the forefront of the field. Other areas covered include cell therapy and islet transplantation, immunobiology and genomics, and xenotransplantation.
In its Editorial and Perspectives section, the Journal presents:
Overviews that are cutting edge and comprehensive
Forum articles on ethical, social and controversial topics
Analysis and Commentaries that accompany articles and explore their deeper implications
Special Features- invited papers with a unique emphasis
Letters and Correspondence- including significant Case Reports
Other special features of the journal and journal website include: