Subscribe to Tribune PulseView PAST ISSUES
---
THE IMPORTANCE OF ROLE MODELS IN TRANSPLANTATION
By Arzu Oezcelik, MD
The field of transplantation is challenging and highly specialized. However, sometimes it can be very frustrating for young trainees. The training is mentally and physically very hard and stressful, and role models are therefore very important for young trainees in the field. Role models range from the the founders of today's transplant surgery to inspiring senior colleagues. Their professional life was and is an inspiration for young professionals and their success can give new energy in difficult times. However, the accessibility to these "giants of the field" as role models for new generations is decreasing. The international societies can take over the function of these role models, often providing some of the mentorship and training for the younger generations. These societies help create international connections, create opportunities to meet important personalities in your field, and facilitate the development of new ideas. Participation in international projects to achieve improvements in the field of transplantation can renew energy and enthusiasm. All these factors are the basis for a successful career, especially in less developed countries. The Young Member group of TTS is designed for transplant professionals at the beginning of their career, creating a possibility to be part of an active group from all over the world with the goal of improving the education and training of young transplant professionals. Over the following months, representatives from the TTS Young Members Committee will be highlighting their role models in the field in each issue of Pulse. 
TTS 2018 Youg Member Activities
TTS has invested in our young attendess at TTS 2018 with a wide variety of activities and opportunities.
Post-Graduate Courses, Lunch & Learn Session, Orientation Session, Poster Tours, Networking Events, Attendance Justification Tool Kit, Volunteer Opportunities, Young Investigator Awards

---
Is volunteering for a future TTS initiative or committee project of interest to you?
Transplantation - Featured Article
Submitted by r Joel Thomas Adler, Editorial Fellow, Transplantation.
Quality metrics in solid organ transplantation: a systematic review. [published online March 8, 2018].  Brett KE, Ritchie LJ, Ertel E, Bennett A, Knoll GA.
Transplantation. doi: 10.1097/TP.0000000000002149.
Measuring the quality of healthcare is challenging; transplantation represents its own unique set of challenges in accurately measuring quality in a way that is useful to transplant providers and meaningful to patients. Brett et al performed a systematic review of over 300 quality metrics with most focusing on safety and effectiveness, while few addressed other important quality domains such as equity and patient-centeredness. This study provides a roadmap for future quality metrics and directions in transplantation.
Transplantation Nursing 101 @ TTS 2018
We would like to highlight our one-day symposium that is designed for nurses, transplant coordinators, and members of allied health groups to become familiar with and update their knowledge about the principles of organ transplantation. Topics include transplant immunology, different aspects and new developments on heart, lung, kidney, pancreas, liver, and intestinal transplantation, infectious disease, and comprehensive care of transplant patients.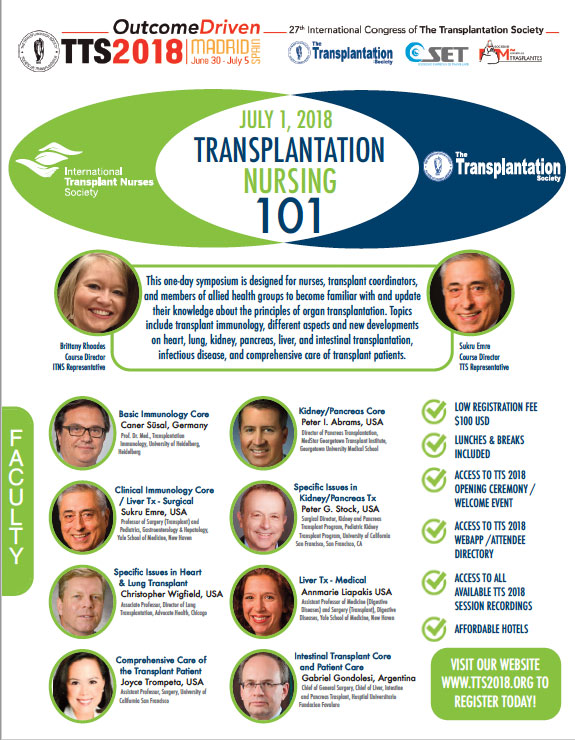 CLICK HERE TO READ MORE ABOUT THE TTS 2018 PRE-CONGRESS WORKSHOPS
---
In Memoriam - Hans BAlner, TTS Past-President
With great sadness, I inform you that Prof. Hans Balner from the Netherlands died on April 29. Hans was president of The Transplantation Society from 1980 to 1982. He was director of the Primate Center in Rijswijk in the Netherlands and has done important research on the unraveling of histocompatibility antigens in primates. Hans worked with the recently deceased (2017) Prof. dr. Jon van Rood, also from the Netherlands. This fruitful collaboration has substantially contributed to improving the results of organ transplantation. Hans was 92 years old.
Sincerely,
Dr. Richard Marquet (Former colleague of Hans)
CALL TO ACTION - WIT and WHCOP are joining together in solidarity at ATC 2018!
Current events and personal experiences remind us daily of how important it is to improve representation of women in transplant leadership and research, and promote gender equality in transplant careers and clinical care. Please join us to hear from AST President-Elect, Dr. Dianne McKay and panelist representatives from WIT and WHCOP on the topic of gender equity in transplantation. We hope that our combined memberships will benefit from the opportunity to network and learn more about what we can do to promote careers and improve patient care for women in transplantation. Refreshments and light fare will be served.
Event Theme:
Empowering Women in Transplant: Achieving Equality in Leadership, Career, Research and Patient Care
Feautured Speaker:
Dr. Dianne McKay, AST President-ElectMedical Director, Kidney and Pancreas Program, Professor, University of California San Diego
Tuesday, June 5 • 6:00–7:30pm
The Washington State Convention Center705 Pike St, Seattle, WA 98101, USA
RSVP by May 21, 2018 to This email address is being protected from spambots. You need JavaScript enabled to view it.
BBC documentary tonight shows life-saving work of heart transplant unit at Newcastle's Freeman Hospital
May 11 - Transplant: A Chance to Live will feature seven patients awaiting transplants and reveal a pioneering new technology.
Xenotransplantation Research Center to transplant pig's cornea into man
May 15 - Researchers at the Xenotransplantation Research Center (XRC) are planning to transplant a pig's cornea into a person this December. If successful, it will mark the world's first pig-to-human cornea xenotransplantation completed in step with guidelines by the International Xenotransplantation Association (IXA).
---
In the News
Scientists successfully graft neural precursor cells into spinal cords of syngeneic pigs with no immunosuppression
May 10 - A major hurdle to using neural stem cells derived from genetically different donors to replace damaged or destroyed tissues, such as in a spinal cord injury, has been the persistent rejection of the introduced material (cells), necessitating the use of complex drugs and techniques to suppress the host's immune response.
CLICK TO READ THE FULL ARTICLE
---
Researchers achieve new type 1 stem cell therapy breakthrough
May 9 - A scientific breakthrough which could improve the success of islet cell transplantation for type 1 diabetes has been developed by researchers from Cincinnati.
CLICK HERE TO READ THE ARTICLE
---
Russian Scientists Reveal Prospects of Human Organs' Full Restoration
May 13 - Russian scientists, after successfully implanting and achieving full functionality of a frozen frog heart after 45 days of cryogenic preservation, have now fully restored a frozen rat heart after 24 hours of hypothermic storage.
---
Dr. Shaf Keshavjee judges on Masterchef Canada
May 15 - Order of Canada Recipient and TTS Heart and Lung Committee member, Dr. Shaf Keshavjee, judges on Masterchef Canada.
---
Kidney Transplant Ups Survival in GPA 'Dramatic' decreases in cardiovascular and all-cause death
May 15 - Patients with granulomatosis with polyangiitis (GPA) who develop end-stage renal disease (ESRD) and undergo a kidney transplant have a significantly reduced risk of death, a national study found.
CLICK TO READ THE FULL ARTICLE
---
Multiple Myeloma: A Bold Study to Make Allografting Safer and More Efficient
May 11 - In a 10-patient cohort study led by Dr. Jean Roy (hematologist and professor at the Faculty of Medicine of Université de Montréal) that aims to understand how to mitigate the risks associated with the treatment of multiple myeloma, a malignant cancer, researchers have adopted an innovative approach based on the unique immunological properties of umbilical cord blood in an effort to improve the safety and efficiency of allografting, the preferred treatment for this disease.
CLICK TO READ THE FULL ARTICLE
---