Subscribe to Tribune PulseView PAST ISSUES
transplantation Journal - September 2018 Issue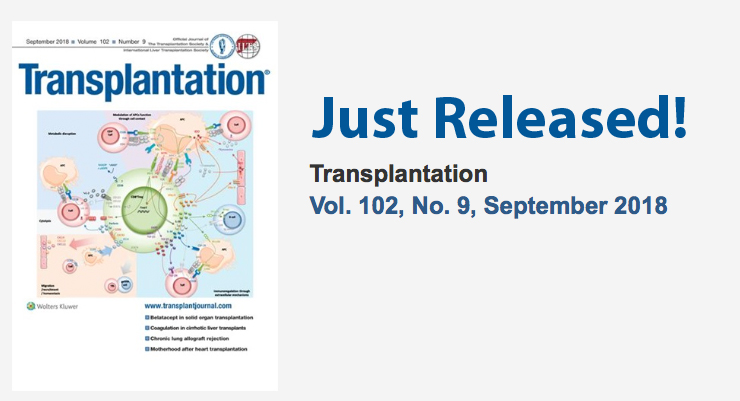 In this issue we have something for every organ transplant—motherhood after heart transplantation, chronic lung rejection, the problem of coagulation in cirrhosis, new issues in islet transplantation and a very useful guide to meta-analysis.
transplantation Journal - Highlighted Article
Submitted by Dr Joel Thomas Adler, Editorial Fellow, Transplantation.
Effects of Kidney Transplantation on Labor Market Outcomes in Sweden.
Jarl J, Gerdtham U-G, Desatnik P, Prütz K-G.
Transplantation. 2018;102:1375-1381.
While accepted as a cost-efficient intervention, there is little known about kidney transplantation and its wider effects, such as labor market outcomes. Utilizing national data from Sweden and controlling for treatment selection bias, Jarl and colleagues demonstrate that transplant recipients are 21 percentage points more likely to be working than those on dialysis. Five-year results suggest that effects are even more pronounced over time, mainly due to continued decline of health while on dialysis. Understanding the downstream effects of kidney transplantation will help to quantify the true value of increasing the supply of donated kidneys.
transplantation Journal - September 2018 Issue

Here's the latest #PresentYourPaper video by Dr. Bettina Buchholz and colleagues:
CLICK HERE TO READ THEIR PAPER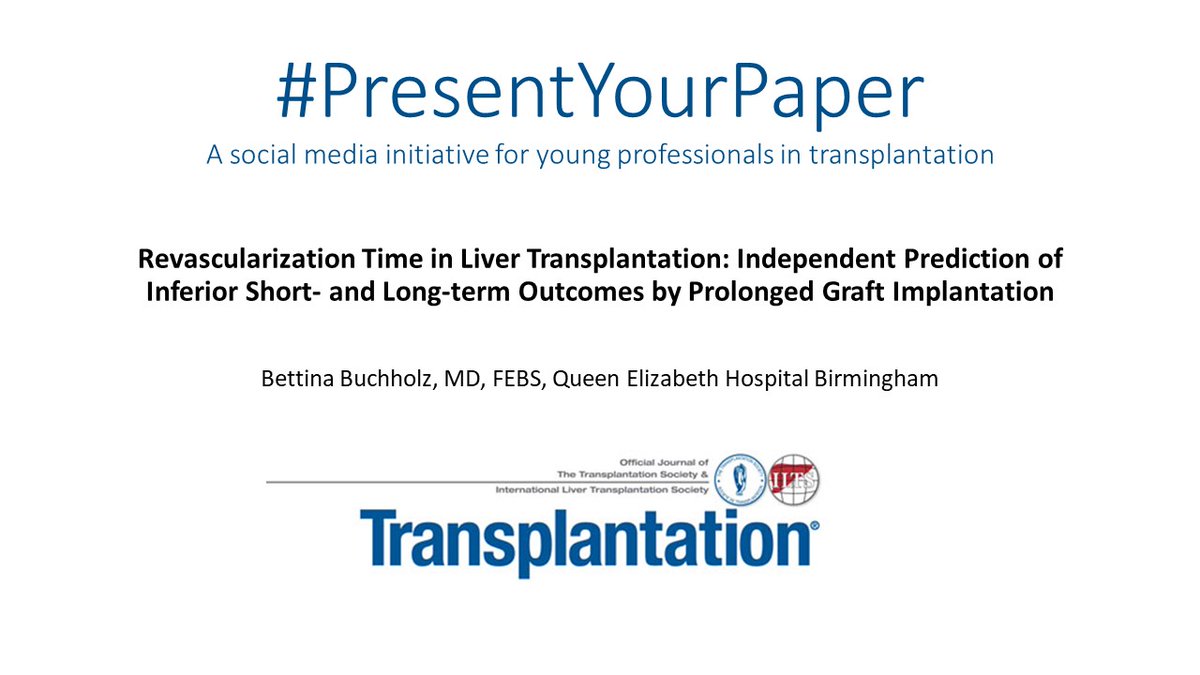 ---
About #PresentYouPaper
We encourage young authors (<40 years old) to present papers that have been accepted for publication in Transplantation during a 30-second video. Once the videos have been reviewed and edited as needed, we will tweet your presentation out to our Twitter followers. Please note that authors must create and film the video presentations themselves using a smartphone or camera. We are looking forward to receiving the first #PresentYourPaper submissions!
For more information, email This email address is being protected from spambots. You need JavaScript enabled to view it. .
Will Egyptians change their minds about organ donation?
August 21 - Top Egyptian health officials recently triggered a public row following their remarks that give the green light for the removal of deceased persons' corneas without their families' consent. This issue has rekindled a years-old broader debate over organ donation in Egypt.
Upcoming Meetings
MESOT 2018 - Less THan 2 weeks away!
TTS will be exhibiting at MESOT and a large number of TTS members will be attending or presenting at the Congress. There is still time to register, see link below!
---
Continuing our strong partnership with the International Liver Transplantation Society (ILTS), The Liver Transplant Symposium 2018, organised by the National University Centre for Organ Transplantation (NUCOT), will be held from 19 – 21 October 2018 in Singapore.
---
---

The International Pediatric Transplant Association is proud to feature a special section activity: the 2018 Symposium in Organ Transplantation in Children: An educational forum for physicians, surgeons, and allied health professionals.
The focus of this symposium is aimed at clinical and research fellows in pediatric solid organ transplantation, as well as residents, and other allied health professional or non-physician trainees who are planning a career in pediatric transplantation.
---

On behalf of The Transplantation Society of Taiwan, we would like to extend our warmest invitation to you to join Transplantation Sciences Symposium (TSS) Asian Regional Meeting 2018, which is scheduled to take place at Taipei Marriott Hotel, Taipei, Taiwan from November 23rd to 25th, 2018.
The meeting includes Plenary Lectures (two from TTS Members) Shane Grey and Stefan Tullius, Satellite Symposia, Parallel Presentations and Exhibits. Experts from different domains will be invited to share their expertise and experience in transplantation field. This will be a fabulous chance to exchange the ideas, contribute the most newly developed knowledge, one-of-a-kind cultural and educational experience.
---
In the News
Program helps kidney transplant recipients avoid common weight gain, shows additional potential
August 20 - University of Kansas researchers have tested a program that helps kidney transplant recipients improve their diet, increase physical activity and prevent weight gain, all without leaving their home.
---
Study reports successful kidney transplants from donors with a history of hepatitis C
Researchers at Loma Linda University Health found that kidney transplantation can be safely performed using organs testing positive for the hepatitis C virus (HCV) antibody but negative for active viral infection.
---
Is There an "Ideal" Cystic Fibrosis Candidate for Lung Transplantation?
As diagnostics become more sophisticated, more adults are being diagnosed with cystic fibrosis (CF). Although patients with CF tend to have shorter expected life expectancies than the general population, researchers are exploring methods that predict outcomes, even in patients who are diagnosed well into adulthood.
---
How OSU Wexner physicians 'test drive' damaged organs before transplants
August 13 - Columbus-based Ohio State University Wexner Medical Center created a lung perfusion program in August 2016. In the past two years, physicians used perfused lungs for 11 out of 92 transplants.
---