Subscribe to Tribune PulseView PAST ISSUES

Survey on Treatment of Chronic Activity Cell-Mediated Rejection for Tx Clinicians and Surgeons - Please Complete

Please participate in a survey regarding the Treatment of Chronic Activity Cell-Mediated Rejection for transplant clinicians and surgeons. Please click on the link below to complete the survey.
CLICK HERE TO ACCESS THE SURVEY
Please answer the following questions based on your experience with chronic active cell-mediated rejection (CA CMR) as defined by the Banff 2017 classification (Am J Transplant 2018; 18: 293-307). We are interested only in your treatment of patients with biopsy-proven CA CMR; please do not consider patients whose biopsy showed interstitial inflammation in areas of interstitial fibrosis/tubular atrophy (i-IFTA) not meeting Banff 2017 criteria for CA CMR. The first 3 questions deal with aspects of your transplant center.
Survey responses will play an important role in planning for the next Banff Transplant Pathology meeting in Pittsburgh in September 2019. Thank you for your participation!
TTS 2019 Regional Meeting - Register by February 28 and Save!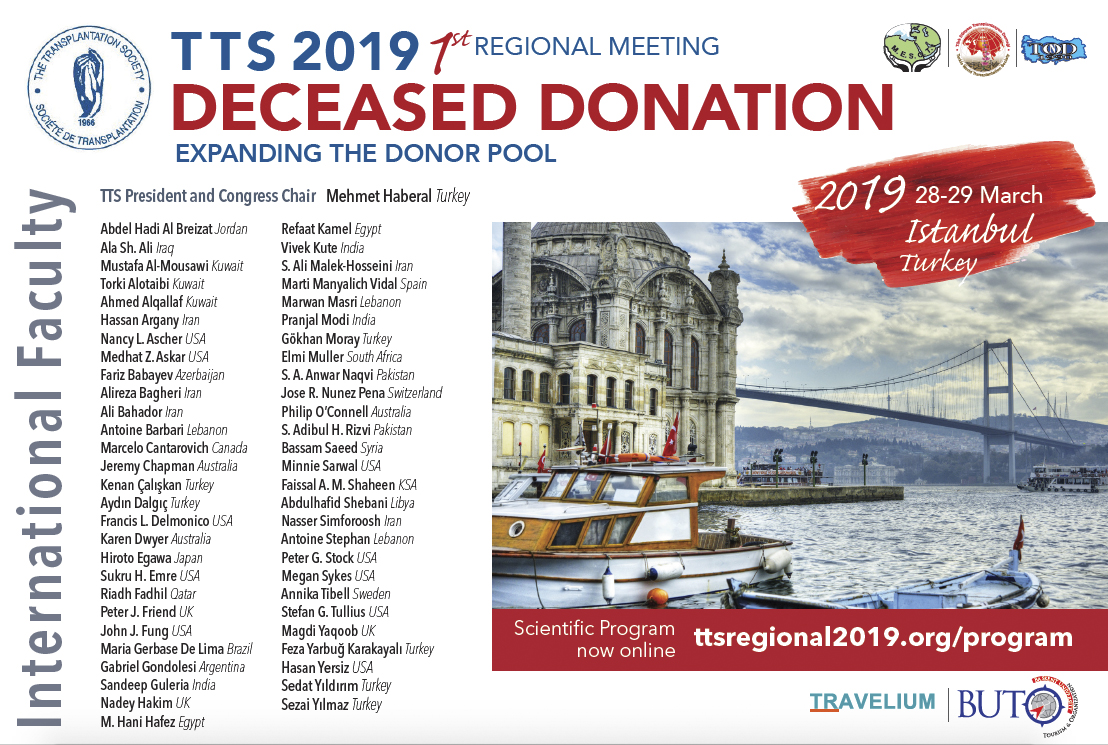 The TTS 2019 Regional Meeting will feature a distinguished international faculty to discuss the critical issues in expanding the donor pool for deceased organ donation.
We are offering low registration fees, which are further reduced for TTS, MESOT, TDTD or TOND Members, nurses and non physicians. Students may attend the meeting for free.
CTRMS 2019 – Abstract Submission Deadline is Next Week! - 
Submit by MARCH 1, 2019
IPITA 2019 LYON

Abstracts Due MARCH 1, 2019
TRANSPLANTATION - HIGHLIGHTED ARTICLE

Dr. Andrea Schlegel, Editorial Fellow, Transplantation
Quality Metrics in Solid Organ Transplantation: A Systematic Review
Brett KE, Ritche LJ, Ertel E, et al
Transplantation 2018 Jul; 102(7): e308-e330
Based on the remarkable improvements in overall outcomes after solid organ transplantation, there is an increasing interest in defining benchmark criteria to provide a uniform threshold for risk factors and subsequent acceptable outcomes. Despite such motivations to optimize outcomes, the best approach to identify if a transplant centre provides a safe, effective and high-quality service remains unclear. While the majority of published data defines a successful transplant program based on single short term outcome measures, including one-year graft survival, other important factors, e.g. access and equitability are frequently not evaluated.
Brett and co-workers performed this interesting systematic review and evaluated 13781 citations obtained from Medline, Embase, and the Cochrane Central Register. Following an independent title and abstract review, 324 full text articles were studied. Interestingly, only 76 articles met the inclusion criteria, and 140 unique quality metrics were finally selected.
Early hospital readmission after transplantation was the single most frequently reported quality metric, found in 26 publications, followed by long-term patient and graft survival. Authors went on to detail the best described quality measures in outcome (51.8%), structure (22.8%), process of care (23,7%) and 1.7% economic measures, and evaluated such metrics at different timepoints prior to, during and after solid organ transplantation. Six domains of quality (safety, access, effectiveness, efficiency, patient centered and equity) were evaluated across different periods of care. With a special focus on clinical practise, the authors highlight the relation of quality measures and outcomes after transplantation. Interestingly, while most studies in kidney and liver transplantation found impaired long-term outcomes in recipients with early hospital readmissions, this was for example not seen in lung transplantation. The impact of center volume, duration of hospital stay or patient satisfaction were assessed as well. While multiple quality measures exist for other specialties, the authors show here that quality measures are less well defined in solid organ transplantation. In addition to recently published and ongoing benchmark analysis in surgery and liver transplantation, further studies are needed to assess the development of objective metrics with subsequent implementation into clinical practice to initiate further improvement in care.
TRANSPLANTATION - WEEK'S MOST DOWNLOADED PAPER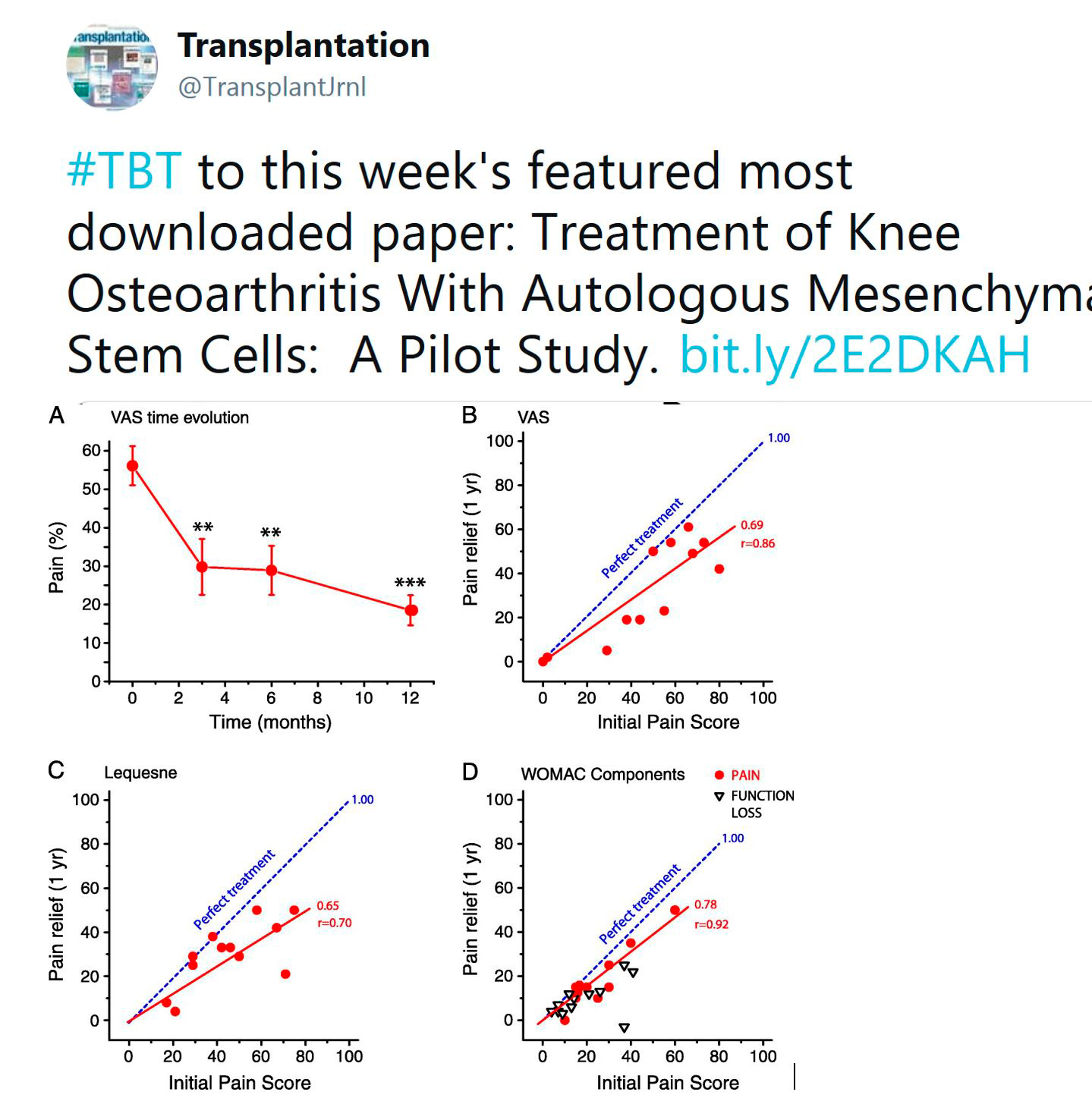 In the News
The disturbing hypothesis for the sudden uptick in chronic kidney diseasees
February 15 - Our kidneys might be vulnerable to the more frequent extreme heat brought on by global warming.
---
Sepsis: New rapid test 'could save thousands of lives'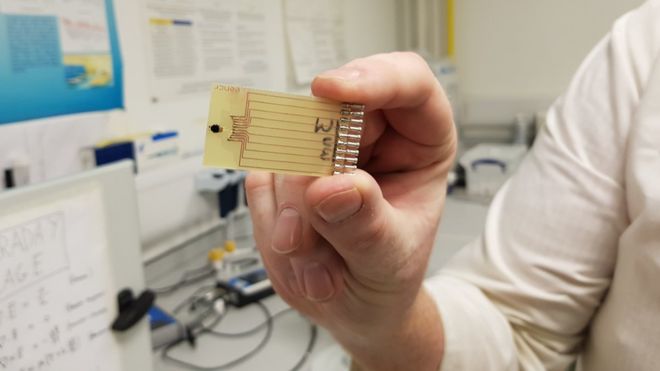 A close-up of the test device (Image: UNIVERSITY OF STRATHCLYDE )
February 18 - Researchers have developed a test that can detect the condition in minutes - instead of up to 72 hours.
---
Urine Test Detects Organ Transplant Rejection, Could Replace Needle Biopsies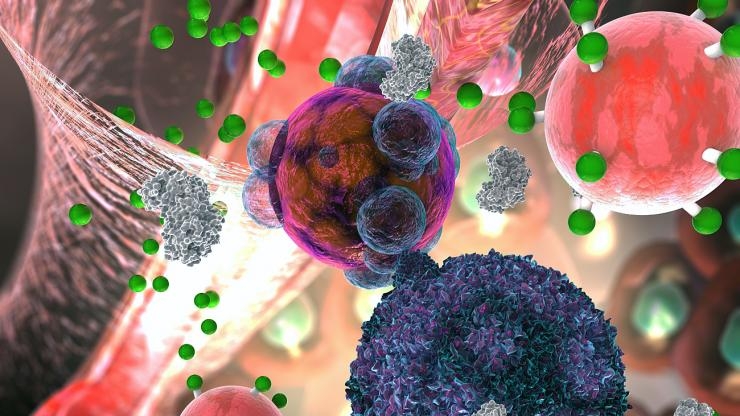 February 19 - Too often, it's only after a transplanted organ has sustained serious damage that a biopsy reveals the organ is in rejection. A new screening method using sensor particles and a urine test could catch rejection much earlier, more comprehensively, and without a biopsy needle.
---
Trial launched to study HIV-to-HIV liver transplant outcomes
February 15 - The United States' first large-scale clinical trial to study the safety of liver transplants between people with HIV was launched last week. The new study -- sponsored by National Institute of Allergy and Infectious Diseases, which is part of the National Institutes of Health -- will track the success of 80 liver transplants to HIV-positive people.
---
Genetic Testing Improves Success of Kidney Transplants
February 15 - Many kidney transplants fail over time because the patient's immune system rejects the organ. This rejection happens because the immune system recognizes that particular proteins on the cell surface, such as immune 'ID' proteins called histocompatibility antigens, are foreign to the body. Although transplant programmes often select organs that have similar immune ID proteins to the patient, transplants still have a high long-term failure rate. In research published in The Lancet, Rainer Oberbauer's team investigated whether part of this failure rate could be due to the immune system recognizing foreign cell surface proteins that aren't histocompatibility antigens.
---
Genetic engineering promises improved bone marrow transplants
February 18 - More people may soon be able to receive bone marrow transplants for the treatment of bone cancer, following a successful clinical trial carried out in Australia.
---
Rezafungin does not affect activity of agents commonly used in transplant patients
February 19 - Rezafungin dosed concomitantly with other drugs in the treatment of invasive fungal infections in transplant patients resulted in no significant change in systematic concentrations of the "probe drugs," according to research.
---
Upcoming Meetings and ANNOUNCEMENTS
IPTA 2019 - May 4-7, 2019 - Vancouver, Canada
Terasaki Symposium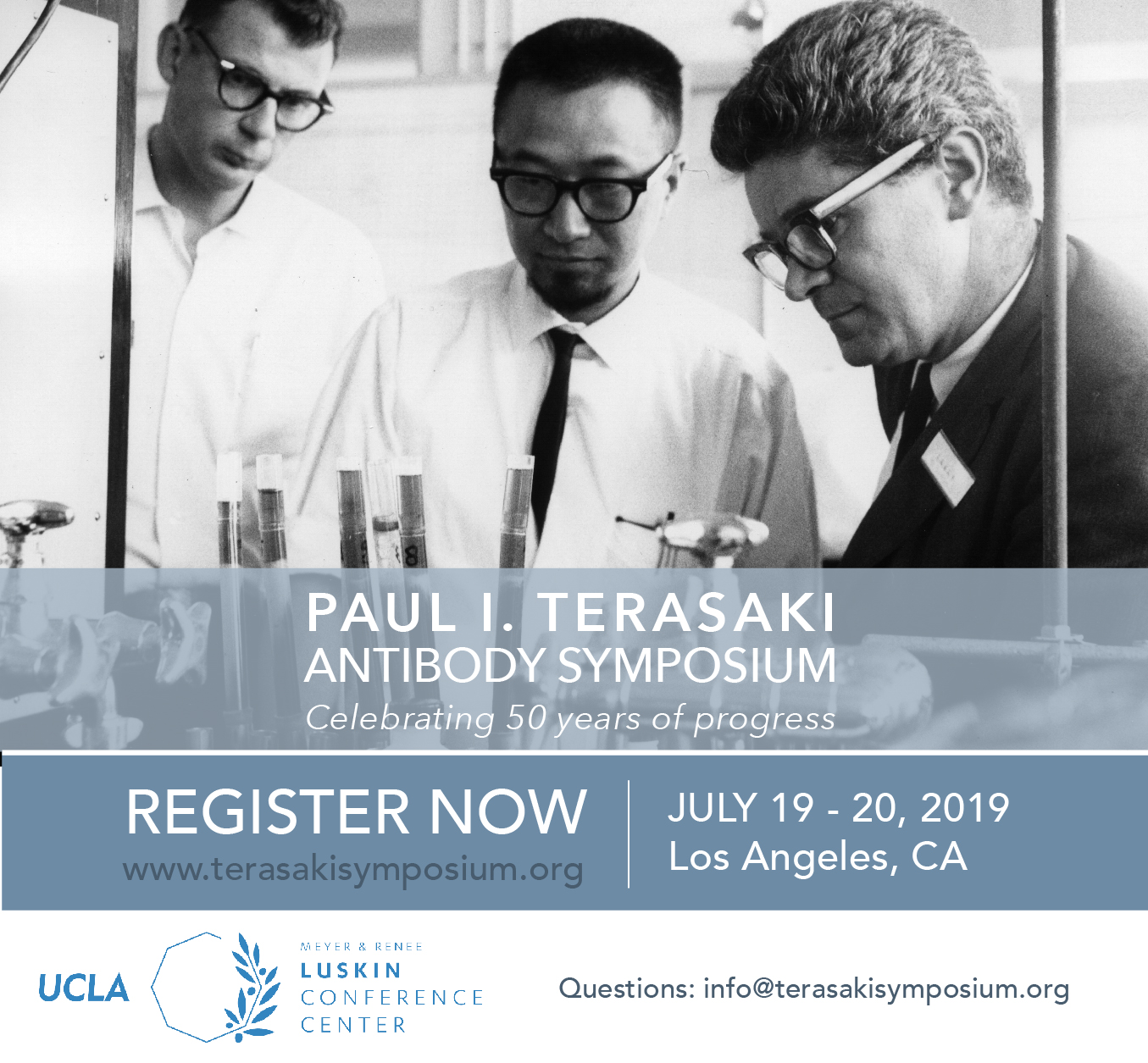 IXA 2019 - Abstract Submission Now Open!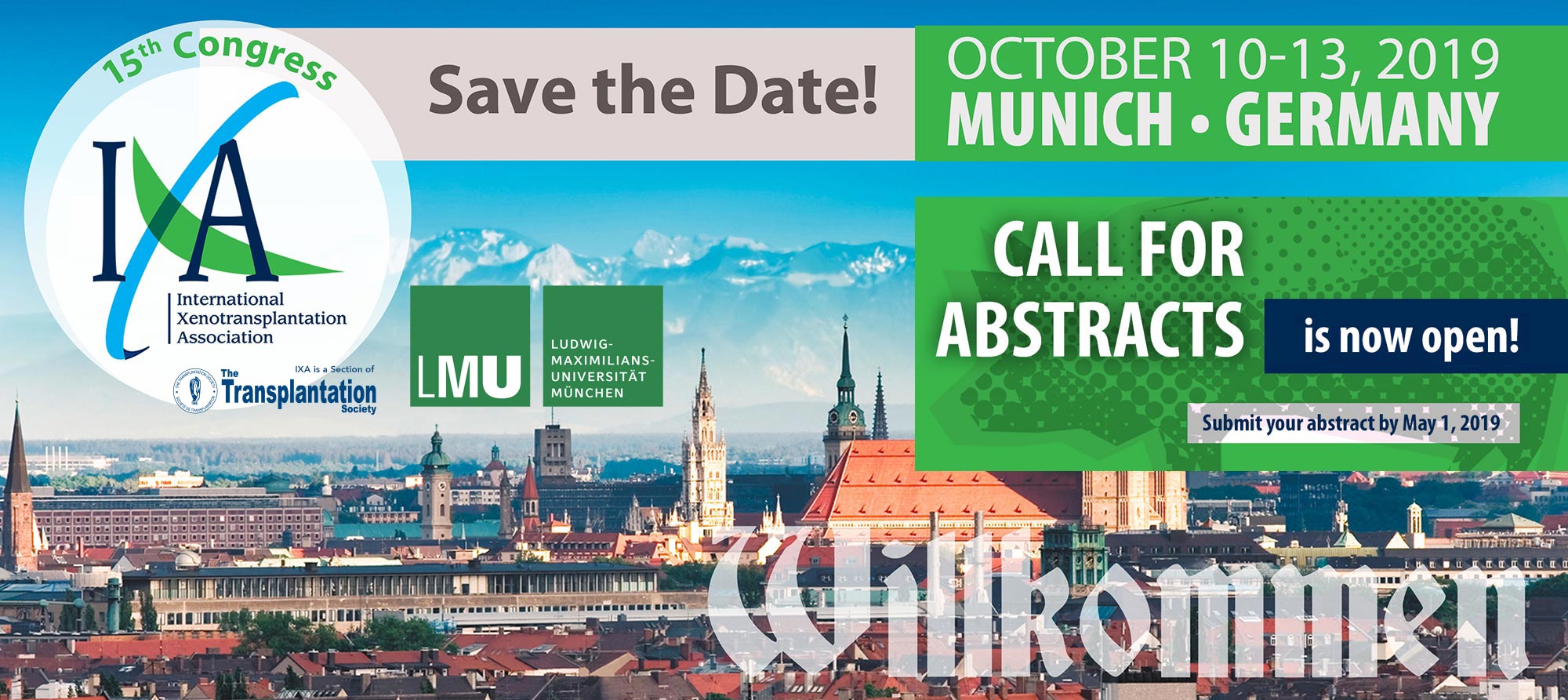 ISODP 2019 - Dubai, UAE - Program Update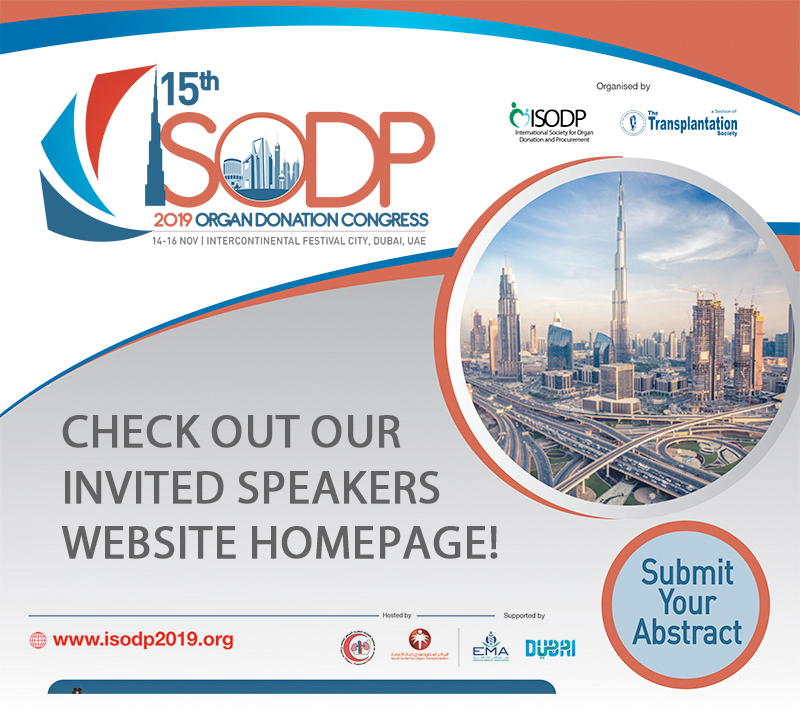 TID2019 - SAVE THE DATES!
PrE-MEETING TO ISODP 2019 - SAME VENUE ...one day prior!