Subscribe to Tribune PulseView PAST ISSUES

TTS New Webinar Series
The Education Committee of TTS will be continuing its webinar series on the "Trends and Challenges in Liver Transplantation."
TOPIC: Acute Liver Failure
TITLE: Medical and Surgical Aspects of Acute Liver Failure
Wednesday, April 24, 2019 - 3:00 PM EDT (Montreal time)
Organizer and Moderator: Sukru Emre, MD
Professor of Surgery (Transplant) and of Pediatrics, Yale University
New Haven, CT, USA
Discussant: Manuel Rodriguez-Davalos, MD, FACS
Transplant and Hepatobiliary Surgery
Primary Children's Hospital - Intermountain Medical Center
Salt Lake City, UT, USA

Discussant: Jody C. Olson, MD, FACP
Associate Professor of Medicine
University of Kansas Medical Center
Kansas City, KS, USA
TRANSPLANTATION - HIGHLIGHTED ARTICLE
Dr. Joel Thomas Adler, Editorial Fellow, Transplantation
Toward a Sensible Single-antigen Bead Cutoff Based on Kidney Graft Survival.
Wisse BW, Kamburova EG, Joosten I et al.
Transplantation. 2019 Apr;103(4):789-797.
Despite its widespread adoption, there is no consensus in the literature regarding the interpretation of single-antigen bead positivity for a specific HLA antibody. Wisse et al. found that inter-assay variability was greatly decreased when using signal-to-background ratios rather than absolute median fluorescence intensities. After systematically analyzing more than 3.000 deceased donor transplants, there was not a strong association of various cutoffs for 10 year graft survival. The authors propose a signal-to-background ratio of 15 combined with an absolute median fluorescence intensity of 500 as a cutoff for worse long-term graft survival.
TRANSPLANTATION - WEEK'S MOST DOWNLOADED PAPER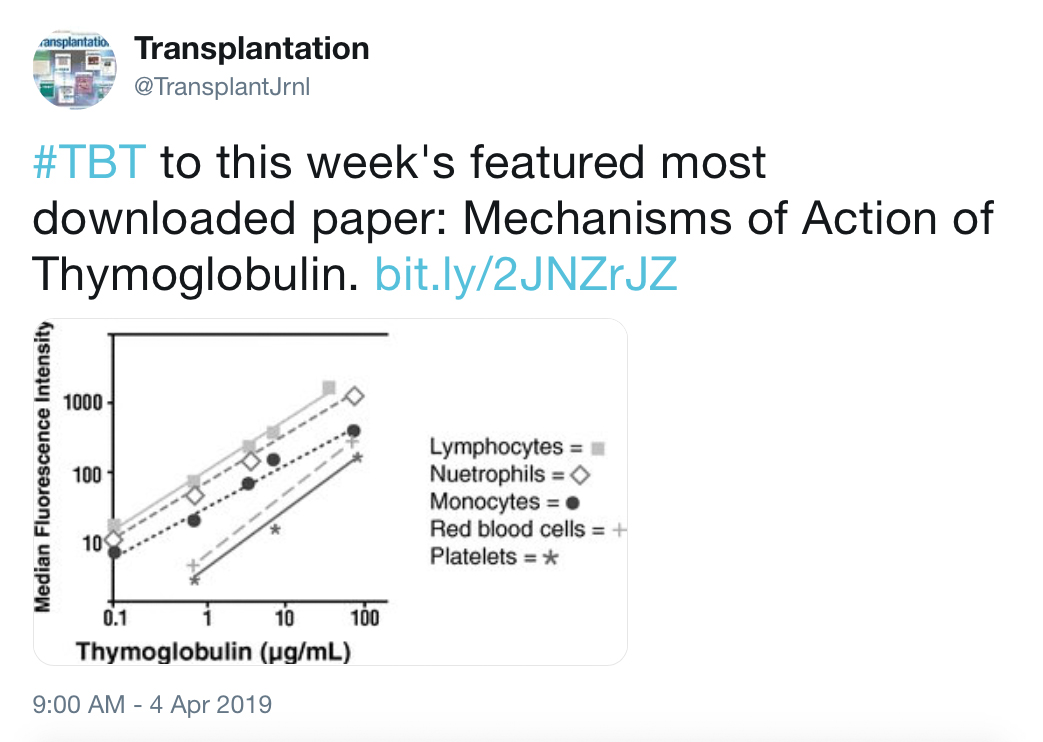 TTS-ISN Joint Session @ World Congress of Nephrology

Sunday, April 14th, 16:30 - 18:30, Room 212/213
If you are attending WCN 2019, check out the joint session on ON INTRODUCING INNOVATIONS IN TRANSPLANTATION. THE session was developed in partnership between the International Society of Nephrology (ISN) and The Transplantation Society (TTS).
Description: How to start new programs to increase donation with all of the new cutting edge tools – antibody identification and screening including web based resources. The latest technology with organ preservation and the state of the art in the brave new world of developing kidney organoids for transplantation will all be presented.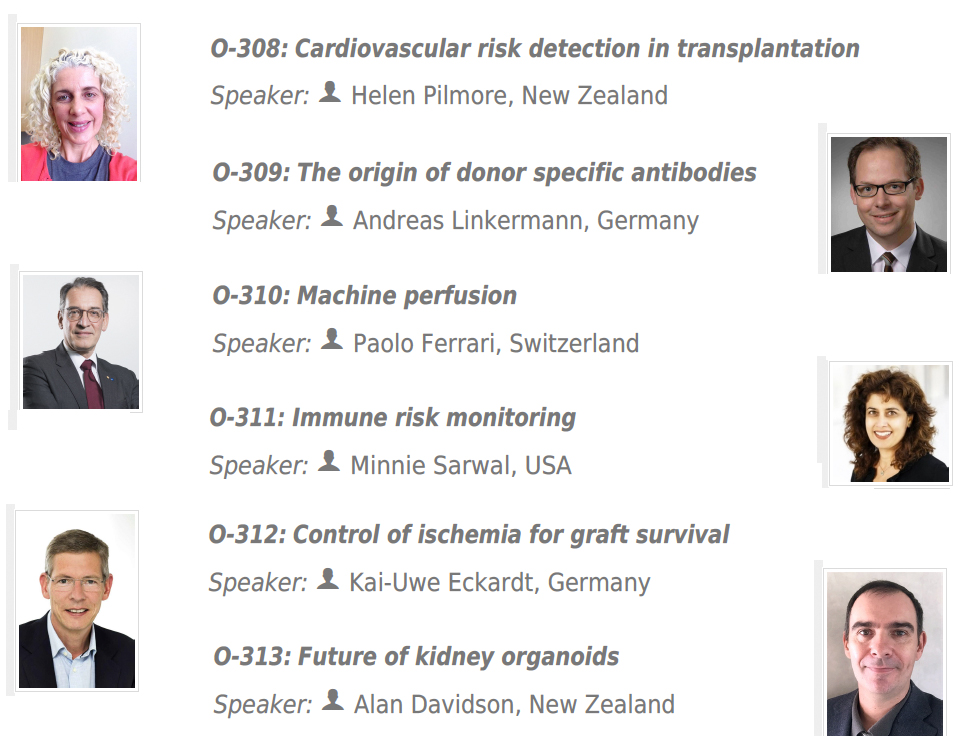 Abstract Submission now open!
The 3rd Joint Meeting of the Turkish Transplantation Society and the Turkic World Transplantation Society will be held in Tashkent, Uzbekistan on October 10-11, 2019. The Scientific and Local Organizing Committees, comprised of international transplantation leaders, have developed a program that reflects current problems and represents a collection of scientific, educational, and practical information. The meeting will be an exciting opportunity for transplant professionals to share their expertise as well as their concerns regarding the development of the field in their own countries. Please visit the website http://tond-tdtd2019.com/en/ for full details.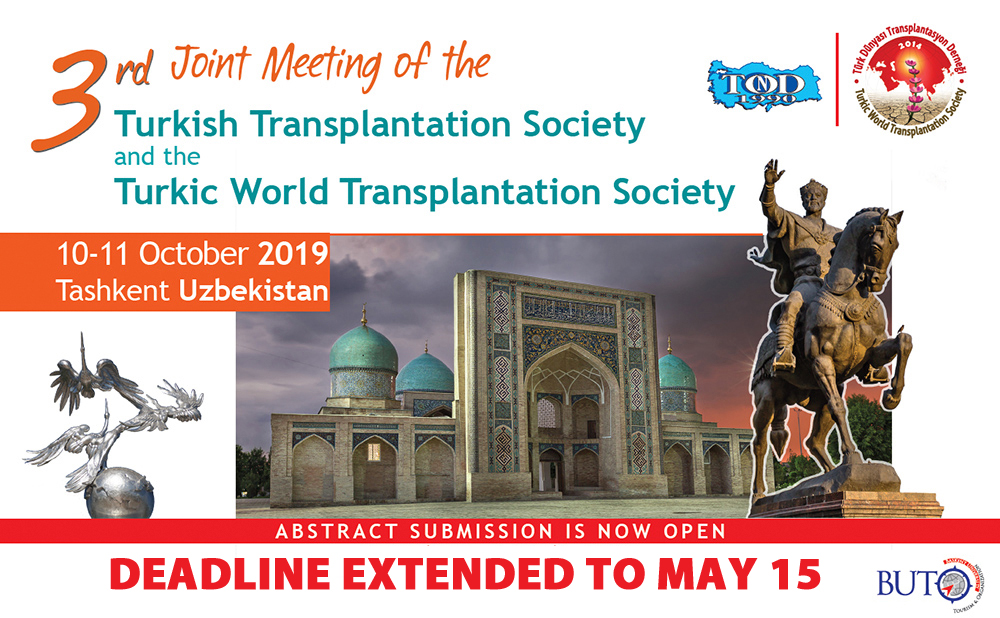 IPTA 2019 - May 4-7, 2019 - Vancouver, Canada
The International Pediatric Transplant Association has put together an amazing program for their upcoming meeting in early May featuring world-renowned speakers. Check out the detailed program on the website!
In the News
Cancer 'vaccine' shows promise in human trial of lymphoma patients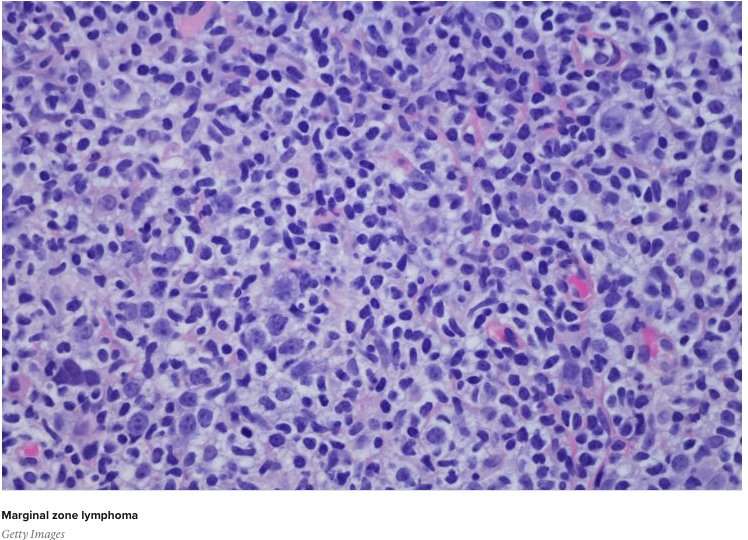 April 9 - An experimental cancer "vaccine" showed promising results in a small clinical trial of patients with lymphoma, according to a study published Monday in the journal Nature Medicine. Researchers at New York's Mount Sinai Hospital tested the treatment in 11 patients with lymphoma. Their results were successful enough to warrant another clinical trial in March on lymphoma patients as well as breast and head-and-neck cancer.
---
Canadian Province Nova Scotia's opt-out organ donation move sparks mixed reaction
April 4 - Nova Scotia's decision to make all adults in the province potential organ donors unless they opt out has sparked a backlash from some Canadians. The goal is to increase organ donations from deceased donors to save lives of more recipients. Nova Scotia is striving to raise donation rates above 20 per cent, levels found in European countries such as Spain, officials said. About 90 per cent of Canadians say they support organ and tissue donation but less than 20 per cent have made plans to donate.
---
Transplantation of hearts from donors with HCV safe
April 6 - The use of hearts from donors infected with hepatitis C virus significantly expands the donor pool and reduces wait list times for patients awaiting heart transplantation, with recipients of these hearts who develop HCV responding well to treatment, according to data presented at the Annual Meeting and Scientific Sessions of the International Society for Heart and Lung Transplantation.
Predicting prognosis: 6 reports on improving liver transplant outcomes
April 8 - Liver transplantation can significantly improve the survival rates and overall life quality among patients with end-stage liver disease and other chronic conditions. Predicting outcomes is necessary for appropriate allocation of donor resources and follow-up for patients at risk for adverse events. The following link contains six reports on live donor liver offers, cardiovascular event risks posttransplant, curing hepatitis C after transplantation with an infected organ, and discard rates of older donor livers.
---
Pulmonary Hypertension Unrelated to Early Lung Transplant Mortality in ILD
April 5 - Although intrahospital mortality does not differ between patients with and without pulmonary hypertension (PH) who undergo lung transplantation because of interstitial lung disease (ILD), the postoperative length of hospital stay is greater in patients with PH and ILD. A retrospective cohort study was conducted at the 12 de Octubre University Hospital in Madrid, Spain.
---
New approach to assessing rejection in heart transplant patients far more effective
April 5 - A new method of assessing organ rejection in heart transplant patients is more effective at estimating the probability of rejection than current practices, a finding that may improve the precision of the diagnosis and reduce over treating patients with post-transplant medications. The research was presented by Luciano Potena, MD, PhD, Bologna University Hospital, Italy, at the International Society for Heart and Lung Transplantation's 39th annual meeting in Orlando, Fla.
---
Perfusion system effective at preserving donor hearts
April 7 - A system that keeps a heart perfused and beating outside a human body was associated with a low rate of primary graft dysfunction and could potentially extend the geographic area for heart retrieval and allow for the safe usage of hearts with non-ideal features, researchers reported at the Annual Meeting and Scientific Sessions of the International Society for Heart and Lung Transplantation.
---
Upcoming Meetings and ANNOUNCEMENTS
IPITA 2019 LYON - France

Registration is open and preliminary program are both available.
IXA 2019 - Abstract Submission Now Open!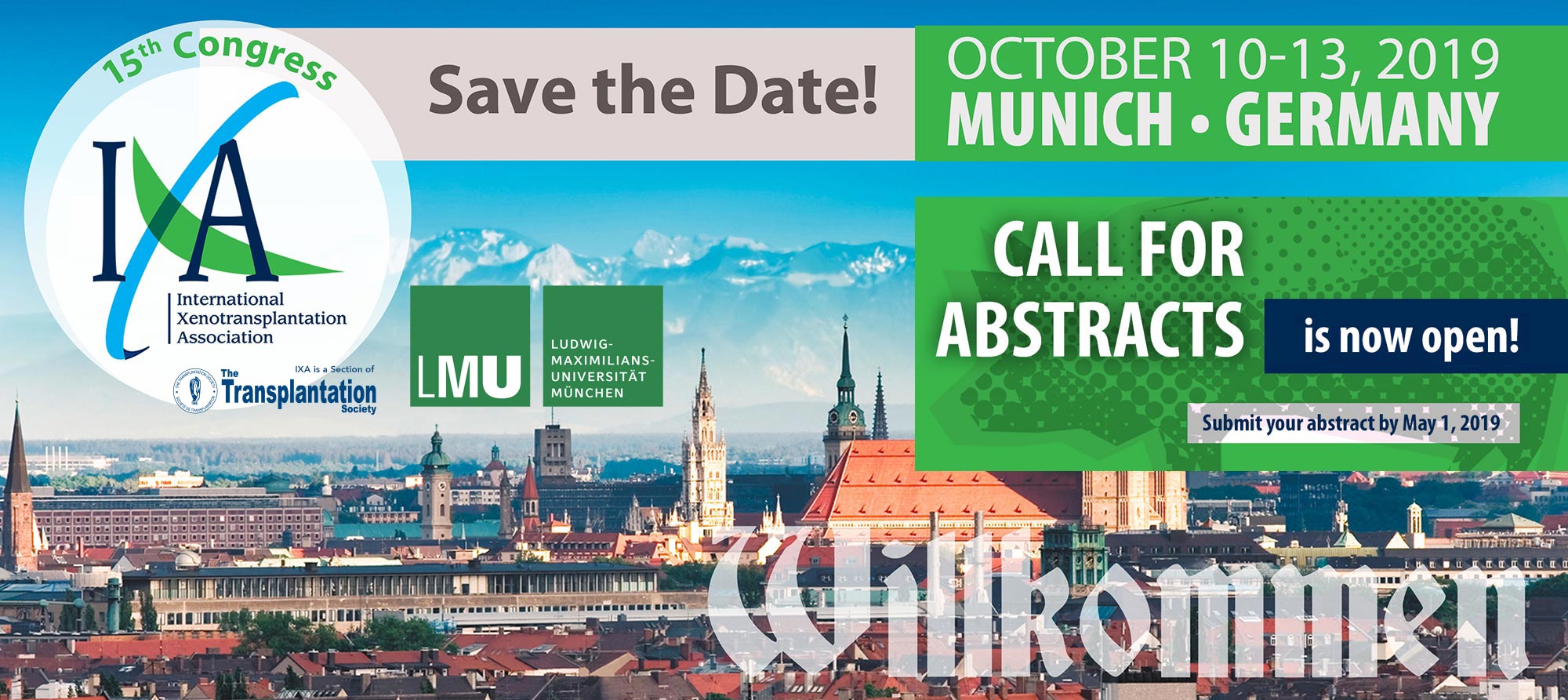 2019 TTS TRansplantation Science COmmittee NEWS 
Hold the Date - November 10-13, 2019
ITS 2019 is set for Nov. 10-13 in Clearwater Beach, Florida. Keynote speakers include Katherine High, President and Head of R&D at Spark Therapeutics, and Ronald Germain, chief of Laboratory of Immune System Biology and Lymphocyte Biology Section at the National Institute of Allergy and Infectious Diseases National Institutes of Health.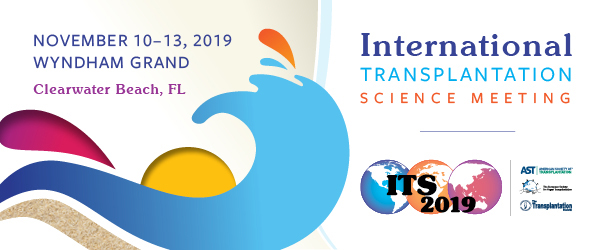 CTRMS 2019 – Lesvos - Greece
Late-Breaking and Poster Abstract Submissions are now being accepted!
ISODP 2019 - Dubai, UAE - Program Update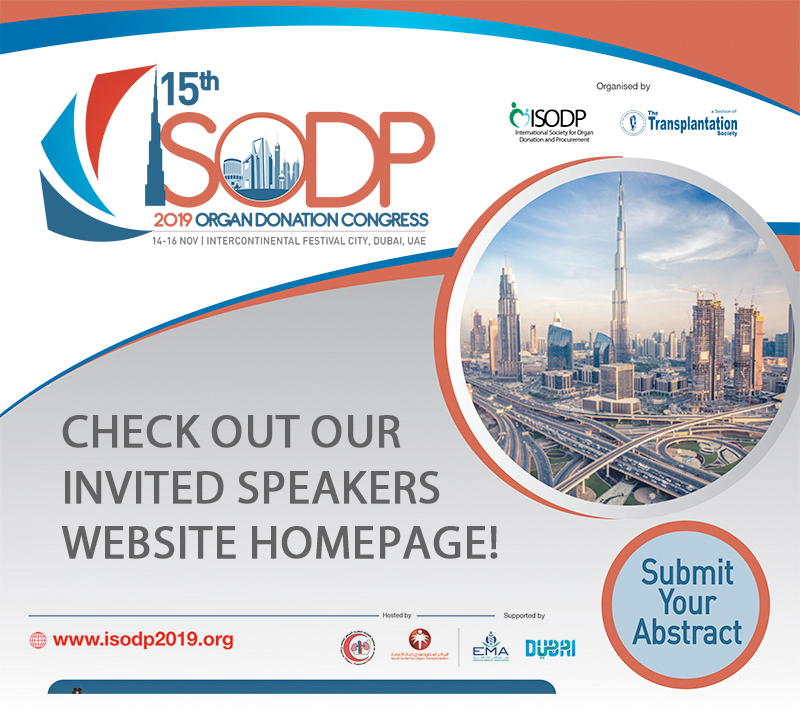 TID2019 - SAVE THE DATES!
PrE-MEETING TO ISODP 2019 - SAME VENUE ...one day prior!