Subscribe to Tribune PulseView PAST ISSUES

---
Ceremony at Abu Ali Sina (Avicenna) Transplant Center in Shiraz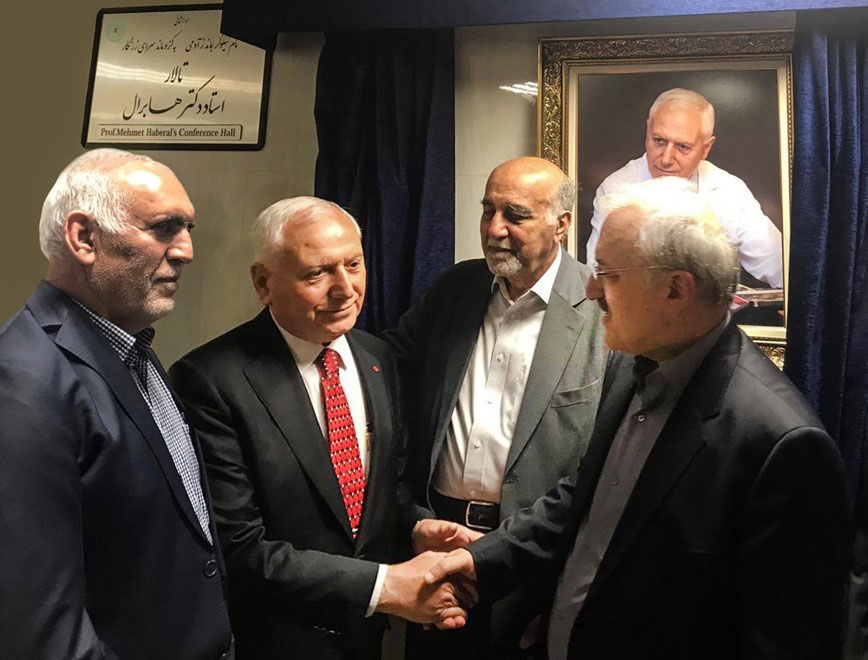 From left to right: Prof. Seyed Ali Malek-Hosseini (Past-President of MESOT), Prof. Mehmet Haberal (President of TTS),  Prof. Iradj Fazel (also Past-President of MESOT), and  Iranian Minister of Health and Medical Education Saeed Namaki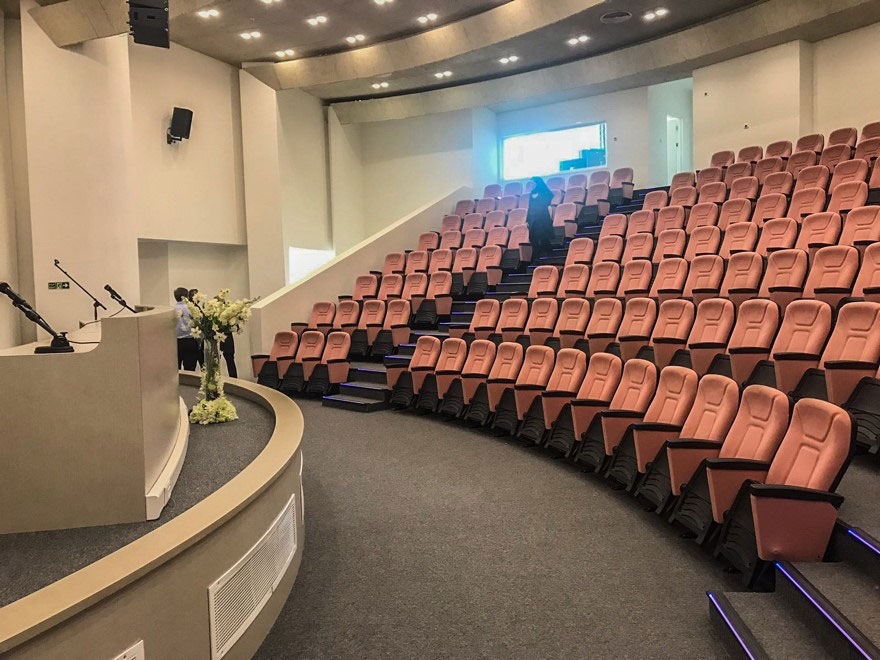 Prof. Mehmet Haberal's Conference Hall
Having opened its doors to patients just a few years ago and headed by Prof. Seyed Ali Malek-Hosseini, Past President of the Middle East Society for Organ Transplantation, the Abo Ali Sina (Avicenna) Organ Transplant Center at Namazi Hospital in Shiraz is already one of the largest and most active centers in the Middle East, providing not only medical but also research and educational facilities.
On August 20, 2019, Prof. Malek-Hosseini organized an event at the Abu Ali Sina Transplant Center to thank its benefactors and supporters while simultaneously celebrating 10,000th solid organ transplant.
As a token of their appreciation to Prof. Haberal, President of TTS, for his support and encouragement through the years, the 300-seat auditorium in the new hospital was given his name. Attended by a large number of renowned physicians from Iran and the world, the official opening and unveiling of Prof. Haberal's name and portrait at the entrance of the auditorium was performed by the Iranian Minister of Health and Medical Education Saeed Namaki. Praising him for his pioneering role in transplantation in the world, Minister Namaki thanked Prof. Haberal for his continuing support of transplant activities throughout the region. In his address to the gathering at the celebratory dinner following the ceremony, Prof. Haberal thanked Prof. Malek-Hosseini and all of his colleagues in Iran for their 'important work and their efforts to increase deceased donation in Iran. Shiraz in particular sets an example to the world by performing 95% of kidney and 90% of liver transplants from deceased donors.
ISN-TTS SISTER TRANSPLANT CENTERS PROGRAM
The deadline to submit an application to the ISN - TTS Sister Transplant Centers Program is October 1, 2019 (for 2020).
The ISN-TTS Sister Transplant Centers Program is a joint partnership set up between ISN and The Transplantation Society (TTS) to create new kidney transplant centers and develop existing kidney transplant programs in emerging countries. This initiative encourages transplant centers to work together to increase opportunities for kidney transplant patients in developing countries.
CLICK HERE TO LEARN MORE
Transplantation - Highlighted Article

Dr. Joel Thomas Adler, Editorial Fellow, Transplantation
Measurement Characteristics of the Knowledge Assessment of Renal Transplantation
Peipert JD, Hays RD, Kawakita S, et al.
Transplantation 2019 Mar; (103) 3; 565-572
There are few rigorously tested measures of ESRD patients' kidney transplant knowledge. In this manuscript, the authors describe the development of the Knowledge Assessment of Renal Transplantation with a sample of 1294 ESRD patients. Ultimately, a 15-item instrument was created with good marginal (0.75) and evidenced acceptable (>0.70) reliability. After development and further validation, KART should be used to determine kidney transplant knowledge levels of patients with ESRD; this will allow for planning of appropriate interventions to ensure informed transplant decision.
CLICK HERE TO VIEW
Transplantation - WEEK'S MOST DOWNLOADED PAPER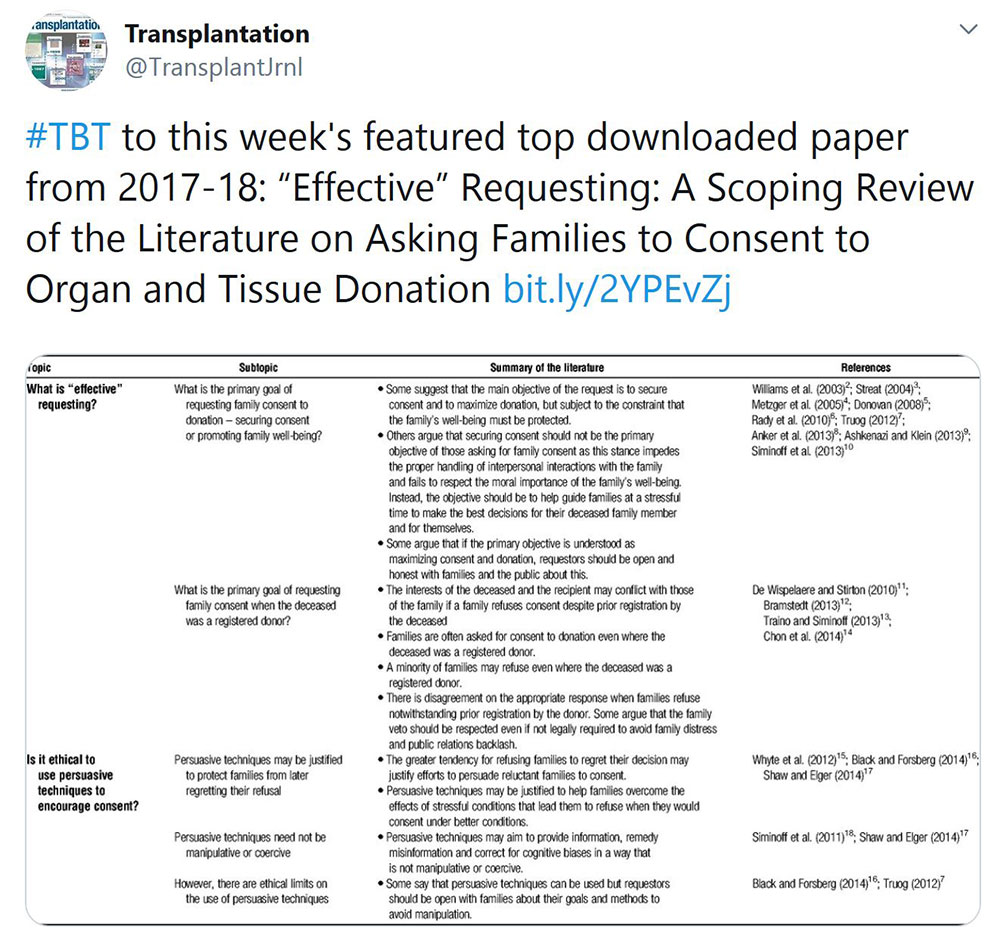 CLICK HERE TO VIEW (OPEN ACCESS)
TTS Education Committee's Precision Medicine Webinar Series - Available In TTS Library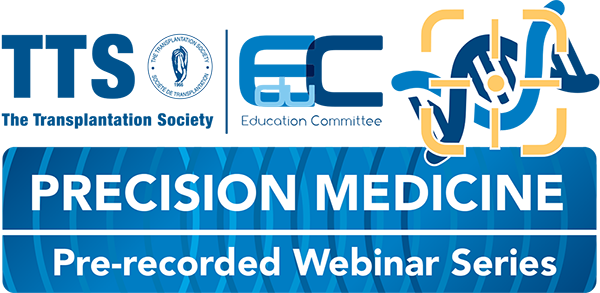 Just in case you missed it, Dr. Philip Halloran presents on the Molecular Microscope and the unmet need for precision pathological diagnosis. This webinar is moderated by Dr. Jon Kobashigawa. Still available, last month's webinar presented by Maarten Naesens on System Biology and precision Transplantation Medicine. Log in and take advantage of writing questions to the moderators and presenters in your own time.
*Note, you must be logged in to participate.
CLICK HERE TO VIEW
IN THE NEWS
There were no guidelines for fecal transplants. Then, a patient died.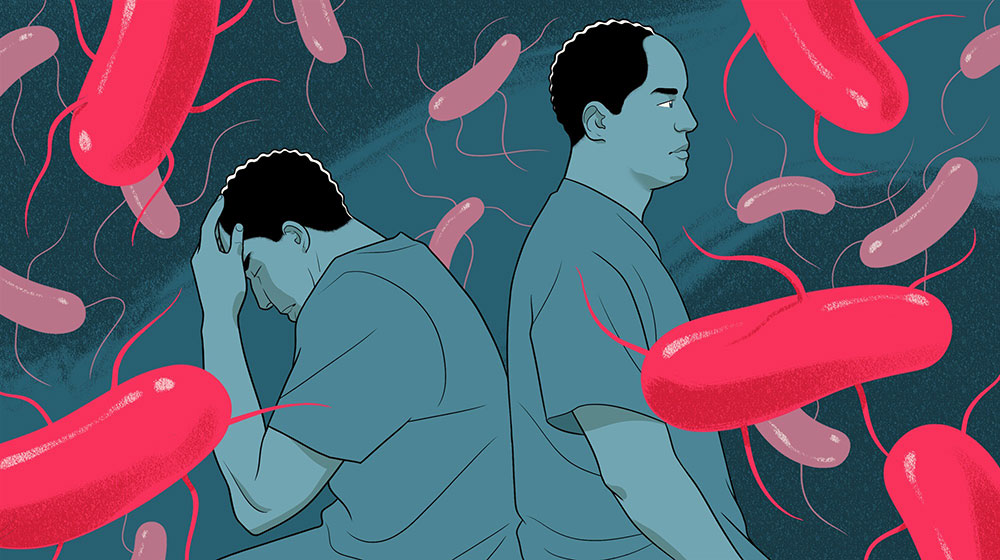 Aug. 25 - For decades, fecal transplants went unregulated, with doctors performing them as they pleased.
---
The U.S. is throwing away at least 3,500 donated kidneys every year, study finds
Aug. 26 - There are 93,000 people in the US on a waiting list for a donated kidney and yet at least 3,500 donated kidneys are thrown way each year a new study finds in Monday's edition of JAMA.
---
A leap forward in kidney disease research: Scientists develop breakthrough in vitro model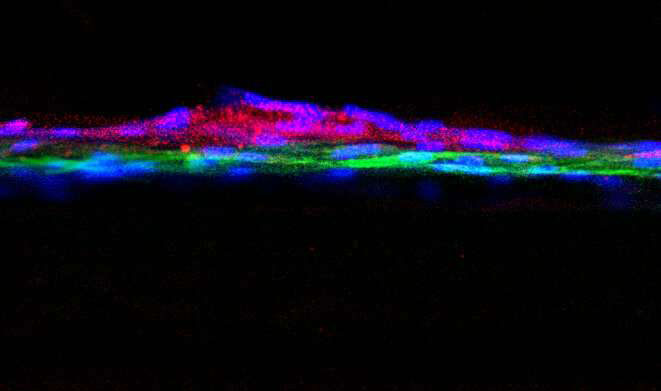 Aug. 13 - Kidneys work to constantly filter blood and remove toxins from the body. Conditions such as chronic kidney disease (CKD) are characterized by a reduced ability to perform this essential function. CKD incidence is growing and more than 1.4 million individuals depend on dialysis or kidney transplant for survival. Development of new treatments requires an understanding of the mechanisms of the disease progression, but scientists have not been able to accurately model kidney filtration in vitro - until now.
Options When Transplant Has Failed in Patients With Hodgkin Lymphoma
Aug. 23 - At the recent 2019 ASCO annual meeting in Chicago, Anne Beaven, MD, of UNC Health Care in Chapel Hill, North Carolina, sat down with MedPage Today to discuss options for when transplant has failed or is not an option, and the evidence for novel sequencing and chemo-free approaches prior to transplant in relapsed Hodgkin lymphoma.
---
Prediabetes After Renal Transplantation Raises Cardiovascular Event Risks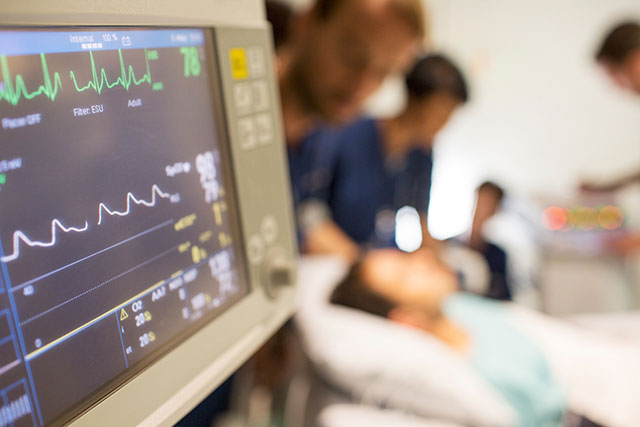 Aug. 21 - Renal transplant recipients with prediabetes are an increased risk for cardiovascular disease (CVD), according to a new study. In these patients, prediabetes at 12 months was associated with a significant 2.1-fold increased risk of fatal and nonfatal cardiovascular (CV) events beyond 12 months, investigators reported in Kidney International.
Upcoming Meetings and ANNOUNCEMENTS