TTS Recognition Awards 2014


Dr Bušić is working in the Ministry of Health, managing the Institute for Transplantation and Biomedicine, i.e. Competent Authority for Organ, Tissues and Cells.
She was appointed as the National Transplant Coordinator in 2002 to provide senior leadership and coordinated national efforts in development of self-sufficient organ donation and transplantation system in Croatia. Nowadays, Croatia is now one of the world leading countries in deceased organ donation and transplantation per million population.
In 2011 dr. Bušić was appointed as Director of the Regional Health Development Center on Organ Donation and Transplant Medicine (RHDC Croatia) designated to promote and assist development of deceased organ donation and transplant medicine in the nine South-east European countries. In partnership with international organisations (TTS, WHO, CoE, ESOT/EDTCO, EC) RHDC Croatia has provided a sustained leadership in implementing concerted actions aimed at the development of successful and self-sufficient organ donation and transplantation programmes in these countries. As a result, significant progress has been achieved in Montenegro (transplant and deceased donor program have been launched), Romania (donor rate doubled), Macedonia (living kidney transplant rate increased) and Bosnia and Herzegovina (establishment of Competent Authority). Efforts are underway in Serbia, Bulgaria, Albania Moldova and Israel (recently joined).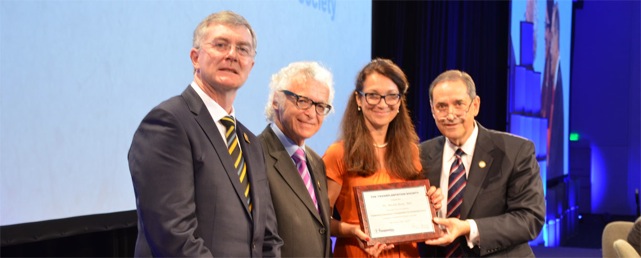 Philip J. O'Connell, Gerhard Opelz, Mirela Bušić, Francis L. Delmonico

Megan Sykes' research career, during which she has published >400 papers and book chapters, has focused on hematopoietic cell transplantation, organ allograft tolerance induction, xenotransplantation tolerance and Type 1 diabetes. Dr. Sykes has developed novel strategies for achieving graft-versus-tumor effects without graft-versus-host disease following hematopoietic cell transplantation (HCT). She developed an approach that has been evaluated in clinical trials of non-myeloablative haploidentical HCT whose safety and efficacy allowed trials of HCT for the induction of organ allograft tolerance, allowing intentional achievement of tolerance in humans for the first time. Dr. Sykes has dissected the tolerance mechanisms and pioneered minimal conditioning approaches for using HCT to achieve allograft and xenograft tolerance. Her work on xenogeneic thymic transplantation for tolerance induction has led, for the first time, to long-term kidney xenograft survival in non-human primates. More recently, she has extended the HCT approach to the problem of reversing autoimmunity while replacing destroyed islets of Langerhans in Type 1 diabetes. She has developed novel "humanized mouse" models that allow personalized analysis of human immune disorders and therapies. Dr. Sykes is a Past-President of the International Xenotransplantation Association, served as Vice- President of TTS, has repeatedly served on TTS Council and is a member of the Institute of Medicine.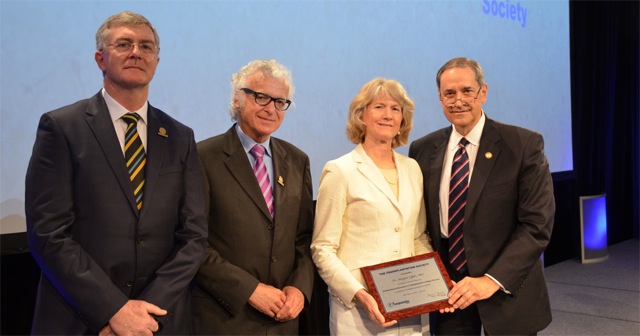 Philip J. O'Connell, Gerhard Opelz, Megan Sykes, Francis L. Delmonico

Dr. Medina Pestana is professor of nephrology and the head of the kidney and pancreas transplant program at the Hospital do Rim in São Paulo, where he developed a unique large scale transplant center, perfoming over 10.000 kidney transplants in the last 15 years. He has overseen 32 masters and 14 PhD theses and published over 250 papers. He devotes time in volunteer activities as general physician in the small city where he was born and as a mentor of Afro-Brazilian medical students.
His goals have not been easily achieved. He attended high school while working as a lathe operator to fund his education before medical school, which was funded by his work as a lab auxiliary. His transplant activity began 1983, when he organized the renal transplant program initially limited to a once a week procedure, mostly living donors. Although he is a nephrologist, he learned kidney harvesting at the Moffitt Hospital at UCSF, in 1985, under Oscar Salvatierra's supervision, which enabled him to actively participate in organ recovery surgeries and stimulate the growing of this program in a National system. In 1987 after finishing his PhD he did a clinical fellow training at the Cleveland Clinic Foundation, followed by one year experimental organ transplant training in the Oxford University, under Prof. Peter Morris' supervision.
In 1990 he started to increase the renal transplant program at The hospital do Rim that gradually reached over 800 transplants per year, becoming a major center for training new professionals and for research. Currently 75% of the transplants are done with deceased donor and he has personal restrictions for living unrelated kidney transplants and exchange transplant chains.
Because of the multidisciplinary nature of transplant medicine and its success within the university, he was appointed as the clinical director of the University hospital and later the director of the Hospital do Rim, allowing him to develop management and administrative abilities.
He was honored in 2004 by being elected honorary fellow of the UK Royal College of Surgeons, in 2001 by being elected one of the 100 members of the Brazilian National Academy of Medicine and in 2012 as Harvard Visiting Professor. He was twice President of the Brazilian Transplant Society.
His hobbies are sports in general, mostly watching professional soccer, baseball and American football, and practicing outdoor soccer and cycling.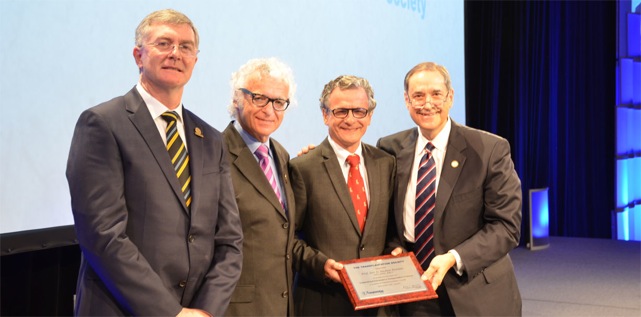 Philip J. O'Connell, Gerhard Opelz, José Medina Pestana, Francis L. Delmonico

Richard Allen developed a passion for transplantation in Oxford before returning to Sydney to establish a new kidney and pancreas transplant unit. He is currently the Professor of Transplantation Surgery at University of Sydney and surgical director of a multi-organ transplant program. He champions the broader role of transplant surgeons within the multi-disciplinary transplant team environment, whilst at the same time, challenging trainees and colleagues alike, to match and complement the skills of others within the team. His consistent message is need for excellence in surgery to maximise the potential of all donor organs. To this end, he has been instrumental in Australia in establishing training programs and credentialing guidelines for surgeons, and trained many national and international academic surgeons.
As a TTS councillor, he became more aware of the needs of transplantation in developing countries, particularly Asia with its great potential for deceased donation. He laments their dependence on living donation that can take advantage of others and obviate the need for deceased donor programs. By understanding the complex mix of local customs and competing priorities, and by providing training opportunities for a wide spectrum transplant professionals, he is demonstrating that it possible to adapt proven donation strategies to meet the needs of resource-poor countries. He is hopeful that Vietnam can provide an example for others in the region to follow.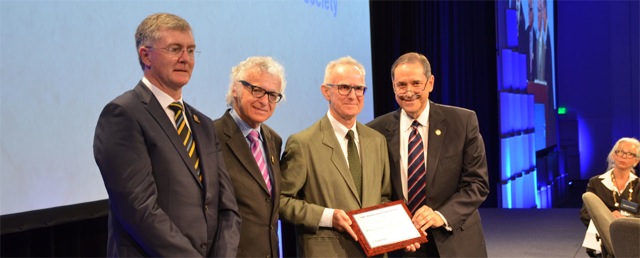 Philip J. O'Connell, Gerhard Opelz, Richard Allen, Francis L. Delmonico

Kathryn Wood is Professor of Immunology in the Nuffield Department of Surgical Sciences, University of Oxford where she runs the Transplantation Research Immunology Group (TRIG – www.nds.ox.ac.uk/trig). Her research focuses on tolerance induction at the molecular and cellular level, immune regulation and interactions between the immune system and stem cell derived tissues. She is a Fellow of The Academy of Medical Sciences and received a Royal Society Wolfson Merit Award for research excellence. Professor Wood's research achievements have also been recognised internationally, including receiving a Gold Medal awarded by The Catalan Society of Transplantation (2011), The Rose Payne Award from the American Society of Histocompatibility and Immunogenetics (2011), the Excellence in Transplantation Science Award from The Transplantation Society (2012) and the Maharshi Sushruta Award (2012). Professor Wood's professional activities include a broad array of responsibilities both nationally and internationally. She was President of The Transplantation Society (2004-2006) and subsequently founded the Women in Transplantation initiative (WIT – www.tts.org/women) of which she is currently Co-Chair. Professor Wood is Chair of the WTC (2014) Executive Committee.

Curie Ahn, Korean physician, scientist, and educator, trained at Seoul National University Hospital and also trained at Cincinnati Medical Center. She was the first woman to become medical professor in Seoul National University Hospital. As a pioneer in transplantation and immunology, she studies genetic regulation of immune responses in xenogeneic circumstances using human immune-regulatory gene transgenic pigs. As a director of the transplantation research center, she set up an efficient organ procurement system and facilitated deceased-donor transplantation in Korean society.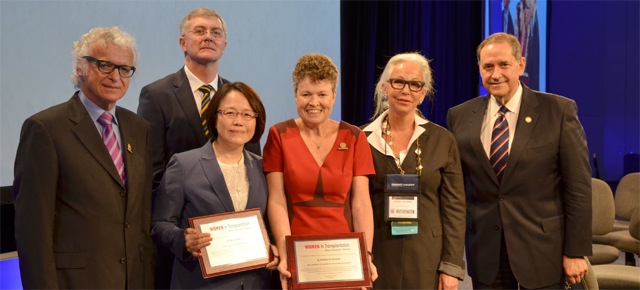 Gerhard Opelz, Philip J. O'Connell, Curie Ahn, Kathryn J. Wood, Nancy L. Ascher, Francis L. Delmonico