Professor Clyde F. Barker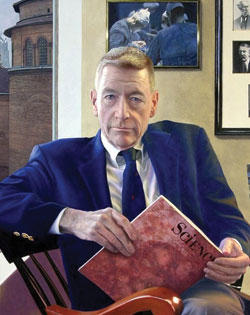 Professor Clyde F. Barker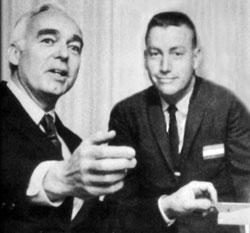 Rupert E. Billingham and Clyde F. Barker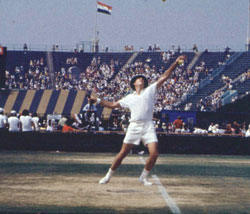 ---
Introduction of the 2010 Medawar Prize Recipient
---
This year, the Committee received more nominees for the Prize than ever before, each exceptionally qualified. Having wrestled with such an array of deserving talent, we are delighted and honored to announce the result, and introduce Professor Clyde F. Barker as one who well exemplifies all of the requirements for the award.
Professor Barker trained in surgery at the University of Pennsylvania, an institution at which he has spent his entire career. His surgical interests has been sustained and highly recognized. He carried out the first kidney transplant at Penn in 1966, and later initiated a multi-organ program which he built into one of the largest and most academically productive anywhere. At the same time he became an important and innovative figure in the developing field of vascular surgery.
Despite a demanding clinical load, Clyde has been the quintessential surgical scholar, with investigations in transplantation biology that have lasted over many decades.
Early in his career he spent several productive years with Professor Rupert E. Billingham at the Wistar Institute in Philadelphia, one of the seminal figures with Brent and Medawar in the early studies of neonatal tolerance. Professor Billingham became President of TTS in 1974 and was the recipient of the Medawar Prize in 1994. Clyde's close relationship with this important mentor was an enduring one.
Stimulated by this scientific experience, Clyde persisted in his laboratory investigations, and is credited with four important contributions in immunobiology. His early work with Billingham on a variety of "immunologically privileged" sites increased general appreciation of the phenomenon of antigen presentation and the relationship between host cells and the graft. He then discovered that isolated pancreatic islet cells could reverse diabetes in experimental animals, a critical observation that culminated in the establishment of a clinical islet program in 2000. The third advance involved the observation that autoimmunity, not alloimmunity, could destroy transplanted islets, while the fourth was the induction of central tolerance by intrathymic inoculation of antigen.
What is less generally known, perhaps, is Clyde's prowess on the tennis court. A star player from his youth, he has played, and continues to compete nationally and internationally.
His career has been one of consistent excellence, both in the clinical and investigative realms. He has been a great supporter to his young trainees who remain fiercely devoted to him. Replete with honors, happily married for over a half-century, Professor Barker is a most worthy addition to the pantheon of Medawar awardees.
---
About Professor Clyde F. Barker
---
Clyde F. Barker is a native of Salt Lake City, a graduate of Philips Exeter Academy, Cornell University and Cornell University Medical College. His entire subsequent career has been at the University of Pennsylvania. After internship, residency in surgery, and fellowship in vascular surgery, he studied transplantation biology under Rupert Billingham as a Post Doctoral Fellow and junior faculty member in the Department of Medical Genetics.
In 1966, his first year on the surgical faculty he initiated the University's transplant program by performing a kidney transplant, now one of only a small number in the world that still functions 44 years later. The multi-organ transplant program he founded and directed until 2001 has grown to be one of the largest in the United States, with over 400 transplants carried out per year. From 1966-2001 he was Chief of Transplantation Surgery, from 1982-2001, Chief of Vascular Surgery and from 1983-2001, Chairman of the Department of Surgery.
Prof. Barker's research interests can be traced to those of his most important mentor, Rupert Billingham and through Billingham to the influence of Peter Medawar. His training clearly had an impact on his interest on a variety of important themes in transplant biology that are found throughout Prof. Barker's 425 scientific publications.
Prof. Barker's scientific memberships included the American College of Surgeons, The Institute of Medicine of the National Academy of Sciences, the Association of American Physicians, the American Academy of Arts and Sciences and the American Philosophical Society of which he is now a Vice President. He has been President of the American Society of Transplantation Surgeons, the Halsted Society and the American Surgical Association. He has served as visiting professor at 90 different universities and is an Honorary Fellow of the Royal College of Surgeons of England and of the Royal College of Surgeons in Ireland.
Prof. Barker is the recipient of several lifetime achievement awards, including the Roche Pioneer Award of the American Society of Transplant Surgeons, the Sheen Award of the American College of Surgeons, the Medallion for Scientific Achievement of the American Surgical Association, the Jonathan Rhoads Gold Medal of the American Philosophical Society, the Lifetime Achievement Award of the Society of University Surgeons and the Thomas E. Starzl Prize in Transplantation and Immunology. Prof. Barker now joins an illustrious group of 26 previous Medawar Laureates.