Education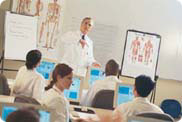 The Transplantation Society is developing a comprehensive educational program for residents, fellows, transplant specialists and related professionals.
The program will include tutorials and video lectures by international experts in all aspects
of basic biology and clinical transplantation delivered using advanced internet technology.
The tutorials will be presented as they become available and are accessible to members
via the Member Login.
Presentations are currently available in the following categories:
Advances in Clinical Transplantation
New Technologies, Tools and Strategies for Predicting Outcomes
Science to Clinical Practice
Organ Donation and Allocation
Infectious Disease
Study Design for Clinical Researchers (through a link kindly provided to members by MIT)
The library will grow to form a comprehensive educational program in transplantation medicine and surgery.