Practical Protocols for Living Donor Kidney Transplantation
---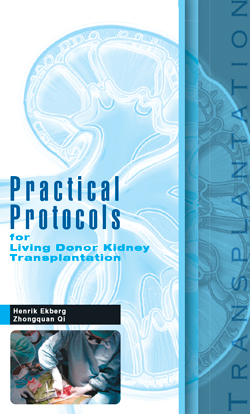 Why do we need protocols?
Every transplant centre needs to make decisions on their routine practice, to decide on a set of protocols for the transplant surgeons and physicians at the centre. The reason for this is that all patients should be given the best possible care. These protocols should be based on current transplantation research and they should be updated at regular intervals. The objective is to reach the highest international standard of outcome after kidney transplantation.
For whom is this book written?
We have written this book for anyone who is working as a doctor or nurse at a kidney transplant centre, and recommend that you use it for critical discussions and decisions on the protocols used at your centre. You will need to make regular updates of the protocols in the future if you are to keep your practice current.
How to make your own protocols
You are invited to make a download of the text of this booklet in two versions: a pdf file (Adobe) and a doc file (Microsoft Office Word). If you want to make a print out of the same text as in the book, use the pdf file. If you want to make your own protocols, similar to what we have suggested but with an update or with local application, use the doc file and make your revisions in Word. The text is so far available in two languages; English and Chinese.
Henrik Ekberg
Zhongquan Qi
---
Download:
---