IPITA Update - Highlights of the IPITA-IXA Joint 2009 Congress, Venice, Italy

The International Pancreas and Islet Transplant Association held its biennial meeting in Venice, Italy from October 11-16, 2009. The local organizing committee provided a flawless program and venue on the Lido beachfront of Venice, Italy overlooking the Adriatic Sea.
Highlights of the meeting were a wonderful Paul Lacy lecture by Ray Rajotte and the IPITA Presidential address by President Reinhard Bretzel.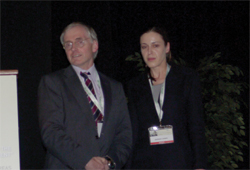 There were many outstanding scientific presentations. However, the first among equals was a sensational presentation of the 50% five-year islet transplant alone (ITA) from the University of Minnesota in a cohort of patients receiving thymoglobulin induction and maintenance therapy with with mycophenolate mofetil and tacrolimus. These promising results were compared to the gold-standard "one pancreas therapy" for diabetes with pancreas transplant alone. A highly popular format for this meeting was debates on key controversies in the field such as beta cell regeneration, and consensus statements on key issues such as the infectious risks of xenotransplanation. In addition there were special sessions on islet isolation and management of the hyperimmunized patient to name a few.
The Derek Gray Fellowship was awarded to Barbara Ludwig from Dresden, Germany.
The meeting had registration which surpassed expectations with attendees from every populated continent. Please look forward to an outstanding IPITA contribution to the TTS programme in Vancouver and the next IPITA meeting in Prague, June 1-4, 2011.
­– Stephen T. Bartlett, President, IPITA
| | |
| --- | --- |
| | IPITA 2009 TTS-Astellas Travel Grant recipients |
| | |