Strengthening the global leadership of TTS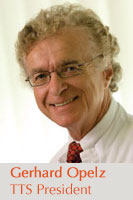 The TTS presidential term of two years begins and ends with the biannual Society congress. Jeremy Chapman has been our president since the Sydney congress in 2008, and will hand over the baton at the 2010 congress in Vancouver. His presidency has spanned a particularly successful period for the Society and everyone familiar with its operations knows that the credit for this lies first and foremost with Jeremy.
His dedicated leadership has left an imprint that will long be recognized and has set the stage for further development of TTS as an international influence. Today, TTS is recognized as the primary voice for the transplant community with the World Health Organization and other global bodies. The pivotal WHO resolution WHA 63.22 was passed after Jeremy´s presentation to the World Health Assembly in Geneva. He was also instrumental in the continued progress of the Declaration of Istanbul Custodian Group in their fight against organ trafficking.
Jeremy was a tireless ambassador for TTS, attending countless meetings around the world and building fruitful relationships with national and international transplant societies as well as with corporate partners. Not least, he has strengthened the role of TTS in scientific and clinical research, most notably through active support for scientific conferences and organization of New Key Opinion Leader meetings. The award to TTS of the prestigious Prince of Asturias Prize 2010 recognized the scale of these achievements.
As the incoming president, the last two years have been an important learning period for me. TTS is in a stronger position than ever before, but new challenges lie ahead as the Society looks forward to continuing and expanding its leadership role in transplantation. I am grateful that Jeremy has offered me his continued advice and support during the term of my presidency.