2012- XXIV TTS Congress - Berlin, Germany
Berlin –­ a city in motion - invites the world to The International Transplant Congress in 2012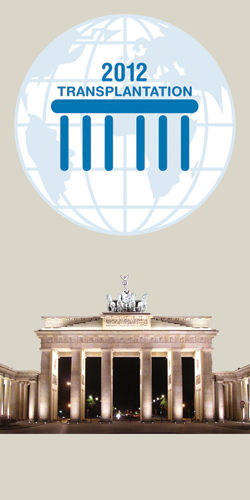 Berlin has become one of the most inspiring and exciting
cities of Europe after the fall of the wall. The setting with its mysterious and spectacular locations, and its overwhelming history, reflects not only the latest world history, but rather is an interface between the past and the future.
The city of Robert Koch and Max Planck with its remarkable scientific tradition, makes it the ideal place for the Deutsche Transplantationsgesellschaft to host such an important scientific event as the XXIV International Congress of The Transplantation Society, to be held from July 15th to 20th, 2012.
The Local Organizing Committee reserved the International Congress Center Berlin (ICC) as the host venue. The congress will investigate new horizons, basic innovations and limitations in molecular medicine relating to biology, immunology and pharmaceutical manipulation of the immune response. One focus will be all the aspects of clinical transplantation and the role of stem cells and regeneration of modern transplant medicine.
As a scientific meeting in the center of society, ethical, societal and socio-economic topics of organ procurement and allocation will also be an important aspect.
A highlight of the congress will be a unique scientific session, namely the Forum Futurum, focusing on varied topics such as intensive care, imaging and regenerative medicine. The Forum Futurum will be an interactive platform for discussing cutting edge science in our field.
The National Executive Committee includes the current and the former DTG presidents and representatives of The Transplantation Society, who will welcome members from all over the world to provide their expertise as speakers, committee members and program chairs in all areas.
The Deutsche Transplantationsgesellschaft, with the support of The Transplantation Society, will ensure that the 2012 Congress will be exceptionally fascinating and enriching, and remains one of the most memorable congresses.
Prof. Dr. Peter Neuhaus, Chair
2012 Transplant Congress
www.transplantation2012.org