President's Message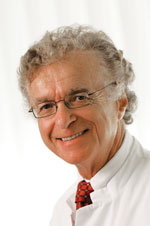 Gerhard Opelz, President
The XXIII congress of The Transplantation Society is an impressive example of how TTS represents transplantation at a global level. This congress had a record number of abstracts, presentations, and congress delegates from 90 countries, which is in itself a testimony to the vibrant state of our organization. While the clinical and basic transplantation sciences received center stage coverage, other areas ranging from education to ethics as well as societal aspects of organ donation were important program topics. This outstanding program was all accomplished on an international scale, providing a forum for the exchange of knowledge as well as the opportunity to establish new contacts with colleagues from around the globe. While it all seemed so natural and uncomplicated, those working behind the scenes for the past two years under the leadership of Paul Keown put in a tremendous amount of work to make the Vancouver Congress such a great success.
Preparations are already well underway for the next TTS congress, to be held July 15-19, 2012 in Berlin, Germany, often called the new heart of Europe. Under the chairmanship of Peter Neuhaus, and in close collaboration with TTS committees and international leaders in clinical and translational transplantation sciences, all efforts are being made to ensure that the Berlin congress will be as successful as the Vancouver experience. Mark your calendars, the 2012 TTS congress is not to be missed!
Besides the biannual congresses there are many other important TTS functions. During the coming year we are looking forward to another successful Transplantomics Meeting to be held in the month of March in Barcelona, the TTS-ESOT Basic Science Meeting in June in Boston (Cape Cod), a New Key Opinion Leader meeting in February in Goa, India, as well as the six different TTS Section Congresses all advertised on the TTS website: www.tts.org.
The important work of the Declaration of Istanbul Custodian Group is an ongoing effort of TTS in collaboration with the International Society of Nephrology towards ensuring high ethical standards in transplantation. The new 4D's program (Developing Donation from Deceased Donors) of the World Health Organization in collaboration with TTS is aimed at increasing organ donation from deceased donors worldwide. In addition, regional congresses and special topic meetings will be held with active TTS participation and support. Last but not least, TTS is making a strong effort to provide its members with high-standard educational opportunities on the internet. The webcasts of the Vancouver presentations are already popular as shown by user access frequency, and the newly established webinars called "TTS Grand Rounds" offer opportunities for interactive training and discussion with renowned experts in a variety of specialty areas. Keep an eye on the TTS website for future announcements.
As the incoming President of TTS, I am proud to be responsible for the continuation of the extraordinarily successful activities initiated by my predecessors. We will attempt to further improve the Society by contributing innovative ideas during the next two years. I am fortunate to be supported by a highly competent Council as well as dedicated and experienced staff at TTS international headquarters in Montreal. TTS is on a good path and I am confident that all those active in the field of transplantation will find that TTS is a professional organization worthy of their support and membership.

Gerhard Opelz, President