TTS Announces 2010 Medawar Prize Recipient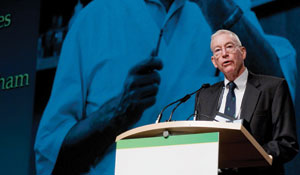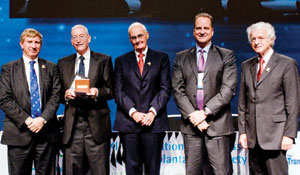 From left to right: Jeremy R. Chapman,
Clyde F. Barker, Nicholas L. Tilney,
Stephen Gohegan from Novartis, Gerhard Opelz

Professor Barker
Receives Illustrious
Medawar Prize
2010 saw an unprecedented amount of nominees for the Medawar Prize. The Medawar Prize is funded from a generous endowment provided by Novartis Pharma AG to The Transplantation Society (TTS) and honours Sir Peter Medawar who has often been called "the founding father of transplant immunology".
After reviewing all the deserving and qualified talent, we are delighted to announce that Professor Clyde Barker as the one who exemplifies all of the requirements for the award.
Professor Barker trained in surgery at the University of Pennsylvania, an institution at which he has spent his entire career. He carried out the first kidney transplant at Penn in 1966, and later initiated a multi-organ program which he built into one of the largest and most academically productive anywhere. At the same time he became an important and innovative figure in the developing field of vascular surgery.
Early in his career he spent several productive years with Professor Rupert E. Billingham at the Wistar Institute in Philadelphia. As well as being a former TTS President and past recipient of the Medawar Prize, Billingham was one of the seminal figures with Brent and Medawar in the early studies of neonatal tolerance.
Stimulated by this scientific experience, Clyde persisted in his laboratory investigations, and is credited with four important contributions in immunobiology. His early work with Billingham on a variety of "immunologically privileged" sites increased general appreciation of the phenomenon of antigen presentation and the relationship between host cells and the graft. He then discovered that isolated pancreatic islet cells could reverse diabetes in experimental animals, a critical observation that culminated in the establishment of a clinical islet program in 2000. The third advance involved the observation that autoimmunity, not alloimmunity, could destroy transplanted islets, while the fourth was the induction of central tolerance by intrathymic inoculation of antigen.
His career has been one of consistent excellence, both in the clinical and investigative realms. He has been a great supporter to his young trainees who remain fiercely devoted to him. Replete with honors, happily married for over a half-century, Professor Barker is a most worthy addition to the pantheon of Medawar awardees.
Supported through an unrestricted education grant from: