Expansion of International Headquarters
---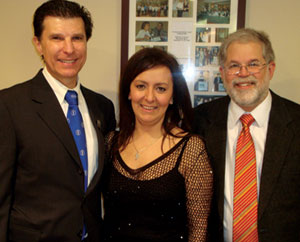 From left to right:
TTS North American Councilor Marcelo Cantarovich,
Director of Society Operations Filomena Picciano,
Vice-President Ron Shapiro
After a year in the making and many busy months of meticulous planning, The Transplantation Society's International Headquarters moved to a bigger office on December 6th, 2010. Now located on the sixth floor of 1255 University Street in Montreal, the new workspace is twice as big as the old one and has improved its computer software by upgrading to the latest technology.
The decision to move was made as early as 2008 when TTS envisioned its own Professional Congress Organizer (PCO) to build upon the organization's brand. In a recent interview with AMI magazine, Immediate Past President Jeremy Chapman claimed: "We have moved from being a virtual organization run from an outsourced PCO office to an in-house organization which we run ourselves with our staff." TTS office is staffed by a core group of people who have years of experience organizing meetings and congresses around the world.
Since the initial decision was made, the Society has also been through some growth in personnel, another reason for the move. Besides the original team of five employees, Lucy Brunetti has been hired as Operations Manager, Roman Beliaevski as Graphics/Web Designer and Alexandra Murphy as Receptionist/Administrative Assistant.
Over the holiday period Vice-President Ron Shapiro and North American Councilor Marcelo Cantarovich were invited to the new office. In early February, the staff also had the pleasure of hosting a visit from their new Director of Medical Affairs Henrik Ekberg. The DMA travelled to Montreal to meet the staff one on one, get detailed information on their responsibilities and further explore the complexities of the International Headquarters. The staff welcomes all officers, councilors and members visiting Montreal to stop by the office in order to get better acquainted.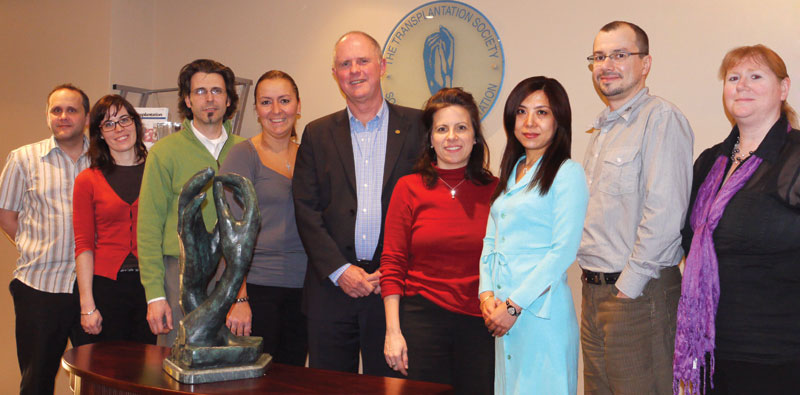 International Headquarters in Montreal. From left to right: Robert Colarusso, Alexandra Murphy, Frank Lindo Verissimo, Filomena Picciano, DMA Henrik Ekberg, Lucy Brunetti, Mariko Nakanishi, Roman Beliaevski, Catherin Parker