President's Message
---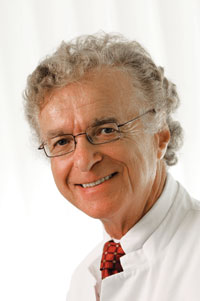 Gerhard Opelz
With each new year comes a new set of challenges and opportunities and TTS is no exception. The elected officers and councilors are making every effort to keep the Society on a steady course and all indications show that we are headed for another successful year.
There are many TTS events planned for 2011 and among those are the sponsored conference activities. We already got off to a great start in February with a nKOL meeting in Goa followed in March with the 2nd Transplantomics meeting in Barcelona. In May 2011 TTS, in collaboration with the Canadian Society of Transplantation, will be holding in Montreal its 1st Global Forum on Education in Schools on Organ Donation and Transplantation. This is an international program directed towards the education of school children on matters related to organ donation.
In addition to the conferences mentioned above, the official Sections' meetings will also take place this year. Visit www.tts.org for a full list of dates and details. A newly added feature is that TTS International Headquarters' PCO department is now assisting with the organization of the Section meetings at considerable cost savings. To further help promote attendance, TTS will continue to offer travel grants to assist young investigators with their expenses.
TTS will also be represented at various WHO functions throughout the year to support the important initiatives aimed at increasing organ donation from deceased donors, especially in countries with currently low donation rates. Our efforts directed at eliminating organ trafficking and all forms of illegal transplantation practices are ongoing and firmly based on the Declaration of Istanbul, the WHO Guiding Principles and the Madrid Resolution.
TTS educational activities this year include the regular and increasingly popular webinars, which address issues of clinical relevance to transplant physicians and surgeons. For a full list of webinar dates and topics visit the TTS website.
Last but not least, planning for the TTS Congress 2012 in Berlin is well underway. Leading scientists have already been contacted to support Professor Neuhaus and his organizing committee in the development of a first rate scientific program as well as an exciting social program.
I am confident that 2011 will be another successful year for TTS. I would like to thank each one of you for your active support through your membership, which provides the mandate for the leading role of TTS in the world of transplantation.

Gerhard Opelz, President