TTS and ONT are praised by the Asturias Foundation for Their International Cooperation
---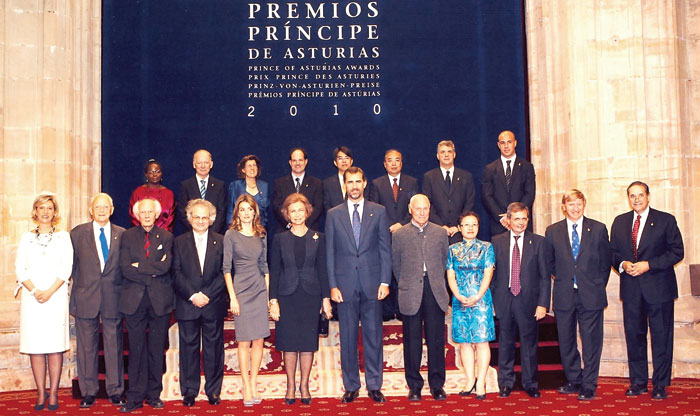 The 2010 Prince of Asturias Award Recipients with Princess Letizia, Prince Felipe de Bourbon and Queen Sofia
Jeremy Chapman and Francis Delmonico represented TTS to receive the Asturias Foundation Award for International Cooperation with Rafael Matesanz, Director of ONT. It was a powerful recognition of the joint efforts of TTS and ONT for the past 6 to 8 years working in close association with the WHO. The effort has been to bring professionals and governments together to enhance the prospects for transplantation and to reduce the unethical and illegal practices that our work suffers from.
The Awards ceremony was organised with great precision, from the moment of arrival to the moment of departure from Oveido, Asturias. The Crown Prince of Spain has, by tradition, been "HRH The Prince of Asturias" with Oveido in Northern Spain as the provincial capital city from which every King of Spain establishes his crown. Prince Felipe de Bourbon presided over the receptions and ceremony, accompanied by his wife the Princess with his mother Queen Sofia in attendance. The ceremony is a major event for the population of the city who crowd the streets each year to see the procession of awardees. We felt like football stars – which was because the cars behind us carried the winners of the sports award – the Spanish Football squad!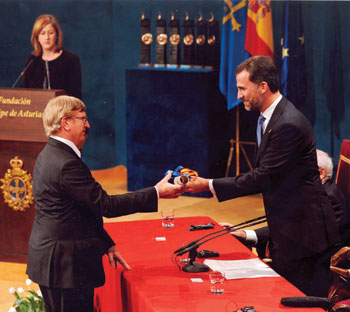 Jeremy Chapman accepts award for International
Cooperation on behalf of TTS
The ceremony was, in the words of novelist Amin Malouf awarded for letters, "a wonderful combination of humanity, warmth and formality". The records of the event are on our website and that of the Foundation www.fpa.es if you are interested. The following morning in a coffee shop in the city I was asked to sign a visitors book – not because we were associated to football stars and we had been on the TV the night before – but as the owner of the coffee shop explained: "My friend has had a kidney transplant and I think the work that you all do is so special and important to us". Now that stopped me in my tracks!
The TTS IHQ office now has a large Miro statue in the front entrance. More importantly we will use the 25,000 Euro prize money to create an award for an individual or individuals working in the field of transplantation who have most contributed to international cooperation. We hope to be able to both echo this award and recognize the importance of internationalism and cooperation in transplantation into the future.