Trinidad and Tobago National Organ Unit
---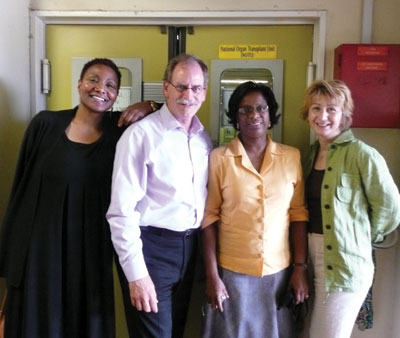 From left to right: Renee Hawthorne, Thomas Mone,
Leslie Roberts, Maria Stadtler
With the goal of ending transplant tourism and developing donation programs, TTS and ISODP have provided a grant to the Trinidad and Tobago National Organ Transplant Unit (NOTU) to initiate the country's deceased donation program. In the spring of 2010, NOTU invited OneLegacy's Thomas Mone, Renee Hawthorne, and Maria Stadtler to assist in this effort; after months of research and conference calls, the team travelled to Trinidad for two weeks for an on-site assessment and initial training program.
The assessment identified an active living donation program with a dedicated group of transplant professionals that has been serving the island nation for twenty years.  However, the assessment also discovered that while basic legislation empowers NOTU to recover deceased donor organs and while criteria for brain death and organ donation were adopted and reliable, current medical examiner/coroner laws inhibit donation because a coroner must release the body for donation (when the coroner has jurisdiction). However, the law does not allow a coroner to be assigned until after cardiac death. Furthermore, neither regulations nor incentives exist to prompt hospitals to refer potential organ donors to NOTU. In addition, when the referral is made there is not sufficient staff available from NOTU to respond to and follow all referrals.
In collaboration with TTS, Marti Manyalich and Paula Gomez of Transplant Procurement Management (TPM) are now working directly with the Ministry of Health in the development of NOTU. TPM and TTS will continue the work to assist Trinidad and Tobago in its commendable efforts to establish deceased organ donation.