TTS and Thai societies launch a Model of Collaboration
---
On October 11th 2010, Henrik Ekberg, now the new TTS Director of Medical Affairs, made an official visit to Bangkok. TTS councilor for Asia Vasant Sumethkul hosted his visit in conjunction with the organizations Thai Transplantation Society, Asian Society of Transplantation and The Ministry of Public Health of Thailand. The objective for the workshop with Dr. Ekberg was to launch "The 4Ds project" (Strategic planning for Developing Donation from Deceased Donors) to Thailand and Asia. This effort was operated by organizing a round table discussion with participation of administrators of all stakeholders involved in the process of organ donation and transplantation in Thailand.
With a population of 65 million, Thailand is a country that provides all important health services to its own inhabitants, including all types of solid organ and bone marrow transplantation. Organizations for organ donation and transplantation are well established.
The prevalence of end stage renal disease in Thailand is 496 per million population. The cost of kidney transplantation is covered by the government's health benefit schemes since 2007. A total of 4,449 kidney transplantations have been performed in Thailand since 1972. However, organ shortage is still a great barrier to transplantation and the rate of kidney transplantation varies between 300-370 patients per year. During the workshop, the opportunities for expansion of organ donation were identified and discussed.
There are approximately 36,000 yearly casualties in traffic accidents in Thailand. A majority of these are head injuries. With proactive task forces, a greater proportion of brain death donors could be utilized. Important identifiable approaches to increase organ donation included:
Strong commitment from the Ministry of Public Health to create a supporting system for the workload of neurosurgeons, ICU physicians and nurses after the diagnosis of brain death.
Identification of a number of target regional hospitals to act as centers of excellence in organ donation.
Intensive training in the process of organ donation and donor management at the specified donor hospitals organized by Thai Red Cross Organ Donation Center and Thai Transplantation Society.
Planning the strategy to set up a Donor Caring System, supported by the Ministry of Public Health.
This meeting demonstrated the importance of collaboration between the organizations for organ donation and organ transplantation and the Ministry of Public Health of the individual country. The next action will be to create an effective collaboration between the involved stakeholders and individual professionals. This step was identified to be the key factor that will lead to true expansion of the deceased donor program in Thailand. TTS has an important role as initiator in launching national 4Ds programs.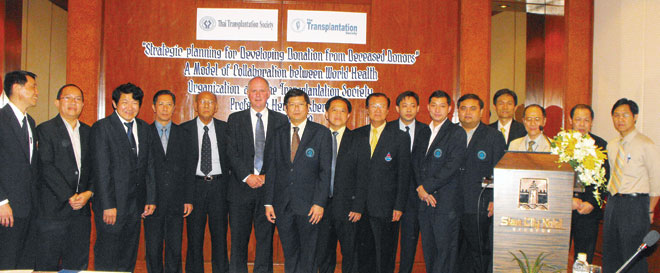 4Ds workshop in Bangkok 2010. Henrik Ekberg and Vasant Sumethkul (center). The Deputy Permanent Secretary of Thailand's Ministry of Public Health Tanongsan Sutatam (fourth from the left corner)