TTS-KOL Meeting in Goa, India: Interactive and Participatory!
The second KOL to be held in India consisted of 92 nephrologists, hepatologists, surgeons, immunologists, anesthetists, social workers, transplant coordinators and other professionals involved in all aspects of organ transplantation
---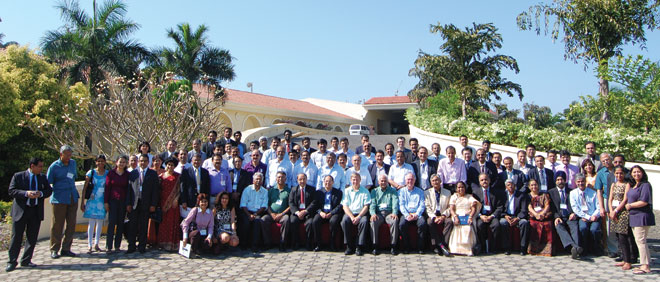 Participants of the 16th TTS-KOL Meeting outside the Zuri White Sands hotel in Goa
The Transplantation Society organized their second Key Opinion Leader Meeting in India, this time in Goa from February, 24th-27th, 2011.
A total of 92 nephrologists, hepatologists, surgeons, immunologists, anesthetists, social workers, transplant coordinators and other professionals involved in all aspects of organ transplantation participated. In all, they represented 38 major kidney transplant centers and 11 liver transplant centers across India. State and central government authorities along with NGOs involved in promoting deceased organ donation also were majorly represented.
The scientific program was prepared by a committee consisting of: Vivekanand Jha, Georgi Abraham, Vijay Kher, Sandeep Guleria, Alan Almeida and T. Ravi Raju. Arvinder Singh Soin, Subhash Gupta and Mohammad Rela served as core members for liver transplantation. TTS officers such as Immediate Past President Jeremy Chapman, President-Elect Francis Delmonico and Director of Medical Affairs Henrik Ekberg provided invaluable input. Other international TTS members who attended the meeting were Manikkam Suthanthiran and Minnie Sarwal as well as Prabir Roy Chaudhury.
Dr. Chapman opened the meeting on the afternoon of February 24th by welcoming all the participants and introducing a new format. Changes were adopted to make this meeting more interactive and participatory than the previous nKOL meeting held in India in 2009. This time a large part of the meeting focused on unique clinical situations encountered in managing transplant recipients, with a special emphasis on their relevance in an Indian context. This was done through workshops, question-and-answer sessions and case presentations. Each format had a half or full-day session dedicated to it. The scheduling allowed interaction and an exchange of ideas between the participants and speakers.
The major sessions of the meeting focused on: challenges in managing the living organ donor, management of the highly sensitized allograft recipient, differential diagnosis of renal allograft dysfunction, various facets of post-transplant immunosuppression and how to use modern molecular techniques to improve patient outcomes. A noteworthy highlight of all these sessions was when exceptionally challenging cases were presented and then opinions sought from the house on how to manage these situations. The overseas experts presented their points of view followed by a summary from the chairs.
The workshop topics were management of infection in transplantation recipients and issues in pediatric and liver transplantation. Each workshop was divided into subsections in which one aspect was chosen by a speaker and followed by discussion from all the participants. Of special interest in the topics on infection were tuberculosis and hepatitis C, which continue to afflict a significant proportion of transplant recipients in India. Liver transplantation and pediatric transplantation were examined in parallel sessions.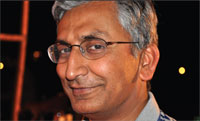 Dr. Vivekanand Jha
participated in the kidney group
of Indian TTS representatives
There was a strong representation from experts from support services such as immunologists and pathologists. They talked about how improvements in technology, i.e. antibody screening, were helping in the management of transplant recipients. Drs. Suthanthiran and Sarwal discussed how biomarkers could be used to identify intragraft events much earlier than what is currently possible using non-invasive techniques. This session generated discussion where the means to introduce these technologies to India were explored. Dr. Roy Chaudhury led the discussion on how to develop collaboration and joint research.
With the goal of improving deceased organ donation programs in India, special sessions were organized around stakeholders from the government, NGOs and clinicians representing different Indian zones. The discussion ranged from donor identification, definition of death, training of counselors and coordinators and how the team could work together to advance deceased donation. Experience from Tamil Nadu and Andhra Pradesh highlighted how it is possible to break the existing barriers to achieve this goal. Dr. Delmonico described the organ allocation program in the USA whereas key NGOs and organizations like Organ Retrieval Banking Organization (Delhi), MOHAN Foundation (Hyderabad), Zone Transplant Coordination Center (Mumbai) and National Deceased Donor Transplant Network (NDTN) presented their models and suggestions to promote deceased donor organ transplantation. The current government policies and the suggested changes being considered by the parliament were also a part of the conversation.
Participants explored issues relating to living donors, paying close attention to liver donors because a majority of liver transplants in India are performed using living donors. The pathway for selecting a donor both for liver and kidney, as well as the surgical aspects related to safe hepatectomy, were presented and followed by open discussion.
The meeting also provided the participants with plenty of opportunity for informal gatherings during breaks and meals. Social programs were planned in the evening to encourage the participants to experience the unique multicultural Goan ambience.
TTS wishes to thank Panacea Biotec Limited, India for supporting the meeting through an unrestricted educational grant.