Berlin Calling
---

---
Since the fall of the Berlin Wall in 1989 the German capital has grown to an unequalled metropolis of tradition and modern spirit, culture and science. The city of Berlin offers a special venue for every visitor and every occasion.
It is our great pleasure and honor to be the host of the 24th International Congress of The Transplantation Society from July 15th–19th, 2012. Following the exceptionally successful meetings in Boston, Sydney and Vancouver, we would like to welcome you to a city, which twenty years after the reunification has evolved into one of the most important capitals of Europe. Once the capital of Prussia and leading cultural centre of the 1920s, today the new capital of Germany is characterized by its dazzling modernity and breathtaking architecture. Berlin is young, dynamic and bursting with joie de vivre. The daily connections from Berlin's airports to cities all over the world, the high-class infrastructure and the remarkable high security standards in combination with its extensive cultural events and vibrant nightlife attract millions of tourists each year. Few cities have been shaped to such an extent by history and undergone as major of a transformation as Berlin. "Berlin is always in the process of becoming," remarked historian Karl Scheffler. Even in the 21st century transplantation still is in a process of becoming, too. Therefore, the 24th International Congress of The Transplantation Society will promote the dialogue of experts from around the world. The executive organizing committee includes the presidents and further representatives of both The Transplantation Society and the German Transplantation Society (Deutsche Transplantationsgesellschaft - DTG).
The 24th Congress is designed for physicians, surgeons, scientists, organ procurement personnel and transplant nurses, who are interested in the clinical and research aspects of solid organ as well as cell and tissue transplantation. The International Congress Centre Berlin (ICC Berlin) with its 80 halls and rooms seating between 20 and 9000 ranks among the biggest, most advanced and most successful congress venues in the world.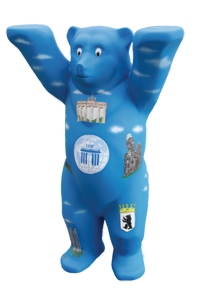 TTS was given its very own Buddy Bear,
created with the Berlin 2012 Congress
in mind. The bear, now on display in IHQ,
has the Congress logo on its belly a
s well as images of famous landmarks
in Berlin. Buddy Bears are unique to
Berlin and were first exhibited throughout
the city in 2002. Each bear stands
2 meters tall and usually represent
a United Nations country, promoting
a message of global unity and peace.
The overall format of the successful TTS meetings will not change. After the Postgraduate Education Course on Saturday and Sunday July 14th - 15th, 2012, the meeting will start with early morning workshops every day, followed by joint plenary sessions with highly credited speakers providing an overview of current developments and new perspectives. Every morning will close with a large selection of single-focused concurrent oral presentations. The afternoons will be for concurrent state-of-the-art symposia, concurrent oral presentations, posters and mini oral sessions. Beside the traditional topics of liver, kidney, heart and lung, pancreas and islet, as well as intestine and multivisceral transplantation, we will foster all aspects of basic science with respect to immunobiology, immunosuppression, regenerative medicine and composite tissue transplantation. We strive for more interwoven sessions with respect to basic and clinical science. During Mini Oral Sessions, authors will present their posters on large screens in the poster area. Each author will be given a short presentation slot that concludes with a short Q&A session. During this session all screens will be synchronized in order to gain maximum attention. Outside the Mini Oral Sessions, these posters will be displayed as part of a continuous loop on the screens. We will also provide space for traditional, printed posters being displayed throughout the meeting.
In addition to the classical types of scientific sessions including plenary sessions, symposia, workshops and poster presentations, we will also offer new types of scientific sessions within the Forum Futurum focusing on Tailored Pharmacotherapy, Imaging and Regenerative Medicine. All of this is designed as a highly interactive forum to discuss cutting-edge science.
The program is developed to encourage the exchange of new scientific and clinical information, and support an interchange of opinions regarding care and management issues, as well as socioeconomic, ethical and regulatory issues relevant to transplantation.
We therefore cordially invite you and your colleagues together with your friends and family to come to Berlin. Your active participation in the scientific program will be the foundation for a successful event in 2012.
Prof. Dr. Peter Neuhaus, Chair
2012 Transplantation Congress
www.transplantation2012.org