Berlin 2012 Update: Abstract Submission Now Open!
---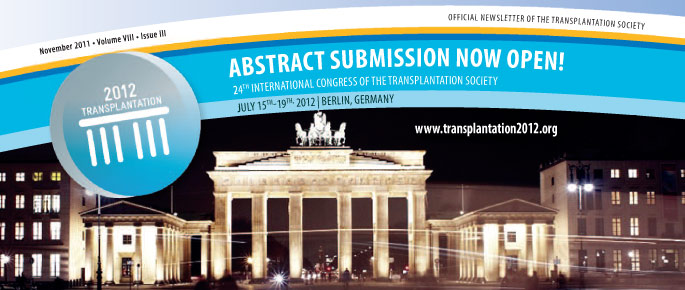 ---
A Warm Welcome to Berlin
We would like to welcome you to a city that has evolved into one of the most influential capitals in Europe. Just over twenty years after its reunification, Berlin has once again become the gateway to Eastern Europe. The city's vibrant cultural life recalls the era of the roaring 1920s, its centuries-old academic reputation continues to inspire students, and breathtaking modern architecture repopulates previously fallow grounds. The Wall truly has been torn down.
The 24th International Congress
Likewise, the 24th International Congress of The Transplantation Society (TTS) aims to overcome frontiers in transplantation and to provide a platform for scientific and educational exchange. We invite all physicians, surgeons, scientists, procurement personnel and nurses who are interested in clinical and research aspects of transplantation to make the congress a valuable event.
A comprehensive Postgraduate Weekend preceding the congress, a special session entitled "Education & Training in Transplantation" (hosted by the TTS Educational Committee) and a Surgical Skills Lab during the congress emphasize the teaching mission of our program.
Scientific Program
As an opener to the 24th International Congress, two German Collaborative Research Centers (SFB 633 and SFB 738) will present their research on T-cell immunology in a one-day conference. Free admission to all our registered delegates has been granted.
Furthermore, 20 International Program Committees chaired by representatives of The Transplantation Society and the Deutsche Transplantationsgesellschaft have developed an outstanding scientific program addressing the four main subjects of the congress:
Immunosuppresion
Long-term effects of immunosuppression are manifold, varying from direct toxicity to the increased risk of secondary disease. Strategies to deal with the shortcomings of current regimens and new discoveries will be addressed. Furthermore, approaches to as well as requirements for tailored therapies or operational tolerance will be discussed.
Improving Standards in Transplantation
Although transplantation medicine is a well-established therapy today, surgical techniques are a focus of constant debate. Furthermore, demographic changes demand modified treatment protocols based on careful analysis of outcome measures.
Organ Scarcity
Organ scarcity is a well-known obstacle to solid organ transplantation and marginal donor organs may compromise short and long term results. Therefore, new approaches to improve the donor organ quality will be discussed. Also, alternatives to conventional transplantation need to be considered: cell transplantation, artificial devices and regenerative medicine demonstrate exciting developments.
Psychological and Ethical Challenges
Since the beginning of transplantation medicine, psychological, ethical and legal challenges have been present and have influenced public opinion. New techniques like living donation, composite tissue transplantation or donation after cardiac death have raised new questions that also need to be addressed.
Forum Futurum
We are introducing a new and exciting feature: The Forum Futurum will provide a podium and additional display booths in a highly interactive setting. Companies and research groups are invited to share their highly innovative ideas on Medical Imaging, Tailored Pharmacotherapy and Regenerative Medicine.
Call for Abstracts
The International Program Committee of the 24th International Congress of The Transplantation Society is pleased to invite the submission of scientific abstracts, commencing in October 2011.
For detailed submission guidelines please visit the congress website (www.transplantation2012.org) or send an email to: This email address is being protected from spambots. You need JavaScript enabled to view it. .
We cordially invite you and your colleagues together with your friends and family to Berlin. Your active participation will be fundamental for a memorable event in 2012.
Follow us on Twitter (@TTS2012 or #TTS2012) or join the mailing list at www.transplantation2012.org.
Prof. Dr. Peter Neuhaus, Chair
2012 Transplantation Congress