XII Basic Science Symposium / II ESOT Basic Science Meeting Report
---

An almost perfect meeting: The XII Basic Science Symposium (BSS) of The Transplantation Society (TTS)/II ESOT Basic Science Meeting was held from June 11–14, 2011, co-jointly organized with the European Society of Organ Transplantation (ESOT). In keeping with tradition, the spectacular location of the Ocean Edge Resort in Brewster, Massachusetts was chosen. The meeting received a record number of abstract submissions and was attended by close to 200 participants from five continents. The line-up of invited experts in the fields of transplantation and neighboring research areas was outstanding. Two of the many highlights were the keynote lecture by Mauro Ferrari on "Recent developments in Nanomedicine and their Relevance and Application in Organ Transplantation," and a Women in Transplantation event with Anita Chong as the invited speaker.
The Basic Science Committee of TTS has been very active in supporting young researchers, particularly in the past two years. Under the guidance of Anita Chong and Stefan G. Tullius, the committee has initiated mentor/mentee awards to foster the relationship between junior and senior scientists. TTS awarded a total of 14 mentor/mentee grants to attend the BSS, of which 11 were co-sponsored with the ESOT, the American Society of Transplantation, the British Transplantation Society, the Canadian Society of Transplantation, the Société Francophone de Transplantation, the Japan Society for Transplantation, and The Transplantation Society of Australia and New Zealand. Those awards, in addition to 11 travel grants, were presented during the gala dinner event at the BSS.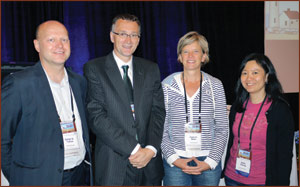 From left to right: Stefan G. Tullius
(Meeting Chair, Co-Chair BSC of TTS),
Mauro Ferrari (Keynote Speaker, BSS 2011),
Carla C. Baan (President of ESOT and meeting Co-Chair), Anita Chong (Co-Chair, BSC of TTS)
After four days of exciting science and networking, the symposium wrapped up with the rain ending and the sun coming through the clouds—a perfect ending to the 2011 BSS. The next Basic Science Symposium co-jointly organized with ESOT will take place in Europe—we are looking forward to seeing you again in 2013.
Other Basic Science Activities to be on the look out for in 2012:
Up to 25 Mentor/Mentee grants will be awarded at the Berlin XXIV Congress. Be on the lookout for applications at the Congress Website (www.transplantation2012.org) and also on the TTS website (www.tts.org)!
New TTS International Basic Science Research Exchange Fellowships—call for applications will be in January 2012.
New TTS International Basic Science Pre-doctoral Fellowships—call for applications will be in December 2012.