2011 Organ Donation Congress In Buenos Aires
---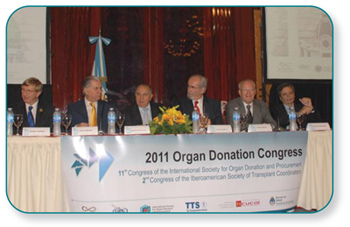 The ISODP 2011 Congress was an excellent opportunity to
discuss ideas and exchange knowledge.
The ISODP Congress in Buenos Aires in November 2011 was a big success—949 professionals participated, with more than 74% from Argentina and South America. The congress offered an opportunity for extensive exchange of knowledge against an excellent scientific background spanning the entire fields of organ donation, organ procurement and donor management. Of course, it gave the opportunity for a lot of discussion among specialists to learn from each other and compare their methods. Dr. Carlos Soratti and his colleagues are congratulated for their work and organisation that made this event possible, especially in a time of tight financial resources. During the conference, the ISODP members decided that the next meetings will take place in Sydney, Australia in 2013 and in Seoul, Korea in 2015.
Today, further development of organ donation is considered an absolute requirement. In the field of transplantation, better distribution of knowledge on how to detect donors in donor management, improvements in family approach and family care, and an increased number of investigations are all greatly needed. At the recent congress, new techniques for organ preservation, including cold or warm machine perfusion were discussed, together with aspects of safety and measures in the whole field of organ and tissue donation. Interest in this field is rapidly increasing due to the worldwide spread of as yet unknown infectious and other diseases. Future challenges include both providing enough high-quality organs as well as performing further investigations concerning safety issues. Participants of the Buenos Aires meeting took home state-of-the-art knowledge in this field. Altogether, the meeting was impressive and a great success.