Director of Medical Affairs Report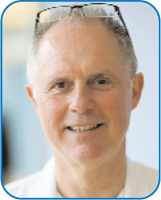 Henrik Ekberg
This issue of Tribune presents several examples of how TTS fulfills its mission.
The TTS Congress in Berlin will be a great networking event full of news of exciting developments in transplantation. While we will be travelling through the old airport, we will be heading for new knowledge. The plans for the 2014 TTS Congress in San Francisco, which will be the second World Transplant Congress in collaboration with the American Society of Transplant Surgeons and the American Society of Transplantation, are well under way (see Berlin is Prepared for the Best in Basic Science and Clinical Transplantation on pages 6 and 7 and Announcing the 2014 World Transplant Congress on page 9.)
Between the 2012 and 2014 Congresses, TTS will have its alternate year program with specialized interest meetings and TTS sections' meetings. These events will gather together physicians and scientists in cell- or xenotransplantation, intestinal, hand and composite tissue, pancreas and islets, as well as specialists in organ donation and transplant infectious disease (see updates from the CTS, IHCTAS, IPITA, ISODP, ITA, IXA and TID sections on pages 10, 13-15.)
TTS is also focusing on supporting colleagues in the forefront of research in Transplantomics and Basic Science (see Transplantomics 2012 La Jolla Conference Report on page 11, and Basic Science Committee Update on page 5.)
TTS membership benefits are very substantial: simply by attending one of our many meetings every two years you will save money, but you may be able to profit even further through the Mentor/Mentee programs of the TTS Basic Science Committee and TTS Women in Transplantation initiatives, as well as TTS Research Exchange Fellowship grants, to name a few opportunities.
If you take a look at www.tts.org you will see not only news of the society, its sections and the affiliated national societies but also a sector dedicated to continued education. All sessions in TTS meetings and congresses are recorded and may be viewed by TTS members at any time. Additionally, all our webinars may be revisited—one of the most recent webinars concerned the teaching and training of junior transplant physicians. This topic was addressed by Dr. Medhat Askar in a webinar format and will be explored again at the Berlin Congress in Room 42 of the ICC Berlin on Thursday, July 19th from 8:00 to 9:00am.
TTS' position on the development of an ethical basis for organ donation and transplantation world-wide is well known. The Declaration of Istanbul (DOI) has now been endorsed by more than 110 organizations and societies in the field. TTS continues its close collaboration with the DOI Custodian Group (please see Declaration of Istanbul Custodian Group Update on page 8.) TTS also supports the China Liver Transplant Registry (CLTR) in its endeavours to increase deceased organ donation (after circulatory or brain death), replacing executed prisoners as donors (see TTS Supports China Liver Transplant Registry Efforts to Align Chinese Practices with International Standards on pages 8 and 9.)
TTS actively supports the intensive work in the South East European Health Network (SEEHN) led by the Regional Health Development Center in Croatia (RHDC) for the past two years (see Macedonia Meeting Highlights in Tribune Vol. 8 Issue 3, Nov. 2011.) Meetings are scheduled in each country (for example in Montenegro, see Incoming President's Remarks, page 3) and in June 2012 a Symposium took place in Zagreb with participation from all Ministers of the countries in the region (see report to come in a future issue of Tribune.)
All sessions in TTS meetings and congresses are recorded and may be viewed by TTS members at any time.
TTS has also continued to support the development of deceased donation in Thailand (see TTS and Thai Societies Launch a Model of Collaboration in Tribune Vol. 8 Issue 1, Apr. 2011), and I participated in a one-day meeting on March 18th with the Thai Transplantation Society in Bangkok under the leadership of Vasant Sumethkul, Councillor of TTS and President of the Thai Transplantation Society. Reimbursement for donor hospitals in Thailand has been accomplished, and trauma centers that are potential centers of excellence in organ donation have been identified. Educational programs for intensive care personnel are also being planned.
Dr. Mehmet Haberal, former TTS Councilor, Founding President of Baskent University, and a Member of the Turkish Parliament, remains in prison without trial in Turkey for more than three years now. TTS Immediate-Past President Jeremy Chapman, past Councillor Josep Lloveras and Dr. Nadey Hakim visited Dr. Haberal in the Silvri Prison outside of Istanbul in April and reports that he is well but disheartened by his long incarceration. Continuing efforts are being made to bring this state of affairs to the attention of governments on both sides of the Atlantic.