Basic Science Committee Update
---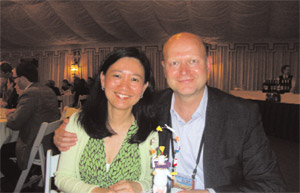 Anita Chong and Stefan Tullius,
Basic Science Committee Co-Chairs
Transplantation has not stopped moving forward and the field remains exciting, largely based on its progress in basic, translational and clinical research. The 2012 Berlin TTS Congress received close to three hundred abstracts in the categories of Immunobiology and Basic Sciences, a record high. The most recent and outstanding research will be presented in seventy-six Oral and Mini-Oral presentations. In addition, leading investigators in their field will present the most cutting-edge advances in basic transplantation research in eight State of the Art and eight Sunrise Symposia, providing the most up-to-date information and ideas for new research directions.
The Basic Science Committee is continuing its collaboration with seven national and regional transplant societies to award up to thirty Mentor/Mentee Travel Awards for the Berlin Congress. We will also be awarding for the first time several TTS—Basic Science Research Exchange Fellowship grants to provide new research opportunities for trainees and established investigators away from their home institutions. Both the mentor/mentee awards and the research exchange fellowships will be awarded during the Basic Science Networking Event on Tuesday, July 17th from 17:30-19:00 at the ICC Berlin in the Oslo Room.
We are awaiting this exciting 2012 TTS Congress, anticipating the excellent basic science presentations and most importantly, looking forward to seeing you at the networking celebration. Berlin is a wonderful, hip, metropolitan place, so we are sure that you will enjoy the city as well.