Declaration of Istanbul Custodian Group Update
---

---
The June issue of Nature Reviews Nephrology includes a detailed review (Published online: 20 March 2012 | doi:10.1038/nrneph.2012.59) of major international developments since the initial meeting of the Declaration of Istanbul on Organ Trafficking and Transplant Tourism in April 2008. As this review describes, there has been substantive positive change in the organ transplant environment of several of the countries designated by the WHO as "hotspots" of trafficking and tourism.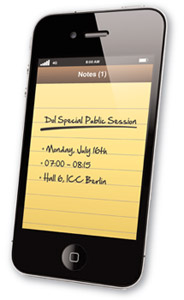 Despite these encouraging developments, intractable problems remain. The Custodian Group (DICG) of the Declaration met most recently at the ISODP meeting in Buenos Aires to formulate future plans to be addressed through the activities of its Task Forces and in cooperation with the multiple professional societies and governmental agencies that have endorsed the Declaration. The Declaration has been used as a resource on several occasions by governmental agencies dealing with cases of tourism and trafficking. For the first time, it has become part of national transplant legislation in the new Brazilian transplant law.
At the Berlin TTS meeting, a special Declaration of Istanbul Public Session on Monday, July 16th from 7:00-8:15am in Hall 6 of the ICC Convention Center will be devoted to the Declaration and DICG members will update attendees on developments in key countries that have been both "importers" and "exporters" of transplant tourists. Plans are also underway for a fifth anniversary meeting of the Declaration of Istanbul in 2013.
To keep updated on the activities of the DICG, please visit the TTS booth at the Congress in Berlin as well as the Declaration's website: www.declarationofistanbul.org. Feel free to approach the website editors, Vivek Jha and Gabriel Danovitch with any material that may be relevant to the site. You may contact them at This email address is being protected from spambots. You need JavaScript enabled to view it. .