In Memoriam...
---
Henrik Ekberg

Dr. Henrik Ekberg died suddenly in Thailand on the 29th of December, 2012. He was the Senior Transplant Surgeon at the University Hospital in Malmö, Sweden, Professor of Transplant Surgery at Lund University and President-Elect of The Transplantation Society.
He was educated in Lund, Sweden and qualified in 1976. His medical and surgical training continued in Lund where he was board certified in 1985. He then spent two years at Westmead in Sydney before returning to Sweden to take up a role as transplant surgeon at the University Hospital, Malmö where he became head of department and mentor to many surgeons and scientists.
Henrik's main research interest was in clinical immunosuppression where he brought together a unique series of international investigator driven multi-center clinical trials, including the seminal CAESAR and Symphony studies. He was an active contributor to many international collaborations including the European Best Practice Guidelines in Renal Transplantation and the KDIGO guidelines. He was an associate editor of the American Journal of Transplantation and on the editorial board of Transplantation, Clinical Transplantation and Transplant International. He was Vice-president of the European Society of Organ Transplantation, and then Councilor, Treasurer, Director of Medical Affairs and, at the time of his death, President-Elect of The Transplantation Society. His presence will be missed throughout the transplant world, where his work was always productive, always enthusiastically received and greatly valued.
Henrik enjoyed an active life at home, finally swapping his boat in Sweden for a house in Thailand where he spent many happy weeks between his trips across the world and for his vacations. He died suddenly while exercising on his bike – always looking forward, always planning for the future of our field and for those around him. Henrik is survived by his partner Susan and his four children and two grandchildren. His family recently sent a note to TTS Headquarters, which is shared with our readers:
On behalf of the family of Henrik Ekberg we would like to express a heartfelt appreciation to the members of the TTS community. Your expression of sympathy and support in this difficult time has been very moving. Reading the many thoughtful and personal condolences has at times been overwhelming- to know that so many of you, his dear friends and colleagues, have had us in your thoughts and prayers has been comforting. Thank you.
Andreas Ekberg
Turid Ekberg
Kajsa Ekberg
Susan Westerlund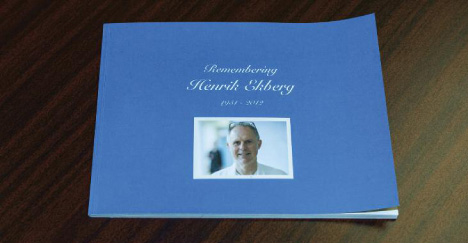 Containing the many comments of support and sympathy that were posted to our website,
TTS produced this book, which was presented to Henrik's family.
Joseph Murray

Dr. Joseph Murray, the surgeon who carried out the first successful kidney transplant and later won a Nobel Prize for his work in medicine and physiology, died on 26 November, 2012 in Boston at the age of 93.
Murray and his team paved the way for a new field of medicine when they completed the first human organ transplant in 1954, taking a kidney from one identical twin and transplanting it to his twin brother. Later in his career, he continued to search for ways of suppressing a patient's immune response to prevent it from rejecting foreign tissue, eventually becoming a co-winner of the Nobel Prize for Physiology or Medicine in 1990.
Murray began a career in military medicine upon graduating from Harvard Medical School, and developed an interest in transplanting tissue while working with service personnel injured in World War II. He completed his surgical training at the Brigham & Women's Hospital and later returned to join the staff and serve as chief of plastic surgery.
With broad interests beyond medicine, Murray said in a brief autobiography for the Nobel Prize organization that he and his extended family had been "blessed in our lives beyond my wildest dreams. My only wish," he added, "would be to have ten more lives to live on this planet. If that were possible, I'd spend one lifetime each in embryology, genetics, physics, astronomy and geology. The other lifetimes would be as a pianist, backwoodsman, tennis player, or writer for the National Geographic."
More than 600,000 people worldwide have received transplants since Murray's innovation. Dr. Murray was awarded the TTS Medawar Prize in 2002.
Nicholas L. Tilney

Dr. Nicholas L. Tilney, President of The Transplantation Society from 2006-2008, died on 13 March, 2013 after an extended illness.
Dr. Tilney was the Francis D. Moore Professor of Surgery, director of the Surgical Research Laboratory at Harvard Medical School, and senior surgeon and director of the Center for Transplantation Research at Brigham & Women's Hospital, where he first came in 1964 and joined the faculty in 1973. He headed the renal transplant service between 1976 and 1992. Dr. Tilney researched ways to lower transplant recipients' mortality rates. His research in transplantation biology was continuously funded by the National Institute of Health since 1974 and widely regarded for its scientific excellence.
He made many scientific advances during his career, and was among the first to test the immunosuppressive drug cyclosporine A in the 1970s. Throughout nearly three decades of laboratory research, Dr. Tilney published more than 550 scientific papers and chapters, trained 40 research fellows from all over the world, and authored "Transplant—From Myth to Reality," "A Perfectly Striking Departure: Surgeons and Surgery at the Peter Bent Brigham Hospital, 1912-1980," and "Invasion of the Body – Revolutions in Surgery." He has been the recipient of numerous awards and honors.
The condolences of the Society have been sent to Dr. Tilney's wife, Mary, and his family. A memorial service was held at the Harvard Yard Chapel on Saturday March 23, 2013. TTS has lost a great leader, a superb clinician/scientist, an ambassador of our Society and a true gentleman.