Cell Transplant Society Update
---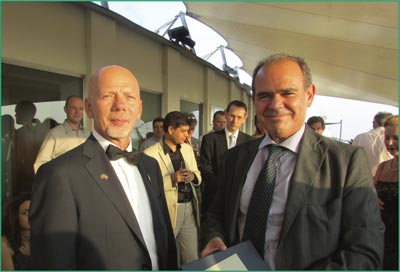 Past-President Stephen Strom and CTS 2013 Congress Chair Livio Luzi
at the President's Dinner in Milan, Italy, in July 2013.
The Cell Transplant Society has been very active in the past few months and is pleased to announce the approval of several amendments to the Society's bylaws, which now include a formal process for Council nominations and a timeline for Council elections. The revised bylaws are available to all members on the CTS website. As a result of the bylaws amendments, our first electronic election was held in June and CTS is pleased to announce the 2013-2015 Council:
President: Maria Koulmanda
President-Elect: Anil Dhawan
Past-President and Secretary: Stephen Strom
Treasurer: Johnny Huard
Councilors: Ewa Ellis, Robert A. Fisher, Ira Fox, Kazuo Ohashi, Klearchos Papas, Terry B. Strom
The 12th International Congress of the Cell Transplant Society was held July 7–11, 2013 in Milan, Italy. The meeting brought together many delegates who had the opportunity to participate in many cutting-edge scientific sessions including plenary sessions on gene therapy and nanotechnology, and regulation of inflammation, tissue remodeling and regeneration. The Cell Transplant Society is extremely thankful to Livio Luzi, Federico Bertuzzi, Lorenzo Piemonti and all the members of the Local Organizing and Scientific Programme Committees for their hard work and dedication in planning this outstanding meeting of experts in the field of cell transplantation. Recordings of all the scientific sessions presented during the Congress will be available to CTS members through the CTS website. Visit www.tts.org/cts and login to access these materials today!
Don't forget to mark your calendars for the next CTS meeting to be held in Melbourne, Australia, November 15–19, 2015. This will be a joint venture of the Cell Transplant Society, the International Pancreas and Islet Transplant Association and the International Xenotransplantation Association.