Intestinal Transplant Association Update
---
The ITA Council is pleased to announce the results of the 2013 election and welcome new Councilors to our 2013–2015 Council, please join us in congratulating all the members of the new Council:
President: Douglas Farmer
President-Elect: Debra Sudan
Past President: Kareem Abu-Elmagd
Secretary-Treasurer: George Mazariegos
Councilors: Gabriel E. Gondolesi, Simon Horlsen, Florence Lacaille, Cal Matsumoto, David Mercer, and Robert Venick.
Ad Hoc: Erin Fennelly (AHP) and David Grant (Registry)
The Council is looking forward to continuing the momentum of this section through the development of new committees focused on education and regulation, membership and science. The intention of these committees is to help lead the dialogue on important issues in the small bowel transplant community and encourage a more active participation and interaction with our membership.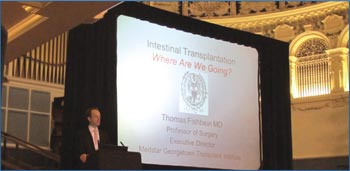 Lastly, the ITA would like to thank Peter Friend and Darius Mirza, Chairs of the recent ISBTS Symposium in Oxford, England, along with their colleagues on the Local Organizing and Scientific Programming Committees for their successful meeting in June. Colleagues from around the world converged at the historic University of Oxford for an exciting meeting that covered topics such as antibody screening, immunosuppression, cell therapy and allograft protection. As a member of ITA, you can access these presentations, and others from the ISBTS 2013, by visiting the ITA website at www.tts.org/ita. We thank everyone who attended and would like to especially congratulate Sara Clarke, recipient of the ITA AHP Outstanding Achievement Award, and all the winners of the TTS Young Investigator Travel awards.