Women in Transplantation Update
---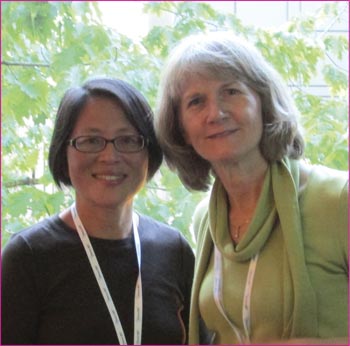 Dr. Sandy Feng, guest speaker, and Dr. Megan Sykes, moderator,
at the American Transplant Congress in Seattle, WA, in May 2013.
The Women in Transplantation (WIT) initiative is embarking on yet another year of spreading encouragement and mentorship for women in the field of transplantation. WIT recently hosted an event during the 7th Congress on Pediatric Transplantation held in Warsaw, Poland, by the International Pediatric Transplant Association, and during the American Transplant Congress in Seattle, WA. The presentations of Dr. Sandy Feng and Dr. Nancy Ascher are now available on our website if you were not able to attend these outstanding sessions. Upcoming events will take place at the European Society for Organ Transplantation Congress in Vienna, Austria, September 8–11; the 39th Annual Meeting of the American Society for Histocompatibility and Immunogenetics in Chicago, Illinois, November 17–21; and 12th Congress of the International Society of Organ Donation and Procurement in Sydney, Australia, November 21–24. We will continue to schedule concurrent events and receptions at future national and international conferences as we are happy to see that turnout and popularity has continued to grow. Please be on the lookout for future posts and invitations.
WIT has also continued its efforts in soliciting input from women about their experiences in this field with an online survey. Please visit our website at www.tts-wit.org to take part in the survey and to add yourself to our mailing list to stay up-to-date on upcoming events and opportunities.
Another effort being conducted by the committee is our mentoring program. We are currently re-polling mentors and mentees to develop ideas for improving this program. WIT is also reaching out to potential sponsors for support of this effort. Established in 2009 by Dr. Kathryn J. Wood, the WIT initiative has proven to be a necessary, successful and effective way to continue to integrate women, not only into the field of transplantation, but into the field of medicine as a whole.