Global Alliance for Transplantation - Durban
---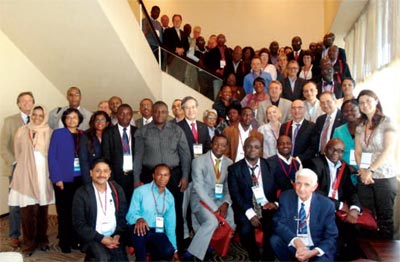 A workshop promoting organ donation and transplantation throughout Africa was conducted/and sponsored by The Transplantation Society through the Global Alliance for Transplantation (GAT) in August 2013 in Durban, South Africa.
Stakeholders representing medical professionals, professional societies and the World Health Organization (WHO) were convened to address the development of organ donation and transplantation in Africa. Representatives from ten countries (Cameroon, Ethiopia, Ghana, Kenya, Malawi, Nigeria, Rwanda, Sudan, Tunisia and Zambia) reviewed local needs and then identified strategies for the immediate and longer-term development of donation and transplantation development in their country.
Each participating country reported on local dialysis and transplantation activity, known practices with respect to transplant tourism, local infrastructure to support transplantation (e.g. ICU beds, ICU physicians and nurses, facilities for donor management, compatibility testing and screening), financing of dialysis and transplantation, and the local legislative environment. With the exception of South Africa, there is virtually no deceased donation in Africa; and yet, the estimated burden of renal failure in Africa is staggering, potentially exceeding 300 new cases of renal failure per million adults annually due to hypertension alone. Moreover, continuing demographic, epidemiological and economic shifts will have implications for the future incidence of organ failure in the African region, and for the level of demand for high-level health care including transplantation.
We learned of countries with 6000 patients receiving dialysis in the public sector, but with transplantation activity of fewer than 200 kidney transplants in 2012. We learned of countries with waitlists exceeding 1500 patients but fewer than 20 transplants performed annually, and of patients departing Africa for India and other countries, financed by governments, because there is no local transplantation service competitive in resource availability. These observations require government/national health authority/ministerial attention and the conclusion of the workshop was to suggest that professionals must be aligned to target government to support transplantation services within the country - achieving a WHO direction of self-sufficiency.