International Transplant Nurses Society Symposium
---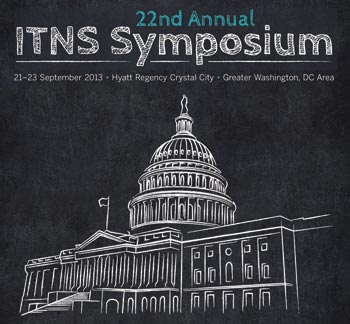 The International Transplant Nurses Society (ITNS) celebrated its 22nd Annual ITNS Symposium in Washington, DC, USA in September. The theme of the Symposium was "Live, Love and Lifelong Learning", selected for the caring nature of transplant nurses and their thirst for knowledge.
Dr. Francis L. Delmonico delivered the keynote address on "Organ Donation and Transplantation: the WHO/TTS Perspective". Dr. Delmonico gave an engaging presentation on the disparity between the need for organs and access to donations across nations. The nearly 300 transplant nurses in attendance benefitted from his worldwide perspective on transplant. The Society thanks Dr. Delmonico for sharing his expertise and his support of both transplant nurses and ITNS.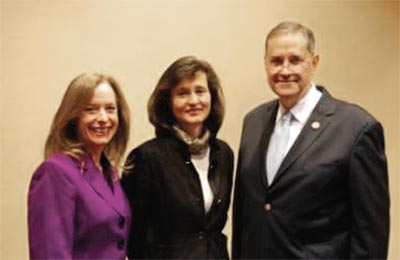 ITNS President Cindy Russell (left), ITNS President Emeritus Christiane Kugler,
TTS President Dr. Francis Delmonico at the ITNS Symposium, Washington D.C.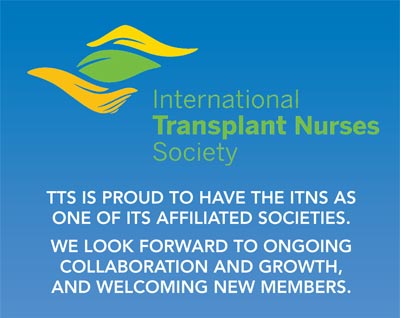 The Symposium opened with a flag ceremony in which international representatives walked their native flag to the stage. The camaraderie and collegiality of attendees from 13 countries was wonderful to see.
During the Membership Meeting Lunch, ITNS President Christiane Kugler provided attendees with an update on the business of the society over the past year. One of the major achievements highlighted during this session was ITNS' Affiliate Membership with TTS. Christiane highlighted the benefits of joint membership in TTS and encouraged attendees to take advantage of the steeply discounted membership.
The Symposium attendees enjoyed numerous educational sessions, networked with colleagues, and shopped in the ITNS bookstore. The Monuments by Moonlight bus tour of the Washington, DC monuments was a major hit! Although it was a rainy night, it did not deter the nearly 150 ITNS tourists from jumping off the bus to view the monuments up close.
Three exciting days of learning at the Symposium concluded with a closing ceremony in which Christiane Kugler passed the gavel to Cynthia Russell for her 2013–2014 term as ITNS President.
ITNS hopes our friends at TTS will join us again next year from 27–29 September 2014 for the 23rd Annual ITNS Symposium in Houston, TX, USA.