International Pancreas and Islet Transplant Association Update
---

The 25th Anniversary Congress of IPITA was held at the Monterey Plaza Hotel from the 24–27 September 2013. This was a resounding success. Attended by 441 delegates from 34 countries, the Congress had 3 over-riding objectives: 1) to ensure that the meeting was as relevant to the whole pancreas community as the islet one; 2) to mentor the next generation of pancreas and islet scientists / clinicians; and 3) to celebrate 25 years of IPITA. All these objectives were met.
The Congress was preceded by two interactive Symposia: one on 'Technical aspects of pancreas transplantation', and the other on 'Challenges of islet isolation'. The main programme comprised Morning Workshops, and Plenary, Parallel, Mini-Oral, and Rapid-Fire sessions, the latter replacing posters. This new initiative was aimed at ensuring that all presenting juniors gave oral presentations. These sessions were well attended. The prestigious Richard Lillehei and Paul Lacy Lectureships, and the Derek Gray Travelling Fellowship were awarded at the Congress to Max Dubernard (Lyon), Ali Naji (Philadelphia), and Sarah Cross (Oxford) respectively. A highlight of the meeting was a reception to celebrate IPITA's 25th Anniversary. Ray Rajotte and Reinout van Schilfgaarde gave fascinating insights into the founding of IPITA, before the current IPITA Council paid tribute to all the attending IPITA Founding members.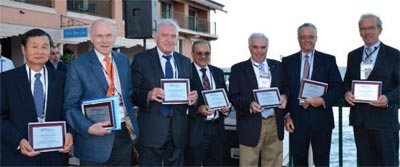 Attending IPITA founders were honored during the 25
th
Anniversary celebration;
(from left to right) Yohichi Yasunami, David E.R. Sutherland, Jean-Michel Dubernard,
Radolfo Alejandro, Raymond V. Rajotte, David W. Sharp and Reinout van Schlifgaarde
The setting of the Congress in Monterey was outstanding, and the Scientific Programme was well complemented by an excellent Social Programme. This included a DRWF Welcome Reception, a Beach Party Networking event for junior investigators, and the main Gala Event at the Monterey Aquarium.
We are very grateful to Peter Stock (Congress Chair), Andrew Posselt and Raja Kandaswamy (Joint Programme Chairs), the IPITA Council, and the TTS Office, for all their hard work in ensuring that this IPITA Congress was such a success. It marks an important landmark as we move IPITA into its' next 25 years.