Education Committee Update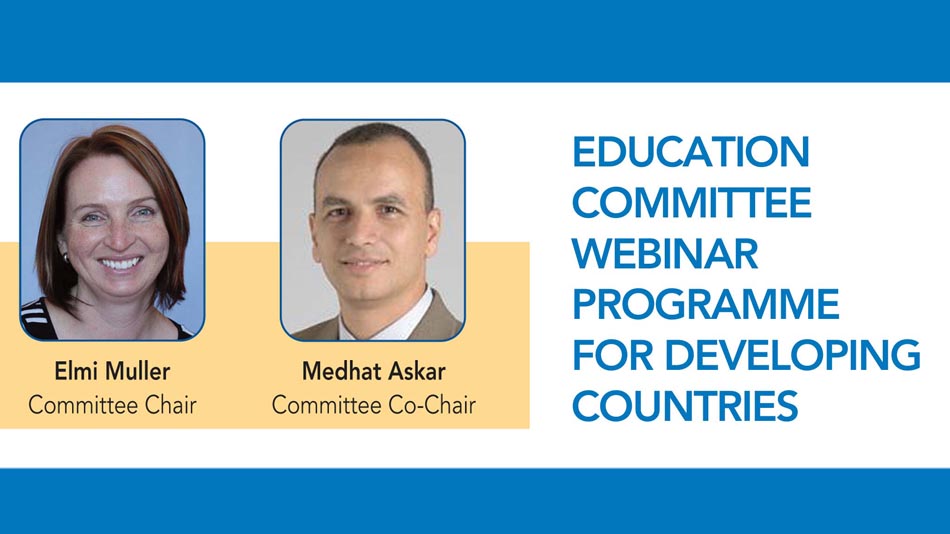 The Education Committee is putting together a series of webinars for new transplant centres who are starting off in the field or who are interested in expanding their current transplant programmes.
The series will comprise of a weekly online webinar, which will have a speaker and a moderator. After the webinar there will be time for delegates to ask or type questions. This is a good way to get immediate discussion and interest from the audience.
However, if you are unable to join the webinar at the scheduled time, the webinar will also be downloadable from the TTS website.
We hope that many of the people starting off in the field of transplantation will be interested in this programme.
The finalized programme with scheduled times will be circulated to TTS members soon.
LECTURE 01 • ONLINE NOW!
THE SOCIO-ECONOMIC BENEFITS OF TRANSPLANTATION AND THE BURDEN OF END-STAGE KIDNEY DISEASE IN SUB-SAHARAN AFRICA
SPEAKER: SARAH L. WHITE • MODERATOR: DAVID THOMSON
LECTURE 02 • ONLINE NOW!
THE ROLE OF THE WHO AND PERSPECTIVE ON TRANSPLANTATION IN AFRICA
SPEAKER: LUC NOËL

LECTURE 03 • ONLINE NOW!
MINIMUM REQUIREMENTS FROM AN INFECTIOUS DISEASE PERSPECTIVE
SPEAKER: CAMILLE N. KOTTON • MODERATOR: ELMI MULLER
LECTURE 04 • ONLINE NOW!
TISSUE TYPING: LABORATORY REQUIREMENTS FOR TRANSPLANTATION
SPEAKER: MEDHAT ASKAR • MODERATOR: CLIVE GRAY
LECTURE 05 • MAY 12, 9:00 AM (MONTREAL TIME - UTC/GMT -5 HOURS)
DCD - AN OPTION FOR COUNTRIES WITHOUT BRAIN DEATH PRACTICES
SPEAKER: MARTÍ MANYALICH

The TTS Education Academy completed presenting the distinguished educator certificate webinar series in January 2014 and those who completed the program were award the TTS Distinguished Educator Certificate. However, it is not too late to join the program and qualify for the Certificate by listening to the archived recordings of these webinars freely available for all TTS members on the TTS website (www.tts.org/academy). The Education Committee also conducted an online anonymous survey of the membership on the perception of their competency as educators, need for such courses and reasons for non-attendance. The results are currently being analyzed and will be published on the TTS website.
EDUCATION ACADEMY RECORDINGS AVAILABLE ONLINE NOW!
LECTURE 01 • EXPERIENTIAL LEARNING AND LEARNING STYLES
DR. ALICE KOLB & DR. DAVID KOLB
LECTURE 02 • SYSTEMS APPROACH TO PROFESSIONAL HEALTH CARE EDUCATION
DR. THOMAS ARETZ
LECTURE 03 • 21ST CENTURY CURRICULUM DESIGN: FOSTERING EXPERTISE THROUGH EXPERIENTIAL LEARNING AND FEEDBACK
DR. SHARON K. KRACKOV & DR. HENRY POHL
LECTURE 04 • MAKING ASSESSMENT MEANINGFUL TO LEARNING
CEES P.M. VAN DER VLEUTEN
LECTURE 05 • THE SKILLS YOU NEED TO BE AN EXCELLENT TRAINER OR TEACHER IN THE 21ST CENTURY
DR. RONALD HARDEN
LECTURE 06 • INTERACTION IN PROBLEM-BASED LEARNING TUTORIALS: GETTING IT RIGHT
DR. SAMY A. AZER
LECTURE 07 • USING TECHNOLOGY AND SOCIAL MEDIA FOR LIFELONG LEARNING
DR. NEIL MEHTA
LECTURE 08 • STRATEGIES FOR INTERACTIVE LARGE GROUP CASE PRESENTATIONS
DR. ELIZABETH ARMSTRONG
LECTURE 09 • INTER-PROFESSIONAL EDUCATION
DR. HIDEOMI WATANABE
LECTURE 10 • INNOVATIONS IN PROFESSIONAL HEALTH CARE EDUCATION
DR. PRICE KERFOOT
LECTURE 11 • CURRENT STUDIES IN MEDICAL EDUCATION: WIWIKS (WHAT I WISH I KNEW SOONER)
DR. KLARA PAPP
LECTURE 12 • THE ESSENTIAL NATURE OF SCHOLARSHIP: ADVANCING THE PRAXIS OF TEACHING, PUBLISHING, AND PROMOTION
DR. STEWART MENNIN
Are you interested in guiding the future direction for the TTS educational activities? If so please join participants of the TTS Education Academy in an informal get together during the WTC in San Francisco (RSVP by email to This email address is being protected from spambots. You need JavaScript enabled to view it. ).