President's Message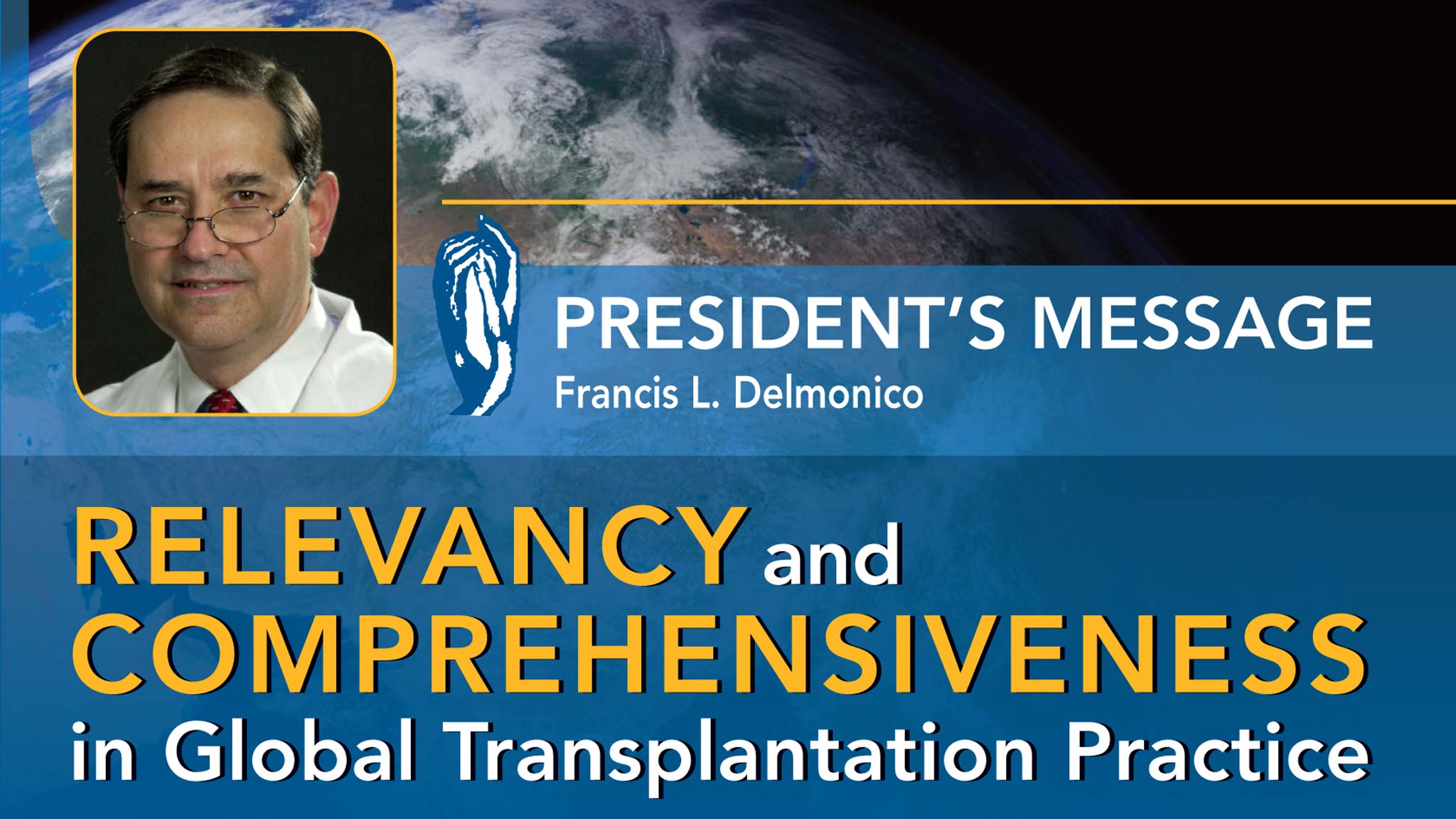 WELCOME TO THE WORLD TRANSPLANT CONGRESS.
This is a very exciting venue this year that will bring the best of organ transplantation practice to all of the participants and we expect a record-breaking crowd.
I wish to congratulate Nancy Ascher who is now elected-President of TTS for 2016 to 2018, and she will join ably our next President, Philip O'Connell (2014–2016) from Australia, in the leadership of The Transplantation Society, which has changed so greatly how the Society relates to the practice of transplantation around the world in this last decade. TTS now has more than 6400 members and it affiliates with many national societies and sections around the world making it quite relevant to the practice of transplantation comprehensively.

AND SO WE'VE NOW CALLED UPON CHINA ONCE AGAIN TO ADDRESS THE ISSUES THAT THEY THINK ARE IMPORTANT...
WE ARE HOPEFUL THAT A NEW DAY IN CHINA CAN INDEED COME ABOUT.
As we deliberate about the current events of transplantation, I think it is important commentary to mention the situation regarding China. The Society has been at the forefront of leadership, engaged with colleagues within China, to bring about changes in China that have been so necessary. These changes don't come from a prescription of TTS, but by our Chinese colleagues seeking those changes. They include a conclusion of using organs from executed prisoners. They include the opportunity of having regulatory authority to oversee the practice of transplantation – with transparency; with computerized wait lists; with a demonstration of outcome; with ethically proper live donation and knowing of the safety of the living donor. They include credentials for transplant professionals – again to be reviewed by regulatory authorities that goes to the Ministry of Health.
These were the components of the Hangzhou Resolution, and yet when this resolution was adopted by many transplant centres within China, although very encouraging, as the months elapsed it became evident that those changes from China were not being implemented.
And so we've now called upon China once again to address the issues that they think that are important – and we know so as well – and guided by principles of the WHO and by the Declaration of Istanbul, we are hopeful that a new day in China can indeed come about.
I wish you well at this Congress. This will be my last message to TTS participants, but I do so with great respect and appreciation to the Council – and again to mention Philip O'Connell and Nancy Ascher who will now be our leadership – and know that the Society is in very good hands. With all best wishes to you all, I look forward to seeing you at the President's Plenary on Tuesday July 29th, it starts at 9:30 am, and I am hopeful that you will be there to enjoy a very productive session, hear the Presidential Address as well as Al Roth and Luc Noël – Al Roth being the Nobel Laureate in Economics, won so because of peer donation; and as you know, Luc Noël from the World Health Organization has been very much aligned with TTS and the Declaration of Istanbul. So it will be a special Plenary Presentation and it will be an honour for me to participate and bring a Presidential Address.
Thank you all and best wishes.