World Transplant Congress: Welcome from Congress Chair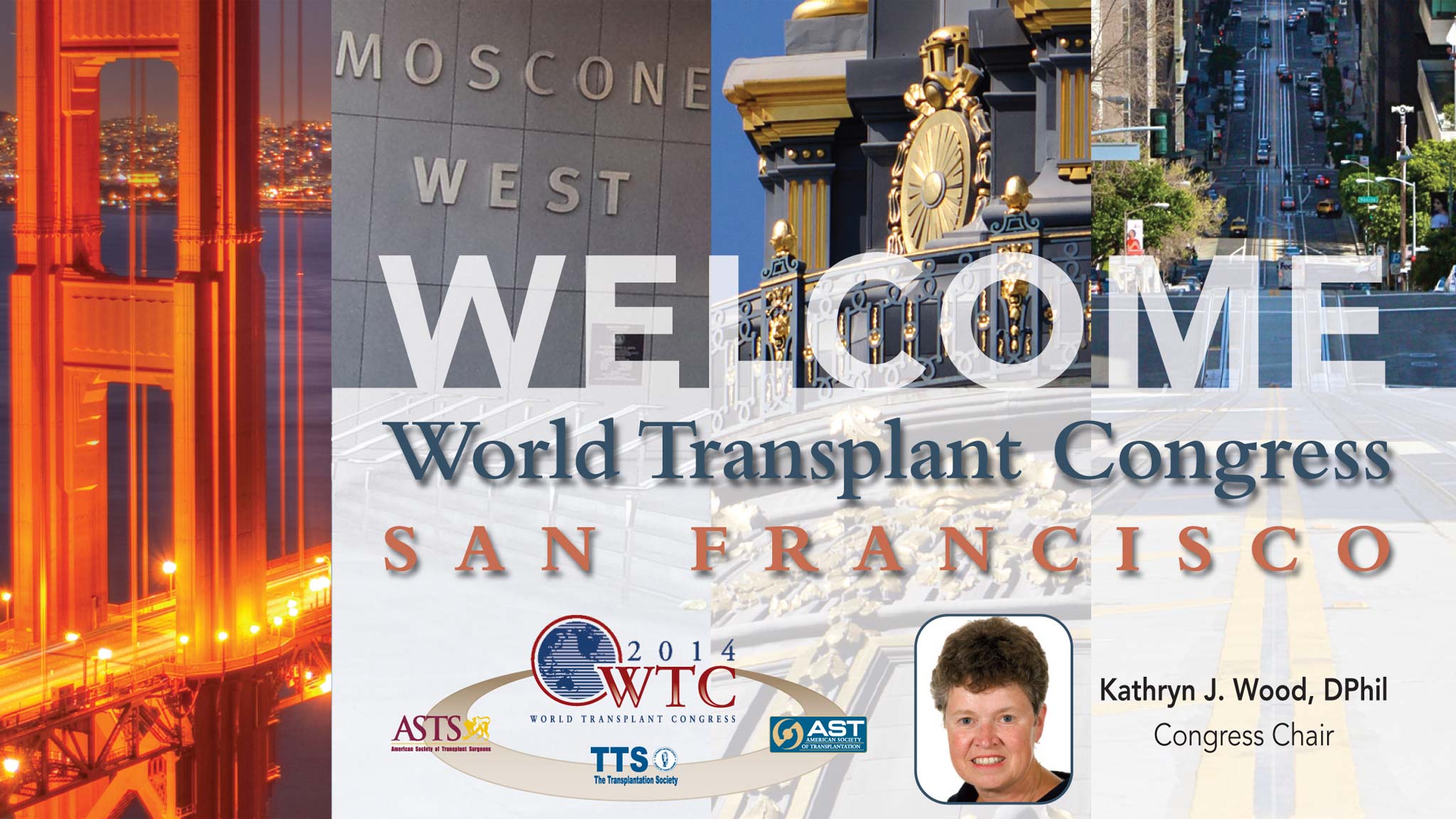 It is a great pleasure for me to welcome you to WTC 2014 and to San Francisco. We are delighted that you have been able to join us for this, the second World Transplant Congress. We have put together an exceptional programme for you to enjoy over the forthcoming days covering all aspects of the science and clinical practice of transplantation. We are sure that, whatever your interest, there will be some exciting and thought-provoking ideas for you to discover and enjoy.
TRANSPLANTATION TV – ONSITE CONFERENCE TELEVISION CHANNEL FEATURING A NEW EPISODE DAILY... PROVIDING YOU WITH UP TO DATE INFORMATION IN A BID TO RAISE THE VISIBILITY OF THE WORK OF EVERYONE IN THE FIELD.
The programme has been designed to bring you up to date with cutting edge advances, including outstanding, novel basic, translational and clinical research as well as the latest innovations and ideas in clinical practice and sessions that examine care and management issues, socioeconomic, ethical, and regulatory issues relevant to organ, cell and tissue transplantation. We believe that WTC 2014 will provide you with an excellent learning opportunity, an arena in which to exchange ideas and information and a platform on which to strengthen relationships with existing colleagues and to develop new collaborations.
Don't forget, too, that this year we have Transplantation TV (July 26-31) – an onsite conference television channel featuring a new episode daily that will include interviews with the Presidents of The Transplantation Society, AST and ASTS, and with all of the Plenary speakers.
Transplantation TV will be shown around the convention center and on a special channel in hotel rooms, as well as online on YouTube, on the conference website, and on social media to provide you with up to date information and in a bid to raise the visibility of the work of everyone in the field.
The WTC Opening and Closing ceremonies as well as the Networking Event have been carefully planned for you to enjoy and we look forward to seeing you there.
Of course, an event such as this doesn't come together without a great deal of effort and enthusiasm and, as Chair of the Organising Committee, I would personally like to thank the members of the WTC Executive, Finance and Programme Committees, together with the Congress Office for all their hard work, help and support over the last two years. It has been a pleasure to work with you. I would also like to thank the speakers and moderators for devoting their time and energy to WTC 2014 and to all of you who have submitted abstracts and made the commitment to attend – please make the most of the opportunities WTC 2014 has to offer.
Finally, it just remains for me to say that I hope you have a wonderful time at WTC 2014 in San Francisco and that you enjoy being a part of this very special event.
I look forward to meeting as many of you as I can during WTC.
Moscone West Convention Center