Women in Transplantation Update

The Women in Transplantation initiative of TTS is pleased to report the success of the first two networking events in 2014. The first event took place during the International Society for Heart and Lung Transplantation meeting with featured speaker Doris Taylor who spoke of the need for women to hone their negotiation skills to gain greater success. Over 175 women were in attendance at the event and a large thanks is owed to ISHLT for their partnership in making this event such a huge success.
Our second event was held during the joint meeting of ILTS, ELITA and LICAGE in London, England and featured the meeting's scientific program chair, Elizabeth Pomfret. More than 75 participants had an engaging and enthusiastic dialogue during this breakfast event.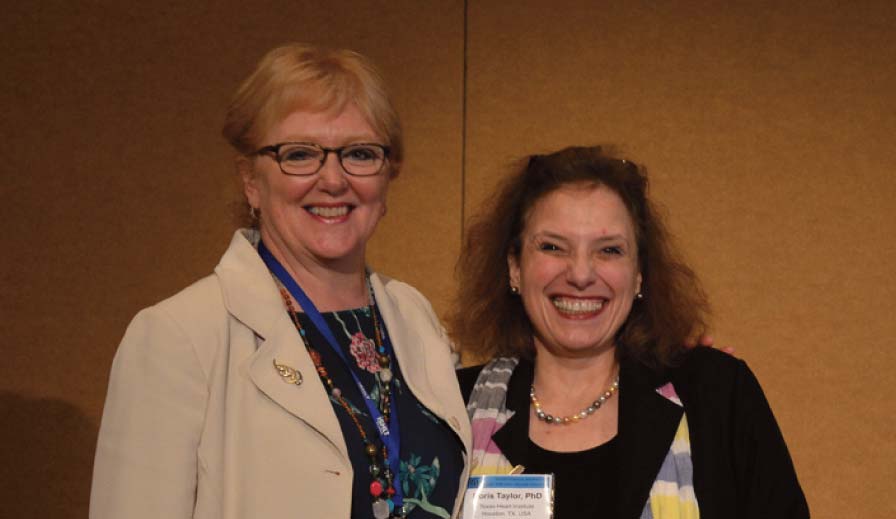 Lori West (left) and Doris Taylor
The Steering Committee of WIT is pleased to present two events during the World Transplant Congress; the first is our biennial networking event, which will take place on Tuesday, July 29th at 13:00 on the 3rd floor foyer of the Moscone West Center. Our speaker, Sommer Gentry will discuss "Math, Modelling and Marriage: My Life in Transplantation".
WIT is also excited to announce a WIT Sunrise Symposium scheduled for Thursday, July 31st at 7:00 am. The symposium entitled "Women as Caregivers, Transplant Patients and Living Donors", will discuss women as scientists in the field of transplantation and feature Anita Chong, Lori West and Hui-Kim Yap as speakers.
This year at WTC will also be another first for the WIT initiative, as there will be two WIT awards presented during the TTS President's Plenary. The awards, the Woman Leader in Transplantation award and the Women in Transplantation Unsung Hero award will recognize two women for their outstanding achievements in the field of transplantation, as mentors to a new generation of women in medicine and for their endless volunteer hours and contributions to the international community. The Awards Committee received 25 nominations for outstanding women from across the world, please come and join us in congratulating all the nominees during our networking event and celebrate the winners during the plenary session on Tuesday morning.