WTC 2014 Review
(excerpt from the September press release)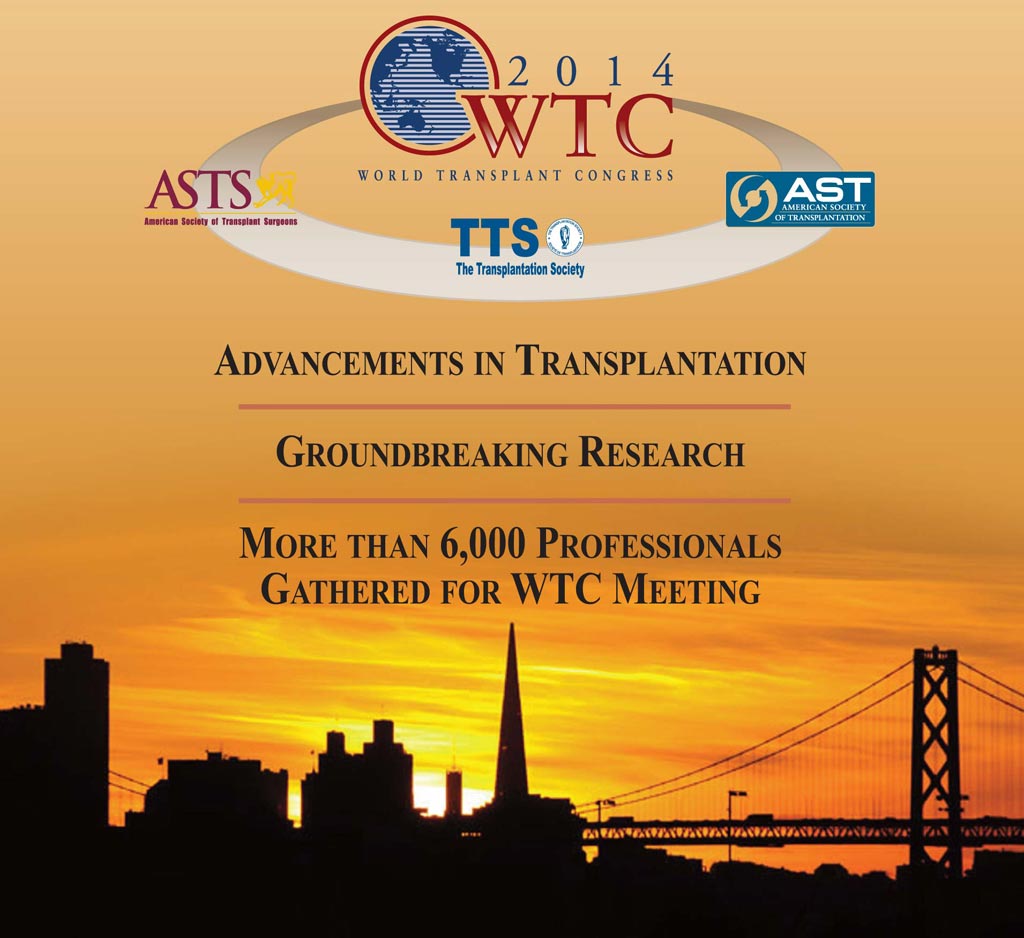 2014 WORLD TRANSPLANT CONGRESS HIGHLIGHTS
The 2014 World Transplant Congress (WTC) was the must-attend event for professionals involved in solid organ and tissue transplantation, held July 26-31 at the Moscone West Convention Center in San Francisco, CA.
As the second joint meeting of the American Society of Transplant Surgeons (ASTS), The Transplantation Society (TTS), and the American Society of Transplantation (AST), the event brought together more than 6,000 experts in the field as a way to encourage collaboration, discover and exchange new scientific and clinical information, and identify future opportunities in transplantation.
The 2014 WTC meeting featured specific tracks designed to cater to professionals focused on:
• Allied Health
• Basic Science
• Heart Transplantation
• Immunology
• Immunosuppression
• Infectious Disease
• Liver Transplantation
• Nephrology
• Organ Donation
• Pathology
• Pediatric Transplantation
• Tissue Injury/Prevention
• Xenotransplantation
Throughout the six-day event, scientific material was presented through plenary sessions, concurrent workshops, peer-reviewed oral and poster presentations, state-of-the-art symposia sessions and small parallel workshops designed for in-depth exploration of both clinical and basic science topics. In total, there were nearly 3,500 abstracts, 100 concurrent oral sessions, and 2,000 posters were presented.
NEARLY 3,500 ABSTRACTS, 100 CONCURRENT ORAL SESSIONS AND 2,000 POSTERS WERE PRESENTED
Eric Schadt, PhD, the Jean C. and James W. Crystal Professor of Genomics at the Icahn School of Medicine at Mount Sinai, and Director of the Icahn Institute for Genomics and Multiscale Biology, delivered his State-of-the-Art address on Monday, July 28, giving attendees insight into his novel approach for studying complex human diseases. Dr. Schadt discussed his method for generating and integrating very large-scale genomic variation, molecular profiling, and clinical data to construct biological network models that define disease states and link molecular biology to physiology—which as a result, offers new insights into the complex mechanisms of diseases, such as diabetes and Alzheimer's, and helps identify potential therapeutic targets.
On Tuesday, July 29, Nobel Laureate, Dr. Alvin E. Roth, delivered his state-of-the-art lecture, providing an economist's perspective to kidney exchange. Dr. Roth described how changes in the way transplants are organized has increased access to transplantation, and how further changes may yield further improvements.
Roth was awarded the 2012 Nobel Memorial Prize in Economic Science, jointly with Lloyd Shapley, for his work on the theory of stable allocations and the practice of market design. One of the marketplaces he has helped design is the National Resident Matching Program, in addition to helping in the organization of kidney exchange. He is currently the McCaw Professor of Economics at Stanford University and the Gund Professor of Economics and Business Administration Emeritus at Harvard University.
On day five of the 2014 Congress, Professor Shinya Yamanaka, MD, PhD, of the Center for iPS Cell Research and Application (CiRA) at Kyoto University in Japan, was the state-of-the-art featured speaker. Yamanaka, also a Nobel Laureate, was awarded the 2012 Nobel Prize in Physiology or Medicine for the discovery of reprogramming and converting mature, specialized cells into pluripotent cells, capable of developing into all tissues of the body.
During his State-of-the-Art address, Dr. Yamanaka discussed technologies related to iPSC generation, in addition to improvements achieved in iPSC production in terms of both safety and efficiency.
The meeting wrapped up with a closing session that offered attendees an overview of the full event and highlights of research presented throughout the meeting.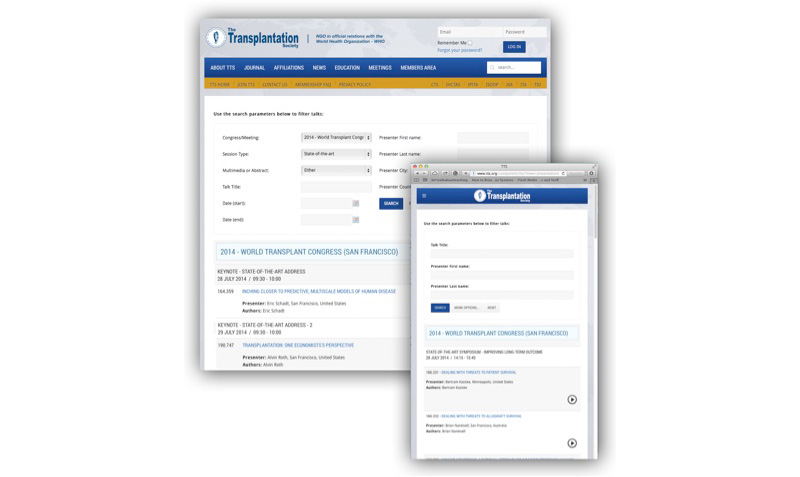 All presentations from WTC 2014 are searchable via multiple parameters and available free for our members in the online
EDUCATIONAL LIBRARY