Membership • Benefits: Valuable Resources for All Members
An important role within TTS' International Headquarters is that of Membership Coordinator as that person has the responsibility to ensure members have access to everything they need from their Society. Our newly appointed Membership Coordinator, Amanda Mayer, can help you navigate through our website and databases, and answer your questions to help you get the most of your membership.
TTS has an online community of over 6400 members from 101 different countries around the globe, all sharing one common goal to improve the science of transplantation. Being a TTS member means that you can tap into that community. In fact, our member directory – accessible by any TTS member – allows you to connect to all other members to help build your network.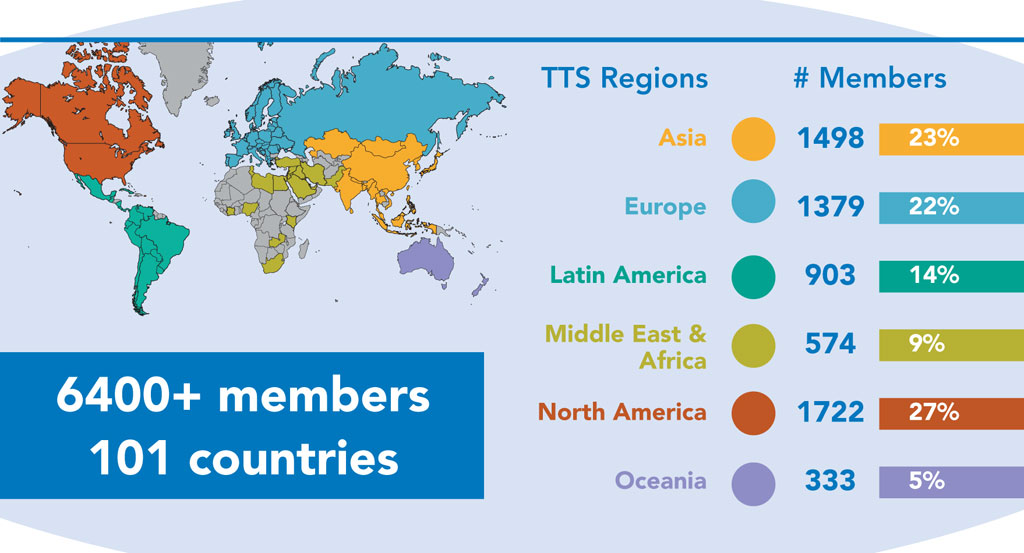 Another valuable resource only available to members is free online access to the most cited and influential journal in its field around the world, Transplantation. Transplantation is published twice a month with over 25,000 citations a year. For 40 years, it has been considered as a trusted source for extensive coverage on the most important advances in transplantation. Transplantation is also first in its field to offer CME accreditation to its peer reviewers for completed reviews.
TTS Members can also access over 3750 presentations online through our multimedia library that includes webinar series and recordings from past meetings.
Other important benefits of membership include reduced registration fees at our congresses and meetings, and full members have the right to vote for future TTS Officers and Councilors, and influence future Congress locations.
Should you have any question or need guidance in how best to benefit from your membership, please contact Amanda at TTS International Headquarters via email: This email address is being protected from spambots. You need JavaScript enabled to view it. or by phone: 1-514-874-1717 ext 215.
OTHER BENEFITS INCLUDE:
| | |
| --- | --- |
| • | Educational materials on the Society's website |
| • | Reduced rate for the hard-copy subscription to Transplantation, the official journal of TTS |
| • | Entitlement for Travel grants for Young Investigator Awards |
| • | Reduced registration fee at our international congresses |
| • | Substantially reduced rates for journal subscriptions |
| • | TTS newsletter, Tribune, updating members about TTS activities in the transplant community |
| • | Members from emerging economy nations are entitled to a significant rebate on TTS dues which may be combined with the TTS rebate for Section dues |