Education Committee: New Educational Programs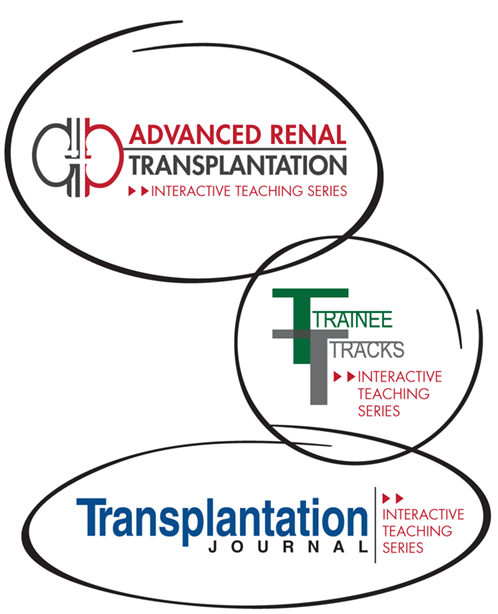 TTS Education and CME Committee is pleased to announce the launch of three new educational programs: the Advanced Renal Transplantation, Trainee Tracks, and the Transplantation Journal webinar series.
The programs can be accessed live on pre-announced dates and times, and will also be available for later viewing by TTS members on the TTS webpage www.tts.org.
The Advanced Renal Transplantation series has been prepared by a working group led by Dr. Medhat Askar and Dr. Nithya Krishnan, in cooperation with Dr. Ifeoma Ulasi and Dr. Sukru Emre. We plan to expand to offer additional series on Heart/Lung, Liver, Pancreas, VCA and other certifications. The first three topics under Advanced Renal Transplantation are:
Role of the Histocompatibility Laboratory in Solid Organ Transplantation circa 2015
by Dr. Howard Gebel - recording now online!
Immunosuppression
Dr. Stanley Gordon - Tuesday, July 14, 19:00 UTC
Infectious Diseases
by Dr. Jay Fishman - Tuesday, August 11, 11:00 UTC
The Trainee Tracks series has been prepared by the working group led by Dr. Millie Samaniego, in cooperation with Dr. Teun van Gelder and Dr. Kenji Yuzawa. This series will kick-off with the following topics (dates to be announced):
How to Write a Successful Basic Science Grant
by Dr. Kathryn Wood
Clinico-Pathological Conference - Antibody- Medicated Rejection in Kidney Transplantation
by Dr. Millie Samaniego and Dr. Evan Farkash
The Transplantation Journal series is coordinated by Dr. Medhat Askar and Dr. Stefan Tulius. The first topic is entitled "Global Virtual Laboratory (GVL)" by Dr. Edward Geissler (recording now online!).
In addition to the webinars series, Dr. Josette Eris is leading a working group in charge of the Transplant Library, with Dr. Elmi Muller, Dr. Seema Baid-Agarwal, Dr. Rudolf Garcia-Gallont, Dr. Xunrong Luo, Dr. Ramesh Prasad and Dr. Ruth Sapir-Pichhadze.