Transplantation Science Committee: "The Meeting Of The Year"

partnered with a group international societies, the 14th Transplantation Science Symposium (TSS) boasts an outstanding basic and translational science program
The Abstract submission and registration for the 14th Transplantation Science Symposium (TSS) in Lorne, Australia, is now open!
www.tss2015.org/registration-housing/registration-information
Please mark this as "The Meeting of the Year" in your calendar! Fly into Melbourne and take the Great Ocean Road, in the state of Victoria, to the breathtaking location of Lorne. Chaired by Stephen Alexander and Shane Grey, the Organizing Committee of the TSS has put together a one-of-a-kind meeting. We will have two Keynote Speakers: recipient of the 1996 Nobel Prize, Professor Peter Doherty; and the 2015 Canada Gairdner International Award recipient, Professor Simon Sakaguchi. We have eight state-of-the-art sessions and two round-table discussions on Biomarkers and on Composite Tissue Transplantation—from Bench to Bedside. There will also be a special Transplantomics session. We are particularly proud that we have been able to partner with the Asian and Japanese Transplant Societies, ESOT, TSANZ, MESOT, ISHLT, ASRT and ILTS to put together this outstanding basic and translational science program.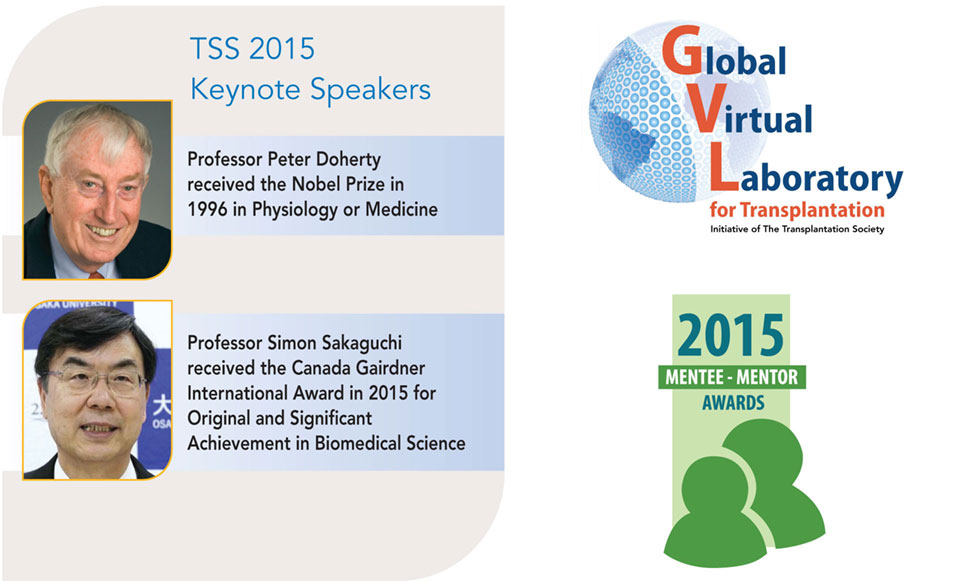 Registration for the Global Virtual Laboratory (GVL) Workshop is also open! This 2.5-hour workshop on November 11, 2015 takes place just before the start of the TSS meeting, and will feature experts discussing consensus protocols that have been rigorously validated for the monitoring of alloimmune responses in human transplant patients. There will be a Q&A session where participants can discuss their problems and solutions.
Over 20 travel awards and Mentee-Mentor Awards will be available to support deserving trainees' attendance to the TSS. Also of note, the joint IPITA, IXA and CTS Congress will take place in Melbourne from November 15 -19. 2015, just after the TSS.
Early registration deadline will be August 28, 2015. See you in November in beautiful Lorne!