Transplantation Science Committee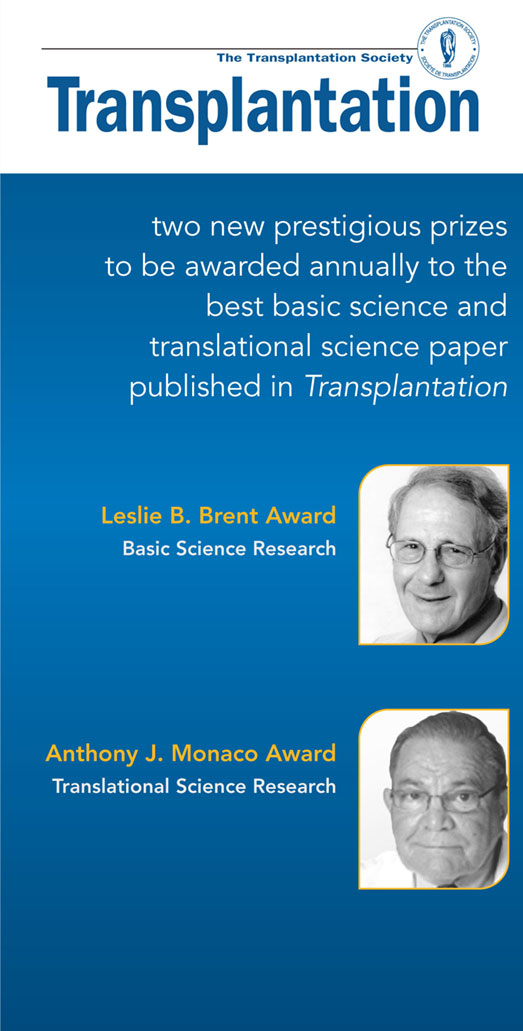 The TSC is extremely pleased that Professors Leslie B. Brent and Anthony Monaco have agreed to have these awards named in their honor. The awards comprise a certificate and $1000 USD to the first author(s).
Self-applications and nominations by the award selection committee members or by members of the Editorial Board of Transplantation will be accepted.
How to Apply
Application and nominations can be addressed to:
The Transplantation Society
This email address is being protected from spambots. You need JavaScript enabled to view it.
Deadline for applications is August 30, 2015.
Eligibility requirements are:
First and senior authors must be current members of TTS
Work must be original, innovative, and have strong impact on the field of transplantation. Reviews or overviews are not eligible
1 application per year from each first and senior author
Membership of the award selection committee includes:
TTS President
A TTS Council member
2 Transplantation representatives
4 members of the TSC
The winners will be featured in Transplantation, the TTS Tribune and TTS' website at www.tts.org.
For the TTS Award Committee:
Professor Anita Chong
Professor Stefan G. Tullius