International Pancreas and Islet Transplantation Association


on-going advancement
 a comprehensive and strategic path to improving the outcomes of pancreas and islet transplantation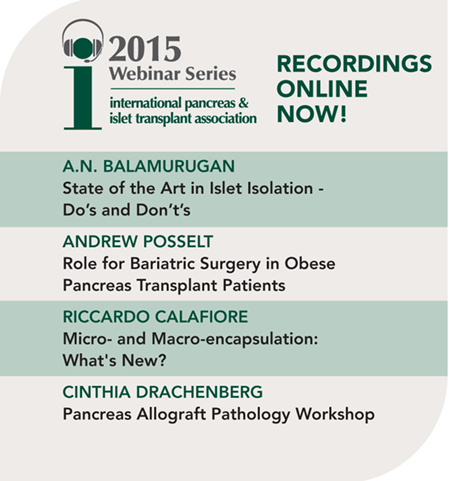 From November 15-19, the 2015 IPITA-IXA-CTS Joint Congress, held in the gastronomical and sporting city of Melbourne, Australia, will showcase the best and latest research in the fields of islet, pancreas, xeno- and cellular transplantation. In addition to a diverse, high-profile program of invited speakers, three pre-meeting symposia are being planned and will be included in the registration fee for all participants. Conference attendees will have a choice of attending the following symposia: "Islet Isolation and Transplantation: Where Are We Now And Where Are We Going?"; "Global Trends in Pancreas Transplant Activity – Challenges and Opportunities"; and "The Allied Health Professionals Symposium."
While planning is underway for this landmark meeting, important scientific activities within IPITA have been on-going over the past year. Last May in Oxford, UK, an Opinion Leaders Workshop was conducted to highlight the state of current and future beta cell replacement therapies and to chart a strategic course for future research in these fields. As a result of this workshop, a "white paper" has been drafted and submitted to Transplantation for publication. The IPITA leadership hopes this document will help lay out the path for scientific inquiries into improving the outcomes of pancreas and islet transplantation, as well as advancing preclinical development of future beta cell replacement therapies. In addition, IPITA leaders and endocrinology experts recently came together to write a review entitled "Evidence-Informed Clinical Practice Recommendations for Treatment of Type 1 Diabetes Complicated by Problematic Hypoglycemia", which proposes a comprehensive tiered treatment algorithm including educational, technological, and transplant interventions. This article is published in the June 2015 issue of Diabetes Care.
In other new IPITA developments, a Young Investigators Committee has been formed comprising scientists and physicians from numerous countries under the leadership of Dr. Peter Stock. The YI Committee has already been very active in planning targeted scientific sessions for the Melbourne Congress and future meetings.
An IPITA webinar series, launched this year, is off to an excellent start. Past webinars are archived and accessible for viewing by members at any time. Lastly, planning is underway for IPITA endorsed components of the 2016 TTS meeting in Hong Kong and for another Opinion Leaders meeting in 2016.