International Xenotransplantation Association Update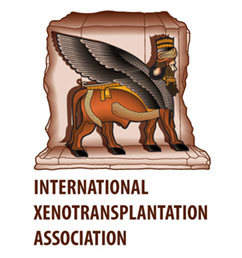 promoting progress and concepts
Melbourne 2015: an excellent forum for both clinical investigators and basic scientists
The 2014 Xeno-Prize was judged recently and we are pleased to announce that the winner is Dr. Guerard Byrne for his paper entitled: "Cloning and Expression of Porcine β1,4 N-acetylgalactosaminyl Transferase Encoding a New Xenoreactive Antigen". Congratulations to Dr. Byrne and his co-authors for their outstanding work.
It is our great pleasure to invite you to the next Congress of the International Xenotransplantation Association (IXA), which will be held jointly with the International Pancreas and Islet Transplant Association (IPITA) and the Cell Transplant Society (CTS) in Melbourne, Australia, November 15-19, 2015. The Melbourne Convention and Exhibition Centre (MCEC) provides an amazing location for this event. Set on the banks of the iconic Yarra River, MCEC is just a 20-minute drive from Melbourne airport and a short stroll to the city center.
Designed with the help of more than 25 experts from 9 countries, the program of our joint meeting has been developed to promote a truly interdisciplinary exchange of scientific progress and concepts among investigators active in three different, but increasingly related and overlapping, fields. The program will thus provide an excellent forum for both clinical investigators and basic scientists with expertise in cell and islet transplantation and xenotransplantation to meet and discuss innovative strategies for overcoming immunologic, technologic, regulatory and other obstacles.
Our joint plenary session will include:
Updates on Clinical Trials: Cellular Immunotherapy, Encapsulated Pig Islet Xenotransplantation, and Stem Cell-Based Regenerative Medicine;
New Horizons: Genome Editing, Tissue Regeneration, and Biomaterial Engineering;
Controlling Inflammation and Coagulation in Transplantation.
The plenary topics have been carefully chosen to include speakers world-renowned in fields that overlap with our own (e.g. tissue regeneration – Nadia Rosenthal; biomaterial engineering – Gordon Wallace), thus exposing delegates to new ideas and technologies. In addition, there will be plenary talks on topics of particular interest to IXA members, including encapsulated porcine islet xenotransplantation (Shinichi Matsumoto), anticoagulant/anti-inflammatory mechanisms (Chuck Esmon), and new anti-complement agents (John Lambris).
To register for the meeting, please visit www.melbourne2015.org and use the online system before August 30 to qualify for the early bird registration rate. We look forward to warmly welcoming you to Melbourne and wish you a fruitful scientific Congress and a pleasant stay.