President's Message

When one looks at organ transplantation from a global perspective, it is clear that much remains to be done. Of the more than 2 million people world wide on dialysis, less than 4% receive a renal transplant each year. As poorer countries improve their living standards, they are more likely to have rapidly expanding dialysis programs rather than a rapidly expanding transplant program. This is despite the fact that transplantation is cheaper and more effective therapy. It is tempting to look at this problem in simplistic terms, where in reality the issues are complex. Whilst it is obvious that improving organ donation and promoting regional self-sufficiency would have a major impact on transplantation rates, there are other major obstacles to transplantation, especially in developing countries.
The cost of ongoing care and immunosuppression are significant barriers to transplantation. Although most of our first line immunosuppressive agents are off patent and are priced competitively through the introduction of generics, more could be done to increase access to these life saving drugs in less wealthy countries. This issue has been identified by our Public Policy committee as a major block to transplantation and recently they have agreed to develop a strategy promoting affordable immunosuppression. This will require negotiation with governments and the pharmaceutical industry in order to expand access to these drugs. Nancy Ascher will lead a group of Council and other committed members from the Society to develop a strategy that we are confident will lead to change in this area.
| | | |
| --- | --- | --- |
| | | there is a distinct lack of enthusiasm for developing new agents for transplantation, despite many new immunomodulating agents being developed for other immune related diseases. It is up to the transplant community to change that. |
Another important component of improving transplantation rates is to improve the long-term outcomes after transplantation. Improving 5- and 10-year graft outcomes and reducing side effects of immunosuppression remains an unmet clinical need in our field. Improvements in this area will require better immunosuppressive agents and improvements in clinical trial design. Unfortunately there is a distinct lack of enthusiasm for developing new agents for transplantation, despite many new immunomodulating agents being developed for other immune related diseases.
It is up to the transplant community to change that. That is why TTS will be hosting a consensus conference on clinical trial design this month. This will be held in conjunction with an FDA Workshop on Surrogate Endpoints (SEPs) in Clinical Renal Transplant Trials. By bringing together transplant professionals with expertise in clinical trials, TTS aims to reinvigorate this area of transplantation and create an environment where meaningful trials that focus on areas of concern for the transplant community can be undertaken and in doing so provide the necessary evidence to change clinical practice and improve the life of our patients.
Whilst these strategies aim to improve transplant outcomes in all regions, many countries from emerging economies face many challenges setting up national transplant programs so that their citizens can achieve the benefits that transplantation offers and reduce the need for their patients to travel for transplantation: a situation that fosters transplant tourism, commercialization and trafficking. Assisting our colleagues in dealing with these challenges requires a multipronged approach. Not only do their health authorities need advice about regulatory frameworks for national organ donation and transplant programs, they need assistance in developing clinical programs in surgery, medical care, tissue typing, pathology and management of infectious diseases.
It is a major focus of TTS to assist countries, such as those in Central America and South East Asia in delivering transplant programs to their citizens. In collaboration with the International Society of Nephrology, we have developed the Sister Transplant Center Program, where modest grants are given to promote collaboration between a transplant program in a developing region with one in a developed region. The aim is to foster collaboration between the two centers and expand capacity and expertise in the developing center. Currently nine such collaborations have been funded.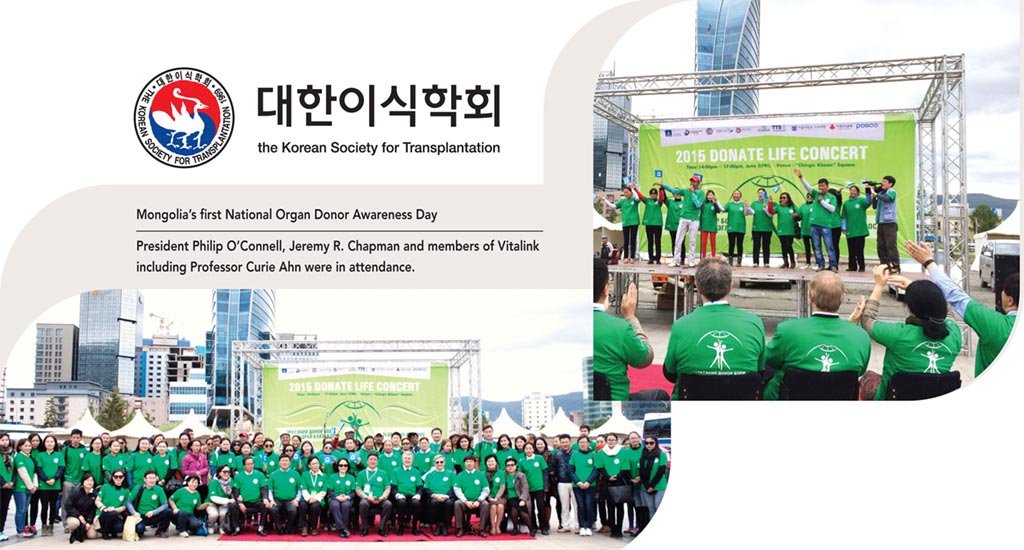 Recently, at the invitation of the Mongolian Society of Transplantation and Vitalink, Jeremy Chapman and I visited Ulan Bataar where we took part in a two-day educational program and spoke at a round table with the Mongolian health authorities on how to develop a national organ donor program within the country. We were also given the privilege to speak at a community event on their inaugural National Organ Donor Day. Vitalink is a non-profit organization set up by the Korean Society of Transplantation with the aim of promoting ethical organ donation in their region.
In collaboration with the Rafael Clinic (a charitable organization established by Korean doctors), they have been working for many years in Mongolia with the aim of assisting their colleagues in establishing a viable transplant program for the Mongolian people. It was inspiring to take part in this initiative and see the enthusiasm and collegiality that has developed between the Mongolian and Korean transplant teams. TTS aims to assist both sides in this challenge and provide educational material and expertise where needed.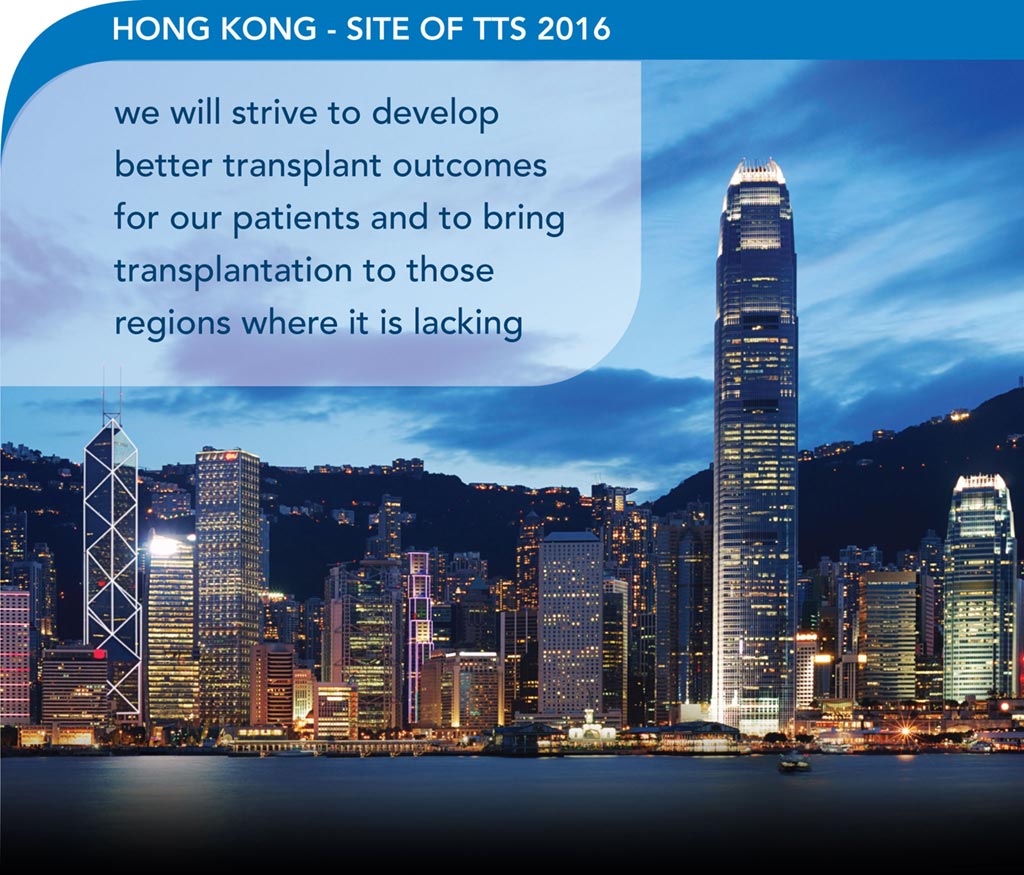 What I have witnessed over the past 12 months as President is the uniqueness of our Society. We have many committed individuals freely giving their time to develop high quality education, robust and innovative public policies and always promoting the best in science. All these skills have been necessary to develop the initiatives we are currently undertaking. As always we will strive to develop better transplant outcomes for our patients and to bring transplantation to those regions where it is lacking.
As a final note, I wish to remind you that it is less than 12 months until the 26th Congress of our Society. I urge you to read the latest updates from the program committee which are in this edition of the tribune and on our website. The program committee is working hard to develop a highly innovative program with many exciting, high profile speakers to be invited. As always I look forward to meeting as many of you as possible at either regional transplant meeting or at several of our section meetings. If you have any suggestions for Council or any concerns, please do not hesitate to contact me.