President's Message

Now that we are approaching the end of 2015, it is a good time to reflect on what has been achieved by our Society throughout the year. Many members have been busy co-ordinating our extensive list of events in Transplantation Science, Education and Public Policy.
Recently, the Society held its Transplantation Science Symposium (TSS) in Lorne, Australia. We partnered with several other Societies - an increasingly common practice – to deliver an outstanding program in an ideal setting for a retreat-style meeting such as the TSS. The ability to link up with several regional and national societies such as the Transplantation Society of Australia and New Zealand, the Asian Society of Transplantation, the Middle East Society for Organ Transplantation, the International Liver Transplantation Society, the American Society for Reconstructive Transplantation and the European Society for Organ Transplantation allowed our Science Committee to recruit an impressive international faculty to deliver state of the art lectures on all facets of transplantation. The meeting was well attended with registrants coming from all regions of the globe. Mentee-Mentor teams were sponsored by the Canadian Society of Transplantation, Deutschen Transplantations-gesellschaft, European Society for Organ Transplantation, the Japanese Society of Transplantation, the Transplantation Society of Australia and New Zealand and The Transplantation Society
I strongly believe that it is essential for our Society to produce high quality scientific meetings such as the TSS. More so than in many other medical specialties, it is essential for clinicians to understand the science that is the bedrock of our clinical practice. Equally, the relationship between scientists, researchers and clinicians is closer than in most other specialties and we must all speak the same scientific language if clinical outcomes for patients are to improve. Hence, TTS must remain a professional organization founded in science. Disseminating that knowledge to our members through meetings such as the TSS is one of the Society's main objectives. The success of the Lorne meeting was due to the hard work of many people within the organization. In particular I would like to congratulate the program organisers: Shane Grey, Stephen Alexander and members of the Science Committee for their hard work and vision.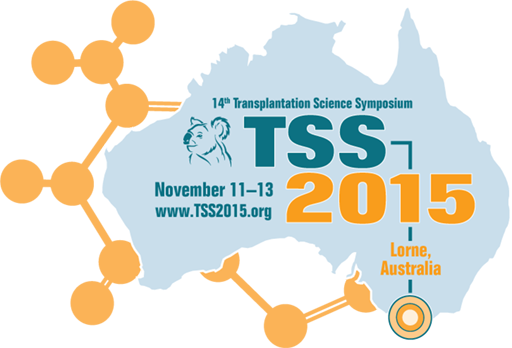 In addition to the TSS, all Sections of the Society have their biennial scientific meetings in various locations. In the years where the TTS does not hold its Congress, members with a specific interest in particular and specialized aspects of transplantation such as cell transplantation, pediatric transplantation, pancreas transplantation, vascularized composite allotransplantation, intestinal transplantation or xenotransplantation hold smaller, more interactive meetings devoted to these sub-specialty. What is encouraging is that these specialty meetings are becoming more popular with larger attendance. I see this as a sign of a healthy and responsive Society that is capable of catering to the broad interests of members and I wish to thank the many members who have worked to make these meetings such a success.
More so than in many other medical specialties, it is essential for clinicians to understand the science that is the bedrock of our clinical practice
There has been a quiet revolution in the way we provide educational resources to our members
Hand in hand with the Society's efforts to promote transplantation science, there has been a quiet revolution in the way we provide educational resources to our members. In particular the Education Committee, led by Marcelo Cantarovich and Vivek Jha, have been busy reorganizing our substantial educational material so that it is more accessible to the membership. They are also taking on the ambitious task of developing a transplant educational course that will provide a comprehensive and systematic overview of transplantation. I am confident that the committee will be able to give an overview of this exciting development in the near future.
| | | |
| --- | --- | --- |
| | | Another area where the Society remains very active is in public policy. The Society has just renewed its relationship as an NGO in official relations with the WHO. There are a number of joint initiatives that the Society hopes to pursue over the next 3 years – especially with the dissemination of the ethical principles for procurement of medical products of human origin. |

Also, as one of the sponsoring societies of the Declaration of Istanbul Custodian Group (DICG) we remain steadfast in our opposition to organ trafficking, transplant tourism and the use of organs from executed prisoners. If transplantation is to reach is potential as a treatment for end-organ failure, we must ensure that all aspects of organ donation and transplantation are founded on sound and defensible ethical principles. Otherwise the public and the people we are trying to treat will loose faith in the system. Over the past several decades, TTS has been vocal and forthright in this area and remains at the forefront of these endeavors. I wish to pay tribute to the many members who have worked tirelessly in this area in all regions of the globe.
As well as promoting the ethical standards for organ donation and transplantation, our members have been busy promoting transplantation in regions where it is underdeveloped or non-existent. Throughout the year I have had the privilege to visit several of these regions, including central Asia and Mongolia, to meet with colleagues working in these areas and to learn of the challenges of bringing transplantation to these regions. In addition, many of our colleagues with busy clinical practices in successful transplant centres are working hard, and giving up their holidays and free time, to assist countries such as Myanmar and Vietnam to establish transplant centres that in time will become self-sufficient and provide transplant services to their citizens. There are countless other examples of this that are too numerous to mention in many regions including Latin America, Middle East and Africa. In order to provide practical assistance to these efforts, TTS has partnered with the ISN to provide a modest level of financial assistance to promote relationships between an established centre in the developed world and a new centre in the developing world. This assistance is provided through the Sister Transplant Center Program, and I would encourage members who have such a relationship to apply for this funding.
As a final point I would like to thank you all for your support and friendship throughout the year. In particular, I would like to thank the Executive and Council that have worked very hard to ensure that we have been able to deliver our ambitious program. It is a great privilege to lead a Society such as this. A special thank you must go to our staff at the International Headquarters in Montreal. As always, they have been professional in their work and are an important component of our success. Without their support, our mission and objectives would remain unfulfilled.
As we approach the festive season I would like to wish you all a peaceful and safe time with your families and friends and I look forward to meeting as many of you as I can in the coming year.