International Pancreas and Islet Transplantation Association Update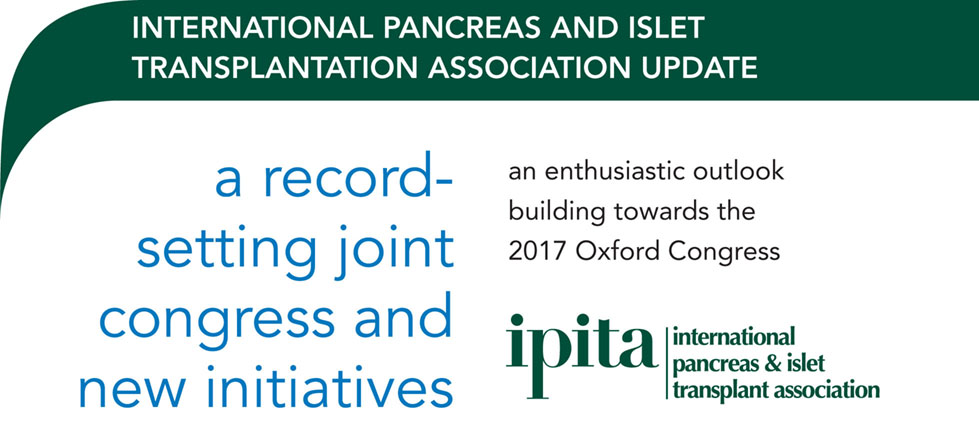 The IPITA-IXA-CTS Joint Congress took place in Melbourne from November 15-19, 2015 and was a great success both in terms of a record attendance of 629 delegates and of its scientific quality. Plenary sessions gave ample opportunity for cross-fertilization in the fields of interest of all three societies, addressing the topics of clinical trials update, regenerative medicine and innate immunity. Efforts at involving other categories of professionals involved in transplantation for juvenile diabetes were enhanced. A workshop designed for allied health-care professionals (AHP) took place and will be the basis for building a strong international AHP Committee in IPITA. Our efforts to involve younger physicians, surgeons and scientists was brought to a greater level thanks to the active involvement of the new Young Investigator Committee of IPITA, who organized a debate session with the title "Beta-Cell Replacement: What will we be oing in 2025?" The attractive format of alternating the views of young investigators with those of established speakers was enthusiastically received and resulted in a lively and room-packed session. The traditional IPITA awards were presented to Drs. Guido Pozza and Konrad Federlin (Paul Lacy Award Lecture), and Dr. Hans Sollinger (Richard Lillehei Award Lecture), in consideration of their tremendous contributions to the fields of islet and pancreas transplantation. The Derek Gray Travel Fellowship Award was presented to Dr. Raphaël Meier.
The venue for the 16th IPITA Congress was selected by a vote from our membership and revealed in the closing session of the Congress. We are looking forward to traveling to Oxford in June 20-23, 2017 for the next IPITA Congress co-hosted by Profs. Paul Johnson and Peter Friend and held in the newly constructed University of Oxford Mathematics Institute.
Prior to the Congress, the IPITA Council held a productive biennial retreat in nearby Flinders to take on a variety of issues critical to the health and future success of the Association. New Councilors Takashi Kenmochi, Lorenzo Piemonti and Mike Rickels were welcomed, and departing Councilors and officers Paul Johnson, Mitch Gotoh and Peter Stock were gratefully thanked for their contribution to IPITA. Development of the newly established Allied Health-Care Professionals and Young Investigators Committees was placed high on the agenda. In the wake of the highly successful Key Opinion Leaders meeting on future research objectives in the fields of beta-cell replacement therapies held in Oxford in the May of 2014, it was decided to repeat this type of focused workshop experience. Two events are planned for the fall/winter 2016. The first event will be a KOL meeting on stem cell-derived beta cells, in view of increasing progress and advances that are likely to result in radical changes of practice in therapies for type 1 diabetes. The second will be a consensus meeting aiming at defining criteria for function and success or failure of pancreas and islet grafts.
We hope that these new initiatives will generate enthusiasm in our membership and will show that IPITA is pursuing its growth as a dynamic and innovative Association. We value our members' opinions and invite you to share your comments, ideas and suggestions by emailing to This email address is being protected from spambots. You need JavaScript enabled to view it. .